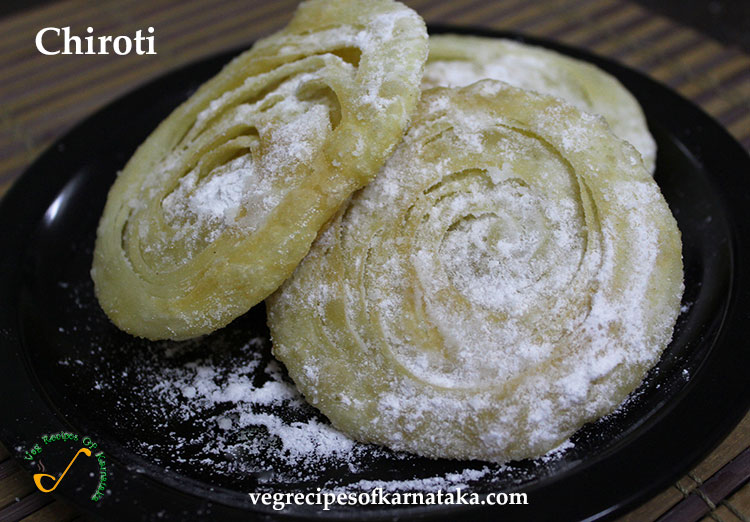 Chiroti recipe explained with step by step pictures and a video. This is an authentic and traditional Karnataka style sweet recipe. Chiroti is prepared using maida or all purpose flour, chiroti rava, ghee and sugar. Chiroti is also familiar by name chirote, penori and padiru peni. We can call it as Indian pastry.
I have posted many sweet recipes on this website that are quite similar to this chiroti. This recipe is very similar to badam puri, suruli puri and badusha (saat) recipes.
Chiroti is very popular in Karnataka. Chiroti is prepared on special occasions and events. Chiroti is prepared during Deepavali festival as well. In Karnataka, chiroti is served with sweetened milk or badam milk. Personally I do not like this sweet.. I can have one with sugar powder sprinkled and one more with milk..that's it. But I know there are several chiroti fans over here and this recipe is requested by one of the dear reader of our website. So happily posting this recipe..Hope you all enjoy it.
Making chiroti involves detailed process.. So I have a made a quick video on this. I have embedded the video below. Kindly have a look.
If you are looking for more sweet recipes then do check Carrot badam payasa, pineapple payasa, hurigadale unde or fried gram laddu, kesari bath, easy carrot halwa, easy milk peda, badam burfi, coconut burfi, sihi appa or sweet paddu recipes.
Or if you are looking for more deep fried snacks or fritters recipes then do check my mangalore buns, doddapathre bajji, crispy chilli bajji, goli baje, stuffed mirchi bajji, masala vade, banana chips, potato chips, kayi vade, maddur vada and many more recipes.
I have made a video on this recipe with Kannada narration, which I have embedded it below. Kindly have a look.
Chiroti recipe
Preparation time: 30 min
Cooking time: 30 min
Serves: 10

Ingredients: (measuring cup used = 240ml)
1 cup maida or all purpose flour
1/4 cup chiroti rave or fine rava
1 tbsp ghee (Increase if you want more crispy)
1/2 tsp salt
Sugar powder for sprinkling
Sweetened milk for serving (optional)
Oil for deep frying
Ingredients for flour and ghee paste:
3 tbsp fine rice flour or maida or corn flour
3 tbsp ghee (or as required)
Instructions for making chiroti:
Take maida flour, fine rava (chiroti rave), ghee and salt in a wide bowl.
Rub and mix well.
Next knead it into a soft and stiff dough by adding water little by little.
The dough should be little stiffer than chapathi dough. Cover and rest it for 30 minutes.
Next knead the dough again and make 5 equal sized balls. Keep it aside.
Now prepare a paste using rice flour and ghee. We will be applying this in between the rolled dough. Please note rice flour should be fine..if it is not fine then use either maida or corn flour.
Next take one ball and roll it into a thin chapathi. Like wise roll all five and keep it ready. Dust the flour in between the rolled chapathi to avoid sticking each other.
Now take one chapathi and spread the flour and ghee paste.
Stack all five by applying the flour and ghee paste in between.
Next roll them tightly like a log.
Cut it into equal parts. Rest them for 15 minutes. Rest them in the fridge for better result.

Roll each part into a small circle.
Heat oil in a pan and drop the rolled chiroti in the hot oil. Fry them under low flame.
Keep turning and once the bubbles are stopped, take them out. Flipping often and frying under low flame is very important for crispy chiroti.
Next sprinkle sugar powder over the deep fried chirotis. Wait until cool and serve. You can also sprinkle sugar syrup. Generally in Karnataka, plain chirotis are made and are served with sweetened milk.
Dear reader, We have a brief Kannada description of this recipe. Click here to read this recipe in Kannada.
You might like this: