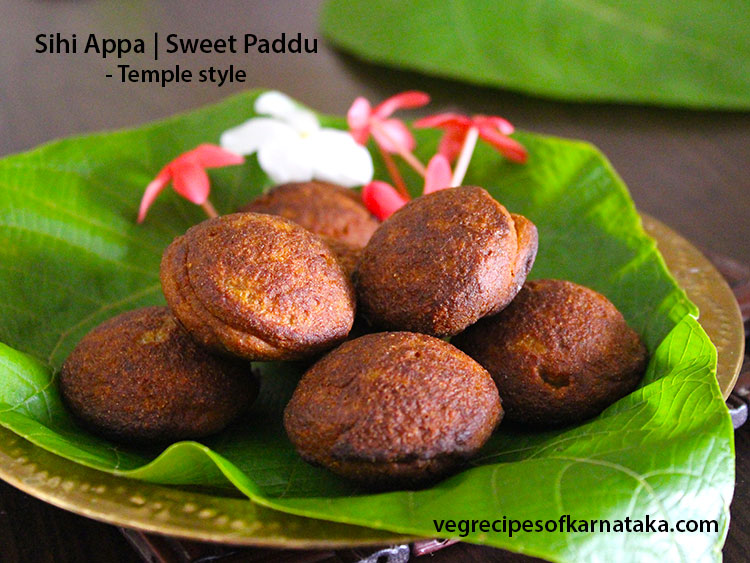 Sihi appa or sweet paddu recipe explained with step by step pictures. This is a temple style appa or sweet paddu. Appa or sweet paddu is prepared using banana, coconut, jaggery and rice flour. This sweet paddu is also popular by name sweet paniyaram.
I have posted 2 more guliyappa or paddu recipes on this website. The first one is the normal paddu and the second one is sabsige soppu or dill leaves paddu.. But unlike these 2 paddu recipes, this is an instant and sweet recipe. No need to ferment the batter.
This type of appa is prepared in temples at my native. People will pay money and opt for "appa seve" (offering sweet paddu to God). This appa is very tasty and I love them so much. You can either deep fry them or prepare in appe pan or paddu pan. Deep fried appa tastes better. But if you want to avoid deep frying (like me) then prepare it using paddu pan.
You can find many banana recipes on this website like banana halwa, banana buns, banana milkshake, banana dosa and banana chips recipes.
If you are looking for more sweet recipes then do check our rave unde or rava laddu, badam puri recipe, halu bai, Carrot badam payasa, pineapple payasa, mungdal payasa, Shavige payasa, hurigadale unde or fried gram laddu, kesari bath, easy carrot halwa, bele holige or obbattu and coconut burfi recipes..
Sihi appa or sweet paddu recipe
Preparation time: 15 min
Cooking time: 15 min
Serves: 20 no

Ingredients: (measuring cup used = 240ml)
1/2 cup rice flour
1/2 cup grated coconut
1/2 cup jaggery (adjust as per your taste)
1/2 cup chopped ripened banana
1 cardamom
Ghee for cooking
Salt as per your taste
Instructions for making sihi appa or sweet paddu:
Take 1/2 cup grated coconut, 1/2 cup of chopped banana and cardamom. Grind it until smooth using a mixer grinder. If required, you can add 1 or 2 table spoons of water while grinding.
Next add in 1/2 cup of powdered jaggery and grind it again.
Transfer it to a container. Add in salt. Add in rice flour gradually.
Mix well and prepare thick batter. If you are deep frying them, then do not add any water and make sure that the batter is thick. And if you are cooking them in pan, then make it slightly thin by adding few table spoons of water.
Now heat the paddu pan and put 1/2 tsp of ghee in all the pits. If you want to deep fry them, then heat the oil in a deep frying pan, scoop out and drop the batter using hands.

Pour the batter in all the pits. Keep the stove at low flame.
Close the lid for a minute. Allow it to cook under low flame.
Open the lid and flip them. Again cook on the other side under low flame. Cook until both sides turn crispy. Serve and enjoy.
Dear reader, We have a Kannada version of this recipe. Click here to read this recipe in Kannada.

You might like this: