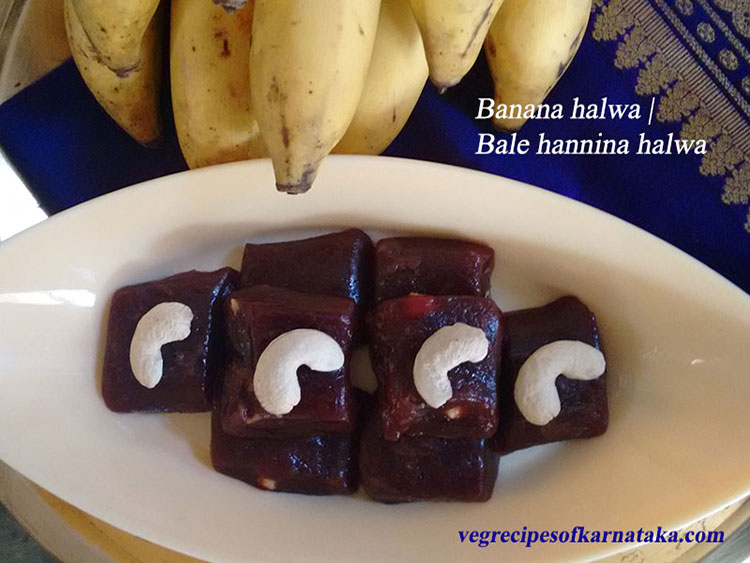 Balehannu or banana halwa recipe explained with step by step pictures. Balehannu or banana halwa is a very easy and tasty dessert. Banana, sugar and ghee are the three main ingredients in banana halwa or balehannu halwa. This halwa is very popular in the Karavali region of Karnataka.
The authentic banana halwa is prepared using a particular type of banana called "Nendra" or "Nendran" banana. But preparing halwa using another type of banana, which is familiar by name "putta bale" or "yelakki bale" is also well in practice. The halwa tastes great and yummy, irrespective of the type of banana used. But compare to nendra banana halwa, yelakki bale (putta bale) halwa will be little dark in colour.
You can find many banana recipes on this website like banana halwa, banana buns, banana milkshake, banana dosa and banana chips recipes.
Here I have used "putta bale" or yelakki bale", which is small in size and is very sweet. This banana is also familiar by name elakki bale, Njalipoovan or ney poovan. I have used 12 of these small bananas. If you want you can replace it by 3 big bananas (nendra banana). Making banana halwa is easy but its little time consuming like any other halwas. Also it requires continuous stirring, which is a bit tiresome.
Do check my other sweet recipes like carrot halwa, roasted gram laddu, pineapple payasa and authentic karnataka style rava kesari bath.
Balehnnu or banana halwa recipe
Preparation time: 10 min
Cooking time: 30 min
Serves: 4

Ingredients: (measuring cup used = 120ml)
10 - 12 well ripened bananas (putta bale / yelakki bale / Njalipoovan / ney poovan) or 3 nendra bananas
2 - 3 cups sugar (as per your taste)
1 cup ghee
A pinch of cardamom powder (optional)
2 tbsp broken cashews
Instructions for banana or balehannu halwa:
To begin with roast the broken cashews and keep it aside. Also grease a plate with ghee and keep it aside. Peel and cut the bananas.
Grind the cut bananas into a smooth paste.
Transfer the ground banana into a thick bottomed wok or pan. Add in the sugar. Cook it on medium flame by stirring occasionally.
After few minutes you can observe the sugar has been dissolved. The banana and the sugar has been mixed well. Continue cooking by stirring occasionally.
After few more minutes the banana and sugar will start boiling.
At this stage add some portion of ghee (around 1/3 cup) and start stirring more frequently.

Keep on stirring continuously by adding ghee now and then. After about 15 minutes you can observe a slight colour change in the halwa. Time may vary depending on the amount of halwa you are making.
At this stage add all the remaining ghee and start stirring continuously. After about 5 minutes you can stop the halwa making process if you want a soft banana halwa, which you can eat using spoon. But if you are looking for the cutting and chewing type of halwa consistency then continue stirring under medium flame.
After about 10 minutes, at one point you can observe the halwa leaves out the ghee. At this point add roasted cashews and cardamom powder.
Mix it well for 5 more minutes, switch off the stove and pour halwa to the greased plate or tray. Wait until it is cool and then cut it using a sharp knife.
Dear reader, We have a Kannada version of this recipe. Click here to read this recipe in Kannada.

You might like this: