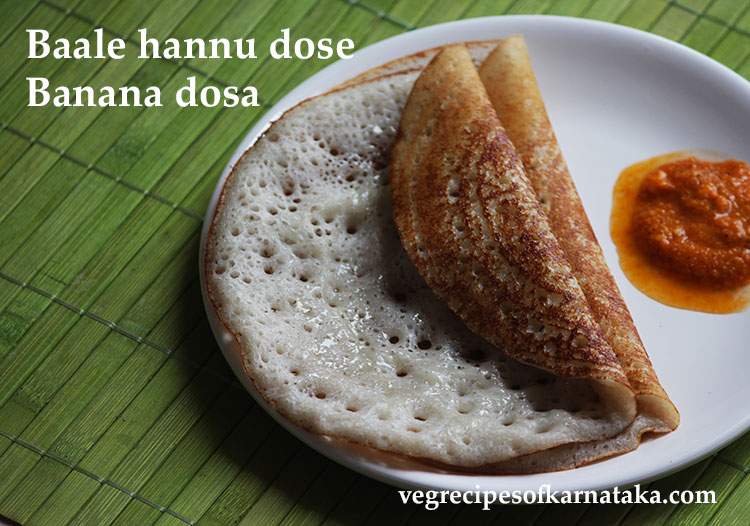 Balehannu dose or banana dosa recipe explained with step by step pictures. Balehannu dose or banana dosa is prepared using rice, banana and poha (beaten rice). Banana dosa is a soft and tasty dosa prepared without urad dal. You can find many "no-urad dal" dosa recipes on this website like curd dosa (mosaru avalakki dose), neer dosa, ridge gourd dosa (heerekai dose), tomato dosa, ragi dosa, spicy neer dosa and cucumber dosa. All these are prepared without urad dal.
I know one more sweet banana dosa, which I will share with you all soon. But this time, when I had lot of ripened banans, I didn't want to prepare a sweetish dosa for morning as my son do not like it. So when I was searching, I saw this dosa recipe and tried it. Surprisingly it turned out so well. The taste was almost like urad dal dosa. So I thought I will share it with you guys.
You can also find banana halwa, banana chips, banana milkshake and banana flower stir fry on our website.
This is a very easy dosa recipe. Soak the rice for 3 - 4 hours, grind it along with beaten rice (poha or avalakki) and banana. Then ferment it overnight, add salt next day morning and thats it!! Soft and tasty banana dosa batter is ready.
You can find many dosa recipes and breakfast recipes on this website. So do visit our dosa or dose recipes section and breakfast recipes section. Read, Try and Enjoy!!
Balehannu dose or banana dosa recipe
Preparation time: 10 hours
Cooking time: 15 min
Serves: 2

Ingredients: (measuring cup used = 240ml)
1 cup dosa rice
1 tsp methi seeds or fenugreek seeds
1/4 cup beaten rice or poha or avalakki
2 big or 4 small bananas
Salt as per your taste
oil or ghee for making dosa
Instructions for making balehannu dose or banana dosa:
Rinse and soak rice and fenugreek seeds for 3 - 4 hours.
Rinse and soak beaten rice (poha or avalakki) for 10 minutes.
Drain the water and transfer the rice, fenugreek seeds, beaten rice and peeled bananas into mixer grinder.
Gring until smooth by using required water. Pour the batter into a large vessel. Close the lid and ferment the batter for 7 - 8 hours.
Next day or after fermentation add in salt and mix well. If required add some water and prepare banana dosa batter having regular dosa batter consisteny. Heat the pan, grease it and pour a laddle full of batter. Spread it but do not make it very thin.
Close the lid for few seconds. Open the lid, drizzle some ghee or oil over the dosa.
Fold the dosa and take it out. Serve it with ghee and chutney or sambar or vegetable saagu.
Dear reader, We have a Kannada version of this recipe. Click here to read this recipe in Kannada.
You might like this: