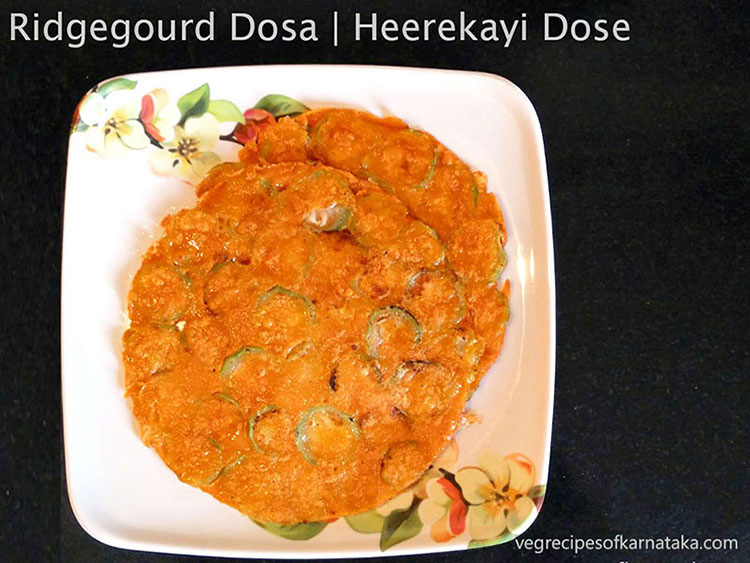 Heerekai dose or ridge gourd dosa is a very unique and tasty dosa. Unlike other dosas, circles of heerekai or ridge gourd are dipped in a sipcy rice-batter and placed over the flat pan to make a dosa. You can have ridgegourd dosas either for breakfast or for evening snacks. Ridge gourd dosa or Heerekai dose is also called as "heerekai chatti".
These Ridge gourd dosa or heerekai dose brings back my child hood memories. My parents used to grow this vegetable and my mother used to prepare these tasty ridge gourd dosas using fresh ridge gourds. Ridge gourd dosa or heerekayi dose is prepared on the tava, so its a very healthy snacks.
Ridge Gourd or Heerekai is a highly fibrous vegetable, has many health benefits. It helps in blood purification, weight loss and maintaining the sugar level. While preparing this dosa you will have to peel the ridge gourd. And we have also posted healthy and tasty ridge gourd peel chutney . Do try the chutney along with this dosa.
You can replace ridge gourd with tender brinjals also. So don't forget to try these healthy and tasty heerekai dose or ridge gourd dosas.
You can find many breakfast recipes on our website. And if you are looking for more dosa recipes then do check our neer dose, masala dose, heerekai dose or ridgegourd dosa, ragi dose, curd dosa, rava rotti or dose, benne dose, bele dose or dal dosa, set dose, plain dose, masale neer dose, millet dose, rave dose and whole wheat dosa or godhi doserecipes. Now let us get on to the original Karnataka style rave dose or rava dosa recipe.
I have made a video on this recipe, with Kannada narration. I have embedded the video below. Kindly have a look.
Heerekai dose recipe
Preparation time: 5 hours
Cooking time: 20 min
Serves: 4

Ingredients: (measuring cup used = 240ml)
2 big ridge gourd / heerekai (tender but fat ones)
2 cups dosa rice
4-6 red chili
4 tsp coriander seeds
1 tsp jeera/cumin seeds
1/2 cup grated coconut(optional)
1 small gooseberry sized tamarind
Salt as per your taste
1 cup water (approximately).
Instructions for making heerekai dose:
Take rice in a vessel, rinse and soak it for 3 - 4 hours.
After soaking for 3 - 4 hours drain the water. Grind the rice along with red chilis, coriander seeds, cumin seeds, coconut, tamarind and salt.
So the batter is ready for heerekai or ridge gourd dosa. The ground batter should be of thick dosa batter consistency.
Now scrape the sharp edges of the ridge gourd, wash it thoroughly and peel. Preserve these peels to make chutney.
Cut the peeled ridge gourd into thin round slices. The thickness should be around 2mm.
Take either cast iron or nonstick dosa pan and heat it. Grease the pan with oil if it is a cast iron one. Now dip each ridge gourd slices in the batter and place them on hot pan to form a dosa. You should be pretty fast while doing this step.

Once you finished placing the slices, pour little batter to fill the gaps. Then sprinkle little water on the top. Sprinkling water makes dosa soft.
Now close the lid and wait for about 15 seconds.
Now open the lid. Drizzle 1 tsp of oil.
Then flip the dosa carefully using a flat spatula. Cook the other side of the dosa for 10 more seconds or till it is done. Serve hot with butter.
Dear reader, We have a Kannada version of this recipe. Click here to read this recipe in Kannada.
You might like this: