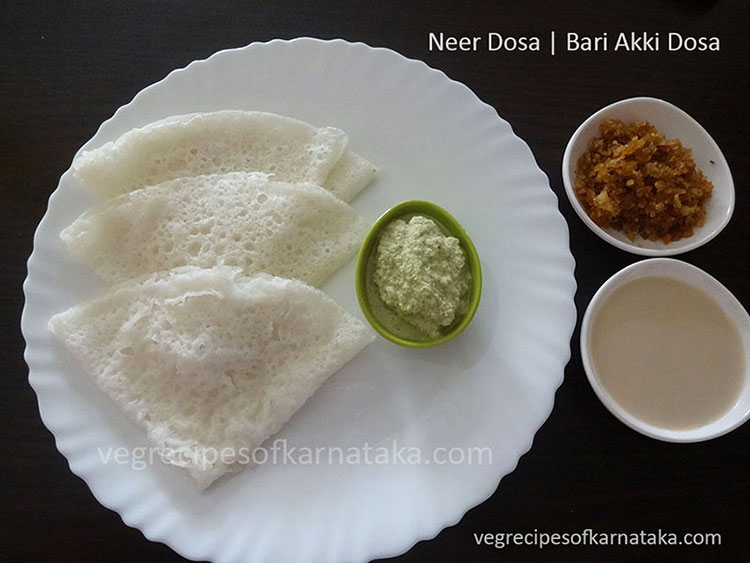 Neer dosa or neer dose is a very popular breakfast recipe from Mangalore region of Karnataka. "Neer dose" literally means "water dosa" prepared from plain rice batter. Even though Neer dosa is identified as a delicacy from Tulunadu region and part of Udupi cuisine, the recipe is well in practice across Kundapura and Malnad region of Karnataka. In malnad it is known as "bari akki dose", which translates to "only rice dosa". In Kundapura kannada it is known as "thellin dose", which translates to "thin dosa".
Neer dosa is a quick and easy dosa recipe but if you want to prepare real thin, crispy and quality dosa then you need a bit of experience. The trick lies in adding right amount of water to the batter and the art of making dosa. The griddle or pan and the type of rice used also plays a major role in preparing thin and crispy dosas. A well seasoned cast Iron pan is used to prepare neer dosa. But if you don't have one, then go ahead with non-stick pan. Within a few trials you will become an expert and it is worth trying. I have prepared a quick video of neer dosa, please have a look.
This is a quick dosa recipe since it needs no fermentation. Rice, Salt and Water are the only three ingredients and some people add little coconut, which makes dosa tasty and soft. Generally it is prepared using dosa rice (a low quality raw rice), which is more soft and tasty. But making dosa will be easier if you use Sona masuri or any other high quality rice. If you are a beginner then I would suggest you to start with sona masuri or mix sona masuri with dosa rice. The neer dosa can either be folded or served as is. Neer dosa served hot with either chutney or coconut oil with pickle or ghee with sugar or grated coconut with jaggery or sweetened coconut milk or rasayana (prepared using mango/banana, jaggery and coconut milk).
If you are looking for more dosa recipes then do check our set dosa, masala dosa, davangere benne dosa, ridgegourd dosa, mixed dal dosa, curd dosa, whole wheat dosa and ragi dosa recipes.
Please note that if you are using dosa rice then it requires lesser water as compared to sona masuri or any other high quality rice.
Neer Dosa Recipe
Preparation time: 5 hrs
Cooking time: 30 min
Serves: 3

Ingredients: (measuring cup used = 120ml)
4 cups raw rice (Dosa rice or Sona masuri)
1/2 cup grated coconut (optional)
6 to 8 cups water (including grinding)
Salt as per your taste
4 tsp refined oil or ghee.
Instructions for making neer dosa:
To make Neer dosa first wash and soak the rice in water for at least 5-6 hours. I usually soak overnight.
Next day morning drain the water and grind it using a mixer grinder. To grind the Neer dosa batter add the water, which is just enough to grind the rice. If you add more water then you won't be able to grind the rice well. If you are adding coconut, add at this stage.
The Neer dosa batter should be very smooth. Check the batter between 2 fingers and you should feel smooth, not coarse.
Once the Neer Dosa batter is ground, transfer it to a bowl.
Add enough water such that the dosa batter has a thin flowing watery consistency. If you are a beginner, dont make the batter very watery. Add water little by little after you start preparing Neer dosa.
Add in the salt and stirr well.
Now take the cast iron pan or non-stick pan. Keep the stove at high flame and wait till the pan becomes sizzling hot. Pan should be very hot to make Neer dosa. To check whether it has reached the proper heat, sprinkle little water on the pan and the water shall sizzle and evaporate. Smear oil using a small onion or a carrot if it is an iron pan. If you are a beginner, then I would suggest non-stick pan.
Before making each neer dosa, stir the batter very well with the ladle. To make Neer dosa you have to pour the dosa batter on the hot pan and it will spread on its own. Just have a look on the video given above.
If there any gaps left over then fill them by pouring some more batter.
Close the lid wait for about 10 seconds.

Open the lid, reduce the flame, wait for 5 more seconds.
If everything is perfect you can easily take out the neer dosa from the pan by using the flat spatula. If you feel Neer dosa is not thin, try adding some more water. Or if you find any difficulty in taking out the Neer dosa, mix little rice flour and then try again.
Fold the Neer dosa on the pan itself. Serve it hot with coconut chutney and sweetened coconut milk.
Dear reader, We have a Kannada version of this recipe. Click here to read this recipe in Kannada.

You might like this: