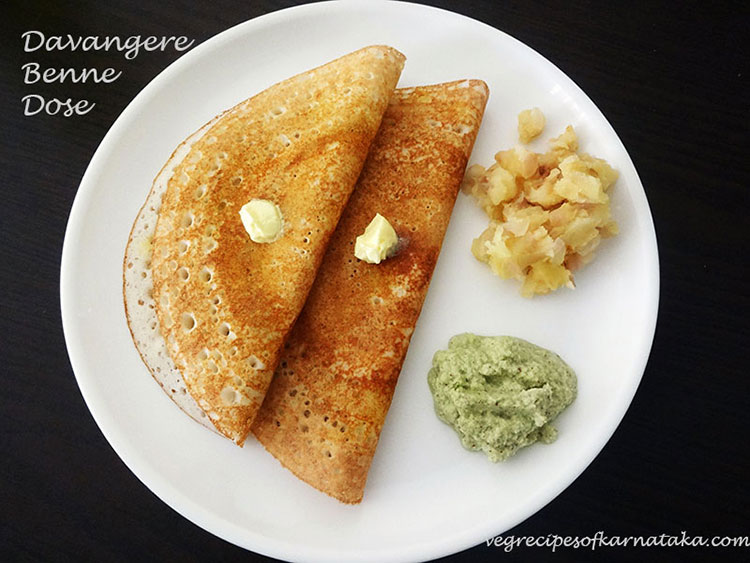 Davanagere benne dose or davangere benne dosa is an extremely popular dosa recipe from Davanagere. Davangere is a city in central karnataka, India. Davanagere is popular for some dishes like mirchi bajji, churumuri, khara mandakki, benne dosa, khali dosa, Guladiki Unndi and many more. Among them benne dosa or butter dosa is very popular and loved by all.
Benne translates to butter in Kannada language. Since good amount of fresh butter is used these dosas are called benne dosa or butter dosa. Davangere benne dosas will be crisp, soft and buttery. Preparation and texture wise these are different from regular dosas.
I have tasted benne dosa in Bangalore and I just love them. The aloogadde palya or potato palya and coconut chutney they serve along with benne dosa is also quite different. For potato palya they just temper the mashed potatoes with green chili and onion. It will be having a bland taste without any spices. And they do not even use turmeric. The coconut chutney will be very spicy. They grind coconut and lot of green chilis to prepare spicy coconut chutney. So the spicy chutney will balance the bland taste of potato palya. So I am posting the recipe of potato palya and spicy coconut chutney recipes as well.
And coming to the recipe.., I have done a lot of study, a lot of attempts to get this full proof recipe. This davangere benne dosa almost matches the taste and texture of the authentic benne dosas, which I had in Bangalore.
You can find many dosa recipes on our website like neer dose, masala dose, heerekai dose or ridgegourd dosa, ragi dose, curd dosa, rava rotti or dose, benne dose, bele dose or dal dosa, set dose, plain dose, masale neer dose, millet dose and whole wheat dosa or godhi doserecipes. Visit our breakfast recipes section to read more breakfast recipes.
Davangere benne dosa recipe
Preparation time: 14 hours
Cooking time: 30 min
Serves: 4

Ingredients: (measuring cup used = 240ml)
2 cup dosa rice
1/2 cup urad dal
1 tsp fenugreek seeds (optional)
2 - 3 cup puffed rice (depending on the climate)
2 tsp maida or all purpose flour
1 tsp sugar
1/4 tsp baking soda or cooking soda
1/2 cup unsalted butter
Salt as per your taste
Instructions for making davanagere benne dose:
Take rice, urad dal and fenugreek seeds in a container and rinse well.
Soak them for 5 - 6 hours.
Soak puffed rice for 30 minutes.
Now in the first batch grind the soaked rice and lentils. Use required water and grind until smooth.
Pour the first batch of ground batter into a large container.
In the second batch grind the remaining soaked rice, lentils and soaked puffed rice. Again use required water and grind until smooth.
Pour the second batch of ground batter into the same container.
Mix well. If the climate is cold mix 2 tsp of maida flour in little water and add before fermentation. Close the lid and ferment it for 7 - 8 hours. I usually keep it over night.
After fermentation you can see the batter has raised up. Add in salt and mix well.
Now take maida flour, sugar and baking soda in a bowl.
Mix with little water and add into the fermented batter. Please note if the climate is cold then add the maida flour before fermentation.
Mix well. The batter should not be very thick. If you feel it is thick then add little water.
Now heat the pan, pour a laddle full of batter and spread it. Do not spread it too much or do not make it too thin. I tried wih both iron and hard anodized pan. It came out well with both. But cast iron pan is preferred for all kind of dosas.
After few seconds, drop small chunks of butter all over the dosa. No need to close the lid. If you prefer, flip and cook on the other side for few seconds. I didn't do that.
Take out the dosa from the pan, when the sides are turing golden brown in colour. Serve it with potato palya and spicy coconut chutney.
Dear reader, We have a Kannada version of this recipe. Click here to read this recipe in Kannada.

You might like this: