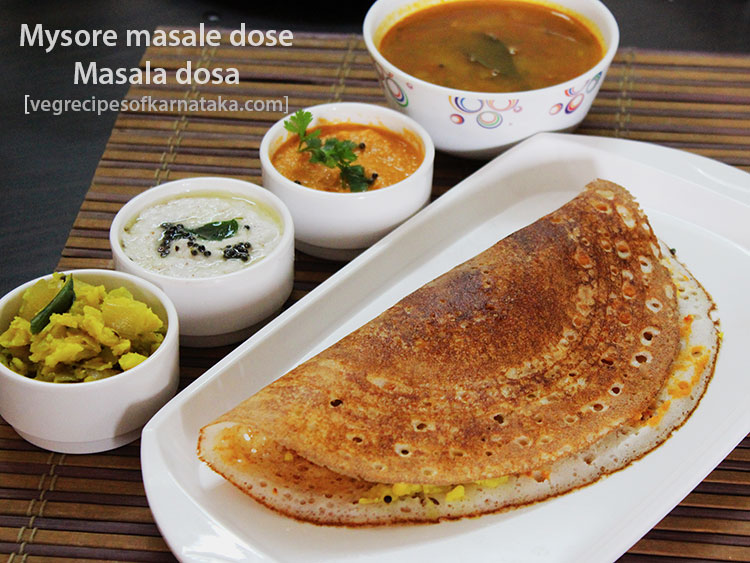 Mysore masala dosa recipe explained with step by step pictures and a quick video. Mysore masala dosa is a very popular breakfast recipe from Mysore, Karnataka, India. In Karnataka Mysore masala dosa is just called by name "Masala dosa". Masala dosa is very popular across South India. But now we can find masala dosa getting popular in all parts of the country, and even outside the country. There are many variants in masala dosa and the recipe varies from region to region, city to city and believe me, it varies from restuarant to restuarant.
And we are all very proud of this Mysore masala dosa because Mysore Masala Dosa was ranked number 4 on the list of '10 foods to try before you die', by US newspaper The Huffington Post.
The authentic mysore masala dosa will be thick, it will be crisp from outside and a bit of soft ness or sponginess inside. For masala dosa red garlic chutney is applied as a layer from inside, 2 table spoons of potato filling (a masala prepared using potato and other spices) is placed in the middle and is served along with sambar and coconut chutney. Even in Bangalore or Mysore region of Karnataka, India not all the restuarants can serve tasty Masala dosas. Across the world people serve a thin variety of masala dosa, which I feel is not as tasty as authentic Mysore masala dosa. Also I have heard that they use same batter for idli and masala dosa. Where as in Karnataka only dosas are prepared using dosa batter. For idli we prepare separate batter.
I have made a quick video on Masala dosa recipe, which I have embedded it below. Kindly have a look. In the video you can see, I have used mixed grinder for grinding.
You can find so many write ups regarding this mysore masala dosa, and number of restuarants, which are famous for serving these tasty masala dosas. Recently I came across an article 20-must-try-dosa-joints-in-bangalore listing restuarants in Bangalore for serving these tasty masala dosas. Even though I have few more restuarants to add, I was happy that I have tasted masala dosas in almost all the restuarants, which they have listed.
If you are looking for more dosa recipes then do check our set dosa, neer dosa, davangere benne dosa, ridgegourd dosa, mixed dal dosa, curd dosa, onion dosa, whole wheat dosa and ragi dosa recipes.
One last point about Mysore masala dosa I want to tell you is that it is not so easy to prepare masala dosa at home, especially for the beginner. Not because the process is difficult, because of the lenghty recipe and the time consumed. But Even though the whole process is lenghty and time consuming, it is worth trying masala dosa. Because the Mysore masala dosas are very very tasty.
Here is the recipe of Karnataka style masala dosa or Mysore masala dosa, which is followed generally in most part of the Karnataka.
Mysore Masala dosa recipe
Preparation time: 16 hrs
Cooking time: 1 hr
Serves: 4

Ingredients: (measuring cup used = 240ml)
Ingredients required for the dosa batter:
2 cups dosa rice (Low quality raw rice; any raw rice is ok)
1/2 cup urad dal (extra 1/4 cup if using mixer grinder and climate is cold)
1 tsp methi/Fenugreek seeds
2 tbsp chana dal or toor dal
1/4 cup thick Poha/beaten rice/gatti avalakki (increase if climate is cold)
1 tsp sugar (optional; gives red colour)
Salt as per your taste
Water as required
Ingredients required for potato filling:
2 medium sized potato
2 medium sized onion
1/2 tsp mustard
1/4 tsp jeera
1 tsp urad dal
1 tsp chana dal or gram dal
2-4 green chillies
1/2 tsp finely chopped ginger
8-10 cashews
1/4 tsp turmeric powder
A pinch of asafotida
7-8 curry leaves
2 tbsp chopped coriander leaves
4 tbsp cooking oil
Salt as per your taste
Ingredients required for red chutney:
2 tbsp chana dal or gram dal
3-6 red chili
8-10 shallots / one small onion
4-5 cloves of garlic
A small piece of tamarind
2 tbsp grated coconut(optional)
Instructions for making Mysore masala dosa:
Instructions for the masala dosa batter:
Rinse and soak all the ingredients mentioned for dosa batter except poha/beaten rice. Soak it in good drinking water for 5-6 hours.
Now drain the water and preserve it in a container, because the same water is used while grinding. Doing so will help in better fermentation. Meanwhile soak the poha/beaten rice for 10 minutes and drain the water.
Now pour the drained ingredients and the poha/beaten rice into a wet grinder, and grind it by adding the water gradually. You can use mixer grinder as well but dont forget to increase the quantity of urad dal as mentioned in the ingredients list. Grind it till you get a smooth and fluffy batter and empty the batter into a container.
Close the lid and leave it for 8-9 hours or overnight for fermentation. Before using the batter add salt and mix well.
Instructions for potato filling:
Wash and boil the potatoes in the pressure cooker. Once it is cool, peel it and smash it also keep all other ingredients ready.
Take a frying pan, add oil and mustard seeds. Once the mustard starts spluttering add jeera, urad dal, channa dal and cashews one by one. Saute it for a while. When the urad dal turns brown add slit green chilly, grated ginger and curry leaves. Saute it for 5 seconds.
Add turmeric powder and asafoetida and saute it for a while. And then add chopped onions and fry till the onions turn soft.
Now add smashed potato and mix for a while, Once it is mixed add salt and chopped coriander leaves and mix it again.
Instructions for red chutney:
Roast red chilly and channa dal on medium flame with little oil. Once it is done add shallots / onion and garlic pods and saute it for a minute.
Once it is cool, transfer it to the mixie jar and grind it with tamarind and coconut. The chutney should be thick yet spreadable.
Instructions for making masala dosa:
Heat a flat pan or a flat non-stick pan. Smear some oil if you are using an iron pan or griddle. Don't smear oil on a non stick pan, as then you won't be able to spread the dosa batter. Spread the dosa batter in a circular way on the pan and close the lid. Wait for 5 seconds and open the lid.
Drizzle some oil /ghee / melted butter (Generally in restuarants they use ghee or butter or oil generously, and that is the reason restuarant masala dosas will be very tasty). Spread the red garlic chutney. Place 2 tbsp of potato filling, fold the dosa in which ever style you want.
Now serve it with either coconut chutney or sambar or both. If you want also with a dollop of butter.
Dear reader, We have a Kannada version of this recipe. Click here to read this recipe in Kannada.

You might like this: