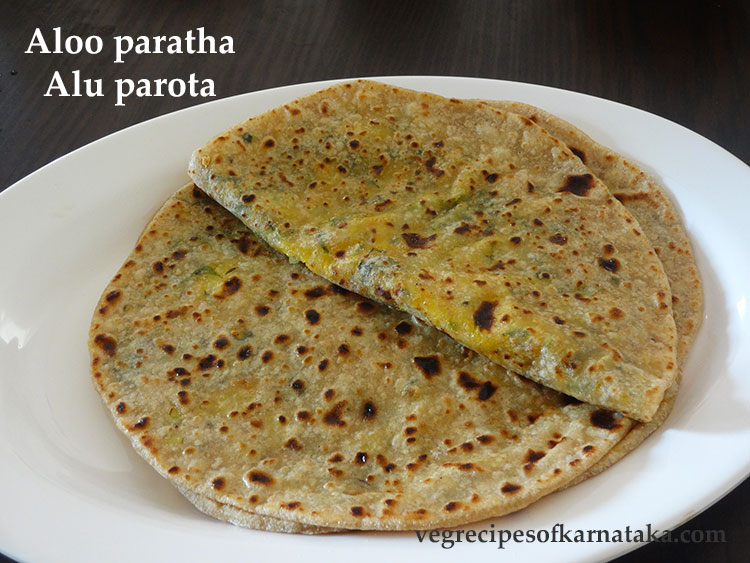 Aloo paratha or alu parota recipe explained with step by step pictures and a quick video. This is a very tasty aloo paratha recipe. In this aloo paratha fresh spices are used instead of masala powders. The taste and aroma of this aloo paratha or aloo methi paratha is better than regular aloo paratha.
Even though aloo paratha or aloo parota (that's how it is pronounced in Karnataka) is a North Indian delicacy, these days aloo paratha is very well in practice through out Karnataka or through out South India. How North Indians like our dosa, idli and sambar, we love their parathas, rotis and north indian curries.
Potato is a very tasty vegetable. And I have many potato recipes on this website like potato-onion sambar, potato mosaru bajji, potato palya and sagu, potato chips, potato sagu, potato bonda, aloo gobi and aloo-carrot paratha recipes.
This aloo paratha or alu parota is prepared using regular chapathi dough, mashed potato, mustard, cumin, ginger, garlic, green chili, coriander leaves, fenugreek leaves (menthe soppu) and curry leaves. These aloo parathas are very thin, soft and are really very tasty. In Karnataka most of the north indian recipes are modified to match our taste buds, which I feel is tastier than the original recipe. Please note I have not used any spice powders or onions or garam masala in this aloo paratha recipe instead fresh spices are used. I would say its a must try recipe. Do give a try and let me have the feedback.
If you are looking for more paratha recipes then do check my methi paratha, layered paratha, palak paratha, radish or moolangi paratha and carrot paratha recipes. I have made a quick video on this aloo paratha, which I have embedded it below. Please have a look.
Aloo paratha or parota recipe
Preparation time: 10 min
Cooking time: 30 min
Serves: 8 no

Ingredients: (measuring cup used = 240ml)
2 big potatoes
Chapathi dough for 8 - 10 big chapathis
Big pinch of turmeric powder
1/2 tsp mustard seeds
1/2 tsp jeera or cumin seeds
1 tsp finely chopped ginger
1 tsp finely chopped green chili
2 tsp chopped curry leaves
2 tbsp chopped coriander leaves
2 tbsp chopped methi leaves (optional)
2 tsp cooking oil
Salt as per your taste
Instructions for making aloo paratha or aloo parota:
Make a smooth and soft dough (chapathi dough) using wheet flour, cover it and keep it aside. Wash the potatoes and cook them with little salt and turmeric powder. Please note that the potatoes should be cooked well.
Keep all the ingredients ready to prepare masala used for stuffing. Once the potatoes are cooked peel them and mash them well using hand or a potato masher.
Lets prepare stuffing for aloo paratha or parota. Switch on the stove and keep it at medium flame. Heat 2 tsp of oil in a frying pan and add in mustard seeds. Once the mustard splutters, add in cumin seeds and immediately add in chopped green chili and ginger. Fry for few seconds.
Add in chopped curry leaves, coriander leaves and methi leaves. Fry for few seconds and switch off the stove.
Now add in mashed potato and salt to the same frying pan and mix well.
Now let us proceed with making of paratha or parota. Apply wheat flour on your fingers, take a big lemon sized dough and bring it to a bowl shape using both hands fingers. Place a small lemon sized stuffing.

Carefully bring the sides together and stuff the masala inside. Make sure that the outer cover is of even thickness throughout. press it gently to flatten it.
Dust enough wheat flour on flattened and stuffed dough and roll out carefully to make a aloo paratha or parota.
Heat a griddle or pan. Once it reaches medium heat, place the rolled paratha over the pan and cook on both sides. I don't use oil while cooking the paratha, instead I smear some ghee after cooking the paratha. This way parathas will turn aromatic and very soft. Serve it hot with curd, pickle or any curry or your choice.
Notes:
Chapathi dough should be soft to prepare soft parathas.
Make sure that the softness of dough and softness of stuffing are same, for better stuffing and rolling.
No spice powders are used here but however you can add little garam masala and coriander powder if you like it that way.
I have used finely chopped green chili and which you can replace it with red chili powder.
Make sure the stuffing is proper to prepare perfect parathas.
Be gentle while rolling the parathas.
Apply ghee after cooking the parathas, to keep them soft for long time.
Dear reader, We have a brief Kannada description of this recipe. Click here to read this recipe in Kannada.
You might like this: