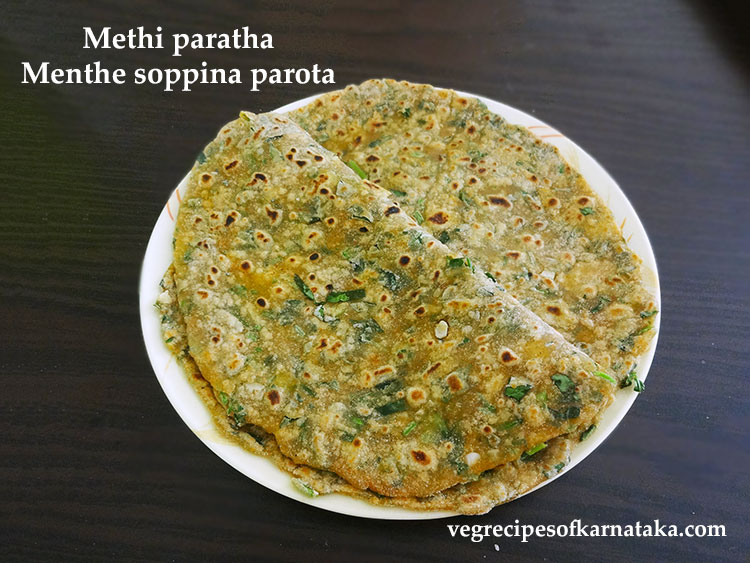 Methi leaves paratha or Fenugreek leaves paratha explained with step by step pictures. Methi paratha is prepared using Methi leaves, ginger, garlic and red chili powder. Methi parathas are very easy to make compared to stuffed parathas like aloo paratha and carrot stuffed paratha. It is just like preparing chapathis. Finely chopped methi leaves and the spices are mixed with the wheat flour and kneaded into a pliable dough.
I have posted many paratha or parota recipes on this website like rave or rava paratha, aloo paratha, carrot paratha, methi paratha or menthe soppina parota, palak paratha and radish paratha recipes. Also have a look on my layered paratha recipe, which is a creative way of preparing layered paratha and I am sure you will love it.
Very minimum ingredients are used to prepare methi paratha. All taste and flavor is contributed by methi leaves. The usage of Ginger and garlic enhances the taste and flavor of methi paratha. You can serve methi parathas with butter or curd or any other curries.
Methi leaves are very rich in vitamins, proteins and minerals. Some of the major ingredients in methi leaves are calcium, potassium, phosphorus, iron, dietary fiber and vitamin K.
If you are loooking for more fenugreek leaves recipes then do check my menthe soppu dose, menthe palle (methi dal), menthe soppina rice bath and menthe soppina matvadi palya recipes.
You can also find many methi seeds or fenugreek seeds recipes on this website like menthe thambli, menthe idli, menthe dose and menthe palle or fenugreek leaves dal. Methi paratha is a quick and healthy breakfast recipe. So do try and let me know how was it?
We have posted many breakfast recipes. Do have a look.
Methi paratha recipe
Preparation time: 15 min
Cooking time: 15 min
Serves: 3

Ingredients: (measuring cup used = 240ml)
Wheat flour for 10 chapathis
1 bunch methi / fenugreek leaves
1 tsp finely chopped ginger
1 tsp finely chopped garlic
1 tsp red chili powder
1/4 tsp turmeric powder
Salt as per your taste
Water as required
4 tbsp cooking oil
Instructions for making methi paratha:
Take the tender part of methi plant and rinse it thoroughly.
Finely chop methi leaves, ginger and garlic.
Take wheat flour in a wide bowl, add in chopped methi leaves, ginger, garlic, red chili powder, turmeric powder and salt.
Knead it into to stiff pliable dough using water little by little. Add 2 tbsp of oil, knead it again and keep it covered for 10 minutes.
Now take a big lemon sized dough.
Dust it and roll it into a circular shaped paratha.

Heat a tava or griddle and cook the rolled methi paratha by drizzling little oil.
Flip and cook on the other side as well by drizzling little oil. Serve it hot with butter or curd or curry of your choice.
Dear reader, We have a brief Kannada description of this recipe. Click here to read this recipe in Kannada.
You might like this: