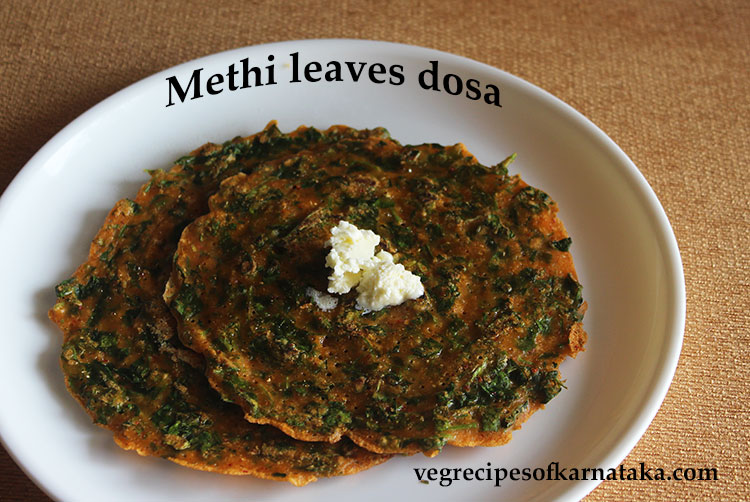 Menthe soppina dose or methi leaves dosa recipe explaiend with step by step pictures. This tasty menthe dose or methi leaves dosa is prepared using rice, methi leaves, red chili, coriander leaves, cumin seeds, coconut, jaggery and tamarind. Menthe soppu dose is a very tasty and healthy dosa recipe.
If you are looking for more methi seeds recipes then do check menthe huli or fenugreek seeds rasam, menthe dose or fenugreek seeds dosa and menthe thambli or raita recipes. Or if you are loooking for some recipes using methi or fenugreek leaves then do check my menthe palle (methi dal), menthe soppina rice bath and menthe soppina parota (methi paratha) recipes.
This dosa can be prepared with different leaves like palak leaves, chagathe or thagathe leaves (senna tora), drumstick leaves, honnagane soppu (Alternanthera sessilis) and Vitamin soppu. These dosas are spicy and tasty. These dosas are generally served with home made butter.
You can find many breakfast recipes on our website. If you are looking for more dosa recipes then do check our neer dose, masala dose, heerekai dose or ridgegourd dosa, ragi dose, curd dosa, rava rotti or dose, benne dose, bele dose or dal dosa, set dose and whole wheat dosa or godhi doserecipes.
Menthe soppina dose recipe
Preparation time: 5 hrs
Cooking time: 30 min
Serves: 2

Ingredients: (measuring cup used = 240ml)
1 cup dosa rice
1/2 bunch or 1.5 cup chopped methi leaves
1/4 cup grated coconut
1 tsp coriander seeds
1/2 tsp cumin seeds
2 red chilies
A small marble sized tamarind
1 tsp jaggery (optional)
Salt as per your taste
4 tsp cooking oil or ghee.
Instructions for making menthe soppina dose:
To make menthe soppina dose or methi dosa first wash and soak the rice in water for at least 4-5 hours.
Next clean, rinse and finely chop the methi or fenugreek leaves.
After soaking the rice, drain the water and transfer it into a mixie jar. Next add in red chili, grated coconut, coriander seeds, cumin seeds, jaggery and tamarind. Use required water and grind until smooth.
Transfer it to a container and add in salt.
Add in finely chopped methi or fenugreek leaves.

Give a quick mix. Add in required water. The batter shall have thin consistency but thicker than neer dosa or rava dosa batter.
Heat the pan. Pour a laddle full of batter. Pour it just like neer dosa or rava dosa.
Close the lid and allow it to cook under medium flame. Open the lid, drizzle some oil or ghee, flip the dosa and cook on the other side also. Serve it hot with chutney.
Dear reader, We have a Kannada version of this recipe. Click here to read this recipe in Kannada.

You might like this: