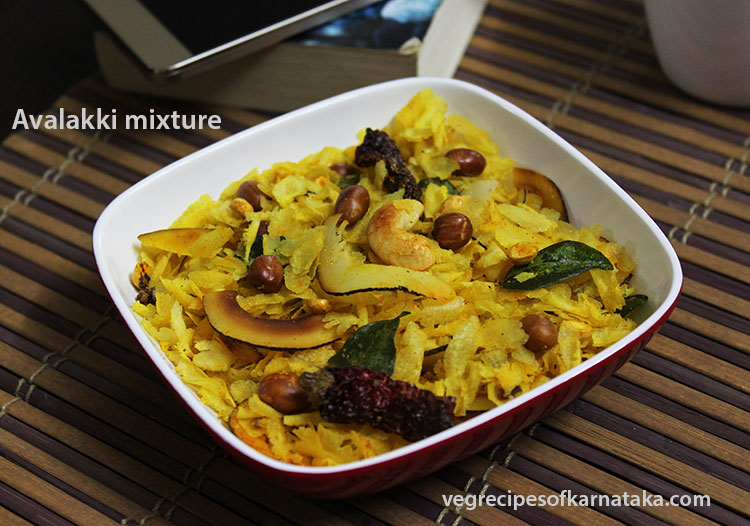 Avalakki mixture or avalakki snacks recipe explained with step by step pictures. Avalakki mixture or thin poha chivda is a tea time snacks recipe prepared using thin beaten rice, peanuts, roasted gram, cashews, dry coconut and spices. It is best served with a cup of tea. Preparing these tasty and spicy avalakki mixture or snacks is very easy.
Rainy season started and schools are reopened. So this is the best time to prepare this tasty and easy snacks as a sweet surprise for your kids. I am sure kids will love this as their evening snacks. Not only kids.., this mixture or snacks is loved by all. I have posted avarekalu mixture recipe, which is very tasty and you can prepare it during avarekalu (field beans) season.
This avalakki mixture or chivda is very tasty and crispy. It stays crispy for a fortnight, if stored in an air tight container. I have listed the ingredients as per my taste, which you can adjust as per your taste.
I have shared congress kadlekai or spicy peanuts recipe earlier, which is another tasty snacks recipe. If you are looking for tasty snacks recipes then check my Mangalore churumuri, maddur vada, crispy chili bajji, mangalore bajji, girmit, kadle usli and nuchinunde recipes.
If you are looking for more Karnataka style snacks recipes then do check our Karnataka snacks recipes section.
Avalakki mixture or snacks recipe
Preparation time: 5 min
Cooking time: 15 min
Serves: 3 cup

Ingredients: (measuring cup used = 240ml)
2 cup thin avalakki or aval or poha or beaten rice
1/4 cup ground nuts or peanuts or shenga
2 tbsp fried gram or roasted gram or hurigadale
2 red chili
10 - 12 cashews
1/2 cup sliced dry occonut
4 tsp oil
1/2 tsp red chili powder (adjust as per your spice level)
2 big pinch of hing or asafoetida
2 big pinch of turmeric powder
7 - 8 curry leaves
1 tsp sugar (or as per your taste)
1/2 tsp salt (or as per your taste)
Instructions for making avalakki mixture or snacks:
Sun dry or dry roast the thin beaten rice (avalakki) until crisp.
Now take 4 tsp of oil in a pan and heat it. Add in ground nuts or peanuts and fry until it starts crackling.
Add in mustard seeds and cumin seeds. In no time mustard and cumin seeds will crackle.
Next add in broken red chili, cashews and fried gram. Roast them for a while.
Next add in sliced dry coconut and curry leaves and fry until crisp.

Add in red chili powder, turmeric powder, asafoetida, salt and sugar. Give a quick mix.
Finally add in sun dried or roasted avalakki or thin beaten rice.
Give a good mix under very low flame. and thick poha (gatti avalakki). Enjoy crispy and tasty avalakki mixture or snacks.
Dear reader, We have a Kannada version of this recipe. Click here to read this recipe in Kannada.

You might like this: