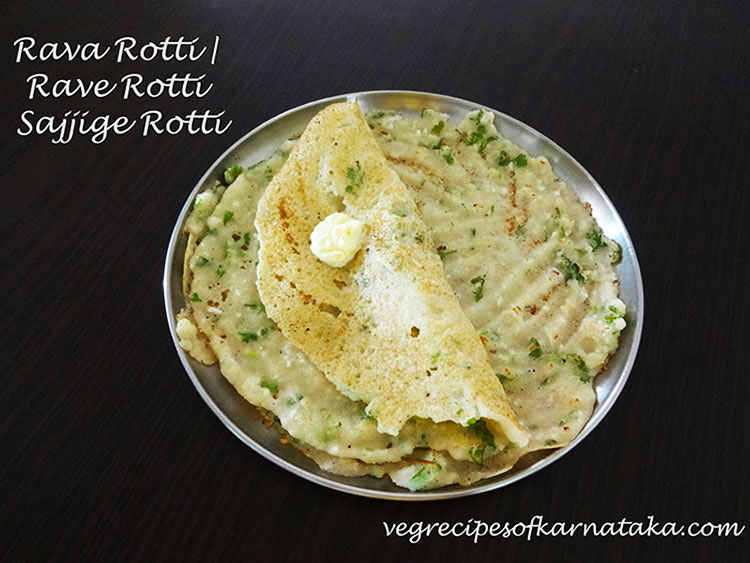 Rava rotti recipe explained with step by step pictures and a quick video. Rava rotti or sajjige rotti is an instant breakfast recipe. To prepare sajjige rotti Sajjige (rava) or Semolina is mixed with curd, water, flour, coconut, coriander leaves, asafoetida and green chilli. Then the sajjige rotti or rava rotti batter is spread on the hot pan. Sajjige rotti or rava rotti is yet another easy and tasty breakfast recipe from mangalore region of Karnataka.
Semolina or rava is called by name "sajjige" in Karavalai region of Karnataka. And there any rotti (roti) is prepared by spreading the thick batter over the hot pan. So the name sajjige rotti. Or we can say, it as a thicker variety of rava dosa.
You can find more rava or semolina recipes on this website like rave uppittu (rava upma), rava kesari bath, rave unde or rava laddu and instant rava dosa.
Again this sajjige rotti recipe is from my mother-in-law. Or I can say most of the Mangalore recipes, which I post here are from her. She says adding a pinch of turmeric powder and adding tempering are also in practice. And for tempering mustard seeds and buttermilk-chili (sandige menasu) are generally used. So I have marked these two as optional ingredients.
If you are looking for more mangalore side recipes then do check my mangalore buns, mangalore sambar, udupi rasam, mangalore bajji and mangalore rice flour poori recipes.
Sajjige rotti is a perfect recipe for the people who hates upuma or uppittu. You can serve this with coconut chutney and butter. Do try this tasty, quick and easy breakfast recipe and enjoy!!
Sajjige or rava rotti recipe
Preparation time: 30 min
Cooking time: 10 min
Serves: 3

Ingredients: (measuring cup used = 240ml)
1.5 cup fine rava/sajjige/semolina/sooji
0.5 cup curd (little soar is preferred)
1 tsp maida flour
1.5 tsp rice flour
1.5 cup water
2 tbsp grated coconut
1 - 2 green chili finely chopped
2 tbsp finely chopped coriander Leaves
0.25 tsp asafoetida
1/4 tsp turmeric powder (optional - I didn't use)
tempering with mustard seeds and chili (optional)
coconut oil / ghee (to use while making dosa)
Salt to taste
Instructions for sajjige or rava rotti:
Take rava or sajjige in a wide bowl. Add in maida and rice flour.
Add in curd.
Add in water.
Mix well and rest it for 15 - 20 minutes.
Add in grated coconut, chopped coriander leaves, salt, chopped green chili and asafoetida.
Mix it well. The batter should be of thick dropping cosistency. Add in water if required.

Heat the pan. Drop a laddle full of batter on the hot pan and spread it using hands to give a circular shape. You should be quick while doing this step.
Drizzle oil or ghee.
Cook on both the sides. Serve it hot with coconut chutney and butter.
Dear reader, We have a Kannada version of this recipe. Click here to read this recipe in Kannada.
You might like this: