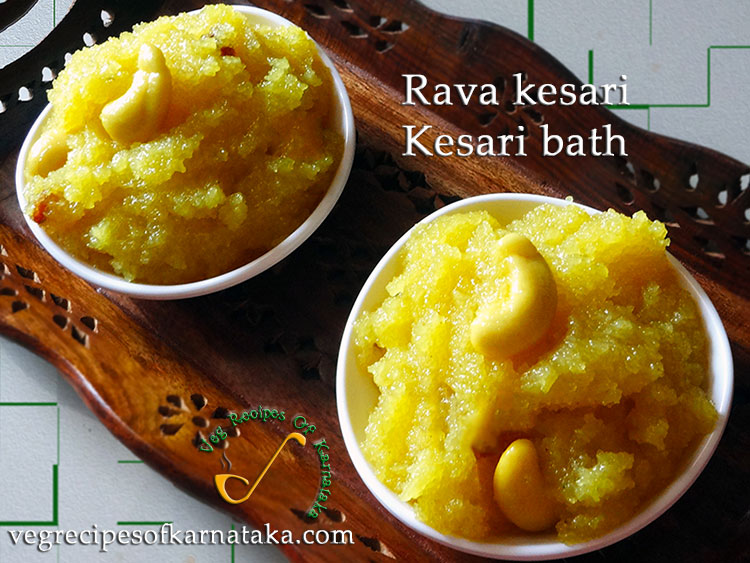 Karnataka style easy and quick Kesari bath recipe with step by step pictures. Kesari bath is a very very popular recipe originated from the state of Karnataka, India. This is a very common sweet or desert prepared during festivals, special occasions, normal days and when there are sudden guests at home. In south Karnataka Kesari bath is prepared for the breakfast during the weddings. Kesari bath is prepared for normal breakfasts and is served with uppittu(upma) or Khara Bath in one plate and is popularly called as the "Chow Chow Bath". In mangalore region people call it by name shira or sheera. In North India also this sweet is popular and they call it by name sheera or sooji ka halwa.
I have explained one more Pineapple kesari bath recipe recently with step by step pictures and a quick video. The recipe is similar. So you can refer that recipe as well.
And about the name "Kesari bath", "Kesari" translates to "orange colour" in kannada language and "bath" is a common word used for these kind of preparations. So for Kesari bath generally orange food colour is used but using yellow and green colours are also in practice. But I have used turmeric powder because food colours are not so good for health.
Recently I came to know, people referring "kesari" to the spice saffron(kesari) and using saffron(kesari) in the kesari bath preparation. But I have not come across anyone preparing Kesari bath using saffron in Karnataka. So its a big question mark? If anyone is clear please let me know.
I have used medium rava or upma rava in this recipe. Rava or semolina is nothing but cream of wheat. You can find many more rava or semolina recipes on this website likerava onion uttappa, instant rava idli, rava dosa, uppittu (rava upma), rava kesari bath, rave unde or rava laddu, rave parota or rava paratha and rava rotti.
Kesari bath is a very common and simple sweet recipe yet it is a bit tricky if you don't follow the exact measurements. Even I was having difficulty in preparing the tasty kesari bath. Follow the exact measurements given below to prepare authentic lip smacking kesari bath. Now I am very happy that I can prepare it so well and I am proud of it. I learnt this recipe from my elder brother who is not a cook but surprisingly he has the idea and recipe of many sweets and dishes. Even my mother and mother-in-law are great cooks. So whenever I get a doubt, I will either call my brother or mother or mother in law and they will explain me the recipe. If you are looking for more sweet recipes then do visit our Karnataka sweet recipes section. Now let us get on to the recipe of Kesari bath.
Karnataka style kesari bath recipe
Preparation time: 1 min
Cooking time: 10 min
Serves: 2

Ingredients: (measuring cup used = 120ml)
1 cup medium rava / sooji / semolina
3 cups water
1.25 cup sugar
0.5 - 1 cup ghee (be generous)
1/2 tsp lemon juice (optional but I recommend)
1/4 tsp turmeric powder
A pinch of salt
A big pinch of cardamom powder
5-6 cashews
8-10 raisins
Instructions for making Karnataka style kesari bath:
Now to prepare Kesari bath first take a vessel. Add water, sugar, salt, turmeric powder and lemon juice and keep it for boiling. Adding lemon juice and salt gives nice texture and removes the bland taste of Kesari bath.
Parallely take ghee in a frying pan and heat it.
Add in rava, cashews and raisins. Start frying them under medium flame.
Fry until raisins are swollen and you get nice aroma from the rava. Reduce the flame.
By now the water will be boiling on the other stove.
Carefully pour the boiling water into the frying pan little by little and start stirring. If you follow this kesari bath recipe, you need not worry about lump formation.

Add in cardamom powder and keep stirring until it reaches thick paste consistency.
Once it becomes thick..switch off the stove. It will become more thick or hard once it is cool. Please note this stage takes hardly 3-4 minutes. Do not over cook it. Lip smacking kesari bath is ready. Serve it either hot or cold.
Dear reader, We have a Kannada version of this recipe. Click here to read this recipe in Kannada.
You might like this: