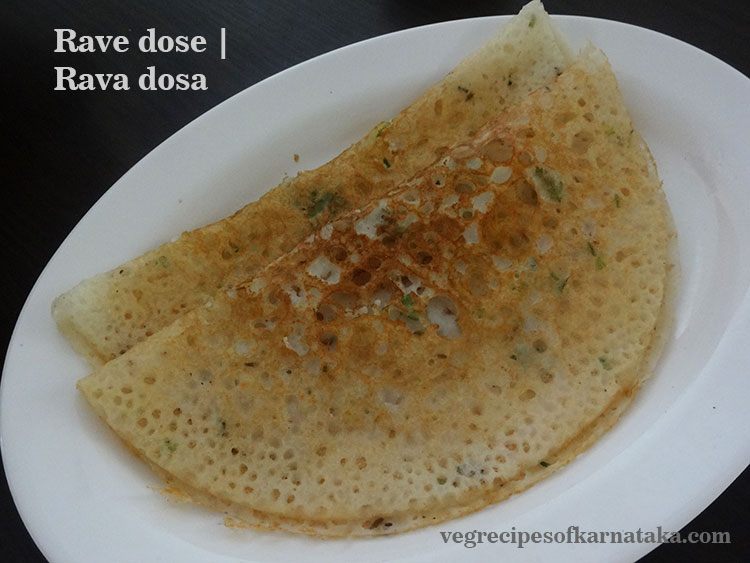 Rava dosa or rave dose recipe explained with step by step pictures. Rava dosa or rave dose is very popular breakfast recipe in Karnataka. Rava dosa or rave dose is prepared using rice flour, rava or semolina and maida flour. Optionally coriander leaves, cumin seeds, pepper, curry leaves and ginger are used.
Rava dosa or rave dose is an instant breakfast recipe. Rava or semolina is nothing but cream of wheat and in this recipe medium sized rava is used. You can find more rava or semolina recipes on this website like rave uppittu (rava upma), rava kesari bath, rave unde or rava laddu and rava roti.
The pan used plays a major role in preparing proper crispy rava dosa. I have a thick, well seasoned cast Iron pan, which we use for neer dosa (neer dose), spicy neer dosa and instant ragi dosa. If you do not have cast iron pan, don't worry go ahead with non-stick pan.
We all know rava dosa or rave dose will be crispy as well as soft. Means it will be crispy but it will just melt in your mouth. Though rava dosa recipe is very simple the proportion of flours and the rava plays major role in preparing ultimate rava dosa. You can find many rava dosa recipes on the internet. Even I have tried many recipes but was not satisfied with the texture and the taste. Finally this is the recipe from a very popular hotel or restuarant of Bengaluru (Karnataka), where I felt the rava dosas are just perfect and yummy. So I am very happy to share this rava dosa recipe (copyrighted) with you all.
So if someone wants to use or reproduce this post please do not forget to give the credit as I have struggled a lot to get this original and authentic rava dosa recipe. I have listed some optional ingredients below. Actually the recipe, which I got does not contain any of the optional ingredients. So you can add these optional ingredients or just leave it.
Rave dose or rava dosa should be served hot. And you can serve rava dosa along with coconut chutney, sambar or veg sagu.
You can find many breakfast recipes on our website. And if you are looking for more dosa recipes then do check our neer dose, masala dose, heerekai dose or ridgegourd dosa, ragi dose, curd dosa, rava rotti or dose, benne dose, bele dose or dal dosa, set dose, plain dose, masale neer dose, millet dose and whole wheat dosa or godhi doserecipes. Now let us get on to the original Karnataka style rave dose or rava dosa recipe. I have prepared a quick video on this, which I have embedded it below. Please have a look.
Rava dosa or rave dose recipe
Preparation time: 30 min
Cooking time: 10 min
Serves: 3

Ingredients: (measuring cup used = 240ml)
1 cup rice flour
1/4 cup rava or semolina or sooji
1/8 cup maida or all purpose flour
1 tsp besan or gram flour or kadlehittu (optional)
2.5 cup water (more or less depending on the dosa pan quality)
10 tsp Oil or ghee (used while making dosa)
Salt to taste
Optional ingredients: (measuring cup used = 240ml)
5 - 6 black pepper slightly crushed
1/2 tsp cumin seeds
1/2 tsp finely chopped ginger
1 tsp finely chopped coriander leaves
1 tsp finely chopped curry leaves
2 tsp grated coconut (optional)
1 green chili finely chopped (optional)
A pinch of asafoetida (optional)
A pinch of turmeric powder (optional)
Instructions for making rava dosa or rave dose:
Take rice flour, rava and maida in a container.
Add in optional ingredients, salt and water. I have added pepper, cumin seeds, ginger, coriander leaves and curry leaves from optional ingredients list.
Mix well and check for the consistency. It shall have thin watery consistency like neer dosa (neer dose). Rest the batter for 15 - 20 minutes.
Now take the cast iron pan (well seasoned) or non-stick pan. Keep the stove at high flame and wait till the pan becomes sizzling hot. To check whether it has reached the proper heat, sprinkle little water on the pan and the water shall sizzle and evaporate. Smear oil if it is an iron pan.
Before making each rava dosa, stir the batter very well with the ladle. To make rava dosa you have to pour the dosa batter on the hot pan and it will spread on its own like how we prepare neer dosa.

No need to close the lid. After 5 seconds drizzle 1 or 2 tsp of oil or ghee. Reduce the flame and allow it to cook on low flame for few seconds.
Fold the dosa on the pan itself. Take it out and serve it with coconut chutney or sagu or sambar. If your dosa pan is not seasoned well and dosa is sticking to the pan, then add little rava to the batter, mix it well and continue.
Dear reader, We have a Kannada version of this recipe. Click here to read this recipe in Kannada.
You might like this: