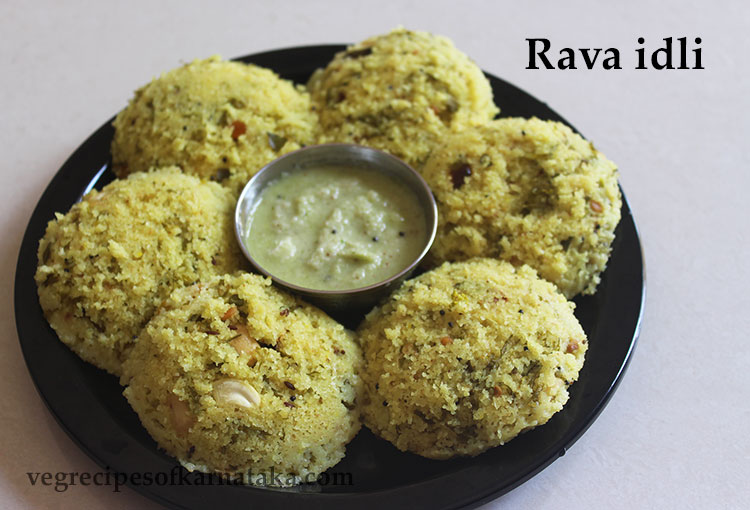 Rava idli or rave idli recipe explained with step by step pictures. Rava idli or rave idli is very popular instant breakfast recipe in Karnataka. Rava idli or rave idli is prepared using rava or semolina, curd, mustard, coriander leaves, cumin seeds, urad dal, gram dal, curry leaves and ginger.
Rava or semolina is nothing but cream of wheat and in this recipe medium sized rava is used. You can find more rava or semolina recipes on this website like rave rava dosa, uppittu (rava upma), rava kesari bath, rave unde or rava laddu, >rave parota or rava paratha and rava roti.
In this rava idli recipe I have used "eno fruit salt", which is easily availabe in pharmacy. Or you can use baking soda. You can even prepare rava idli without fruit salt and without baking soda but idli will be little hard. Rava idli or rave idli is an instant breakfast recipe. And we have posted many instant idli recipes like pumpkin idli, cucumber idli and apple idli. Instant idlies are easy and quick. But I feel, taste wise the traditional soft idli prepared using urad dal is ultimate.
You can serve these tasty rave idli or rava idli with coconut chutney or sambar or veg sagu.
You can find many breakfast recipes on our website. So please have a look on them. Now let's get on to the rava idli recipe.
Rava idli or rave idli recipe
Preparation time: 10 min
Cooking time: 20 min
Serves: 2

Ingredients: (measuring cup used = 240ml)
1 cup medium rava or semolina
1/2 cup curd or plain yoghurt (sour is preferred)
1 tbsp finely chopped coriander leaves
1/4 tsp baking soda or 1/2 tsp eno fruit salt
1 tsp oil or ghee (for greasing idli plates)
2 tbsp grated carrot
8 - 10 fried cashews
Salt to taste
Ingredients for tempering: (measuring cup used = 240ml)
1/2 tsp mustard seeds
1/2 tsp cumin seeds
1 tsp urad dal
1 tsp gram dal or chana dal
1 tsp finely chopped ginger
1 tsp finely chopped curry leaves
1 green chili finely chopped
A pinch of asafoetida
A pinch of turmeric powder
2 tsp cooking oil
Instructions for making rava idli or rave idli:
Heat a frying pan. Prepare tempering using mustard seeds, cumin seeds, urad dal and gram dal (chana dal).
Add in finely chopped ginger, green chili and curry leaves. Fry for a while.
Add in turmeric powder and asafoetida. Please note turmeric powder is an optional ingredient.
Next add in a cup of medium rava or semolina (upma rava).
Roast the rava until you get nice aroma under medium flame. This will take around 5 minutes.
Transfer it to a container and wait until cool. Once it is cool add in salt and chopped coriander leaves. Give a quick mix.

Add in 1/2 cup of curd. Rava idli tastes good with sour curd. Also add in required water and prepare batter having regular idli batter consistency.
Add in baking soda or eno fruit salt. If you are adding baking soda, then rest the batter for 30 minutes. And if you are adding eno fruit salt prepare the idlis immediately.
Grease the idli plates with oil or ghee and drop the batter. Decorate it with grated carrot and fried cashew.
Steam cook it for 10 minutes. Place the idli plates only after the steam starts. Do not over cook the idlis.
Dear reader, We have a Kannada version of this recipe. Click here to read this recipe in Kannada.
You might like this: