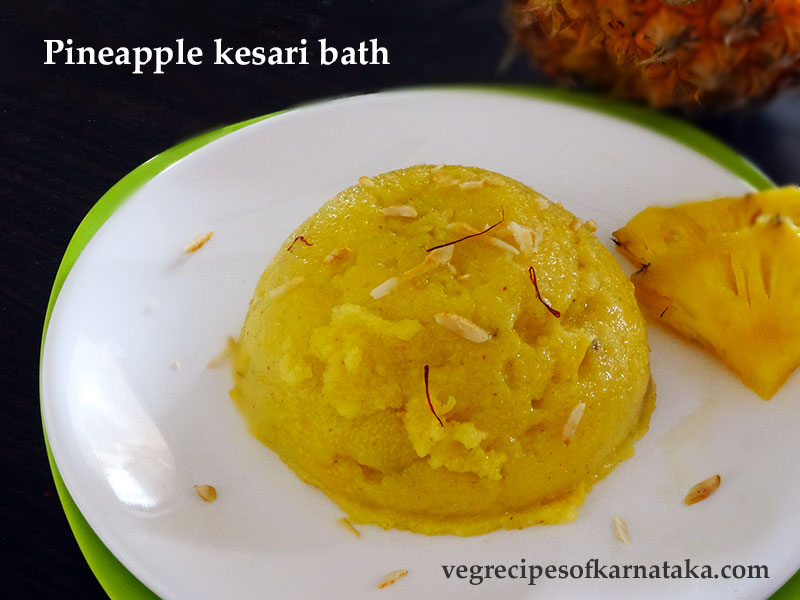 Pineapple kesari bath or ananas kesari bath recipe explained with step by step pictures and a quick video. Pineapple kesari bath is a very tasty and popular sweet recipe from the Indian state of Karnataka. Karnataka style pineapple kesari bath or sheera is a very simple sweet recipe. Pineapple kesari bath is prepared using rava, sugar, pineapple and ghee.
Kesari bath is a common sweet or desert prepared during festivals, special occasions, normal days and when there are sudden guests at home. In south Karnataka Kesari bath is prepared for the breakfast during the weddings. Kesari bath is prepared for the breakfast as well and is served with uppittu(upma) or Khara Bath in one plate and is popular as "Chow Chow Bath". In mangalore region it is familiar by name shira or sheera.
The Pineapple kesari bath recipe is very similar to plain kesari bath. So you add pineapple to prepare pineapple kesari bath, you add banana to add banana kesaribath and you add apple to prepare apple kesari bath.
Pineapple is a very tasty and very healthy fruit. I love to eat Pineapple and I love to sip Pineapple juice. I also prepare Pineapple payasa, Pineapple palya or curry and Pineapple menaskai recipes. All are my favorites.
I have used medium rava or upma rava in this recipe. Rava or semolina is nothing but cream of wheat. You can find many more rava or semolina recipes on this website likerava onion uttappa, Instant rava idli, rava dosa, uppittu (rava upma), rava kesari bath, rave unde or rava laddu, rave parota or rava paratha and rava roti.
You can find many more Karnataka style sweets, snacks, breakfast, gravies and curry recipes on this website.
I have made a quick video on this recipe, which I have embedded it below. Kindly have a look and subscribe to our YouTube channel for latest video alerts.
Pineapple kesari bath recipe
Preparation time: 10 min
Cooking time: 15 min
Serves: 3

Ingredients: (measuring cup used = 120ml)
1 cup medium rava or sooji or semolina
1 cup finely chopped pineapple
2.5 cups water
1.25 cup sugar
0.25 - 0.5 cup ghee (add more for rich taste)
A pinch of saffron or food colour or turmeric powder
A big pinch of cardamom powder
5-6 cashews
8-10 raisins (optional)
Instructions for making pineapple kesari bath:
Wash, peel and finely chop the pineapple. Refer Pineapple payasa post for detailed instructions.
Now to prepare Pineapple keasri bath first heat a pan and add in 1 tbsp of ghee and 1/2 cup finely chopped pineapple pieces.
Fry the pineapple for few minutes.
Next add in suagr and saffron (kesari dala). You can replace the saffron with food colour or turmeric powder.
Also add in water and cardamom powder. Keep it for boiling.
Now heat another pan. Add in ghee (I have used 1/4 cup but I recommend 1/2 cup for rich taste) and cashews.
Add in a cup of medium rava.

Roast under medium flame until you get nice aroma. You can also observe white spots on the rava.
By now pineapple and sugar water will be boiling in the other pan. Pour that carefully into the roasted rava.
Stir well until thick paste. It will become more thick once it is cool. This will take around 5 minutes. Switch off the stove. Serve and enjoy.
Dear reader, We have a Kannada version of this recipe. Click here to read this recipe in Kannada.
You might like this: