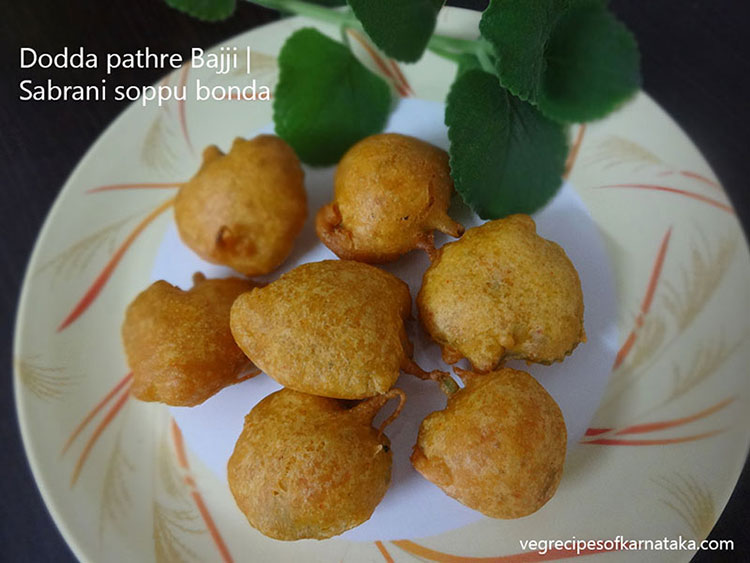 Doddapatre bajji or sambarballi podi recipe explained with step by step pictures. These are very simple and tasty deep fried fritters prepared using doddapathre (or Indian borage leaves), gram flour, rice flour, red chili powder, asafoetida and salt. The recipe is very simple and you can prepare these mouth watering bajjis in few minutes. Do try them and Enjoy!!
Doddapatre leaves are also familiar by name Sambrani or Sambarballi in Kannada language. It is familiar by different names in different languages like Ajwain or Patharchur(Hindi), Ova paan(Marathi), Panikoorka(Malayalam), Omavalli or Karpuravalli(Tamil), Vamu aaku(telugu), Pashanabedi(Sanskrit).
Doddapathre is a well known medicinal plant and is known by different names across the world. Please visit our main post "collection of recipes from doddapathre" for brief introduction, medicinal properties, different names and more recipes from doddapathre leaves or Indian borage leaves.
We have also posted various other recipes from doddapathre leaves like doddapathre thambuli, doddapathre hasi thambuli, doddapthre rasam, doddapathre onion chutney and doddapathre chutney. Click on the names to read them as well.
If you are looking for more tasty snacks recipes. then visit our snacks section.
Doddapathre bajji recipe
Preparation time: 5 min
Cooking time: 10 min
Serves: 2

Ingredients: (measuring cup used = 240ml)
3/4 cup gram flour / besan
15 doddapatre leaves
1/2 - 1 tsp red chili powder
1 tbsp rice flour
A small pinch of baking soda
A big pinch of asafoetida
Water as required
Oil for deep frying
Salt as per your taste.
Instructions for making doddapathre bajji
Take gram flour, rice flour, red chili powder, baking soda and asafoetida in a bowl.
Add in little water and prepare a thick batter, having dosa batter consistency.
Wash and pat dry the doddapatre leaves.
Heat the oil in a deep frying pan. Once the oil is hot, dip the leaves one by one in the batter and deep fry them.
Once the bubbles are stopped, take them out and serve.
Dear reader, We have a Kannada version of this recipe. Click here to read this recipe in Kannada.

You might like this: