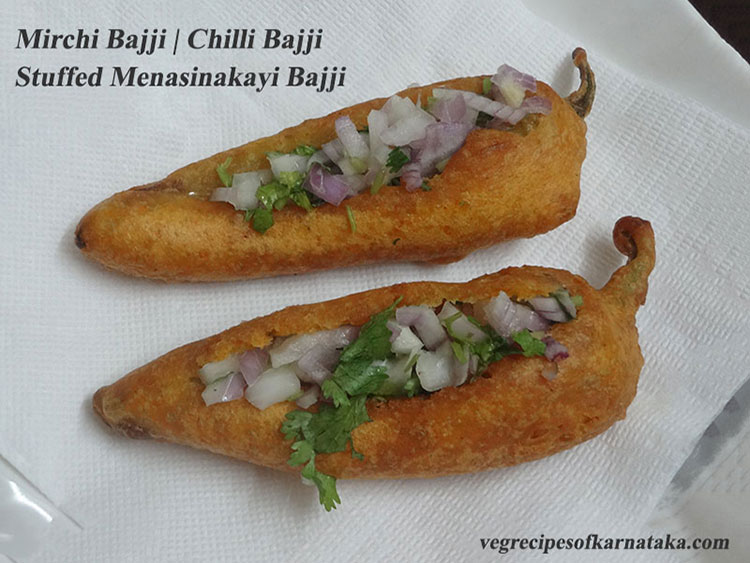 Stuffed Menasinakai bajji or Stuffed Mirchi bajji or Stuffed Chilli bajji recipe explained with step by step pictures. This Stuffed bajji recipe resembles Davanagere style stuffed Mirchi bajji recipe. Davanagere is a city, positioned at the geographical centre in the Indian state of Karnataka. And this city is very popular for the Menasinakai bajji or Mirchi bajji.
Generally in Karnataka, many cities are popular for their signature dishes. Like maddur is popular for maddur vada, Bangalore for idli-sambar, Mangalore for Mangalore buns, Davanagere is popular for Davanagere benne dosa, churumuri and Menasinakai bajji or mirchi bajji. But in Davangere Menasinakai bajji or Mirchi bajjis are prepared using a different type of chilli. Those chillis are more green in colour, little thin and little spicy as compared to the chillis, which I used here. Just have a look on the image below. I was not having these chilies when I posted this recipe.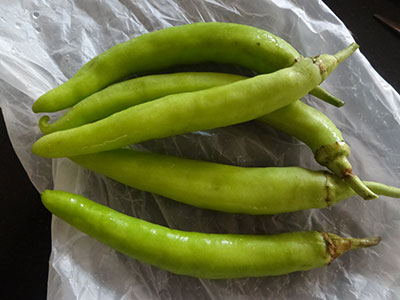 In Kannada language chilli bajjis are called by name menasinakai bajji or menasinakai bonda. These stuffed Menasinakai bajji or Mirchi bajji or Chilli bajjis are very tasty. They are stuffed before frying as well as after frying. Before frying chillis are stuffed with cumin and salt. And after frying bajjis are stuffed with finely chopped onion and coriander leaves.
You can also use various combinations of stuffing like grated carrot or sprouts or whatever you wish. I have already posted crispy chilli bajjis, which will be having a thin coat from outside. But these Davanagere Chilli bajji or menasinakai bajjis will be having very thick coat. They are crispy from outside and soft from inside.
I have also posted bajji recipe using Doddapathre leaves or ajwain leaves. So why are you waiting? Try these tasty bajjis, enjoy it with masala tea and let me know how was it?
Stuffed menasinakai bajji or mirchi bajji recipe
Preparation time: 10 min
Cooking time: 10 min
Serves: 8

Ingredients: (measuring cup used = 240ml)
1.5 cup gram flour or besan
1/4 cup rice flour
8 - 10 bajji chilies
1/2 - 1 tsp red chili powder
2 tsp crushed cumin seeds or cumin powder
1/4 tsp asafoetida
A pinch of baking soda
1/4 tsp oma or carom seeds or ajwain seeds
Oil for deep frying
Salt as per your taste.
Ingredients for stuffing:
1 finely chopped onion (You can also add grated carrot and sprouts)
2 tbsp finely chopped coriander leaves
1 finely chopped green chilli or 1/2 tsp red chili powder /
1/4 tsp chat masala (optional)
Salt as per your taste.
Instructions for making stuffed menasinakai bajji or Mirchi bajji:
Wash and pat dry the chillis. Slit chilies lengthwise and deseed them.
In a small bowl take 2 tsp of crushed or powdered cumin seeds, a tsp of salt and mix.
Stuff the chilies evenly with 1/4 tsp of cumin and salt mixture.
Take gram flour, rice flour, red chilli powder, salt, baking soda, carom seeds and asafoetida in a bowl. Add water and prepare a thick batter.
The batter should be of idli batter consistency. Stuffed menasinakai bajji or mirchi bajjis should have a thick outer coat. So while dipping the chillis if you feel the batter is thin add flour and adjust the consistency.

Take a wok with enough cooking oil and heat it. Now dip the chilies one by one in the batter and deep fry them. Fry them under medium flame. And make sure that the batter has been filled inside the chillis also.
Now again slit the fried chilies lengthwise and stuff it with chopped onion, coriander leaves, green chilli and chat masala. You can replace green chili with red chili powder. But adding chat masala is optional. Cut them into 2 pieces and serve them with hot tea.
Dear reader, We have a brief Kannada description of this recipe. Click here to read this recipe in Kannada.
You might like this: