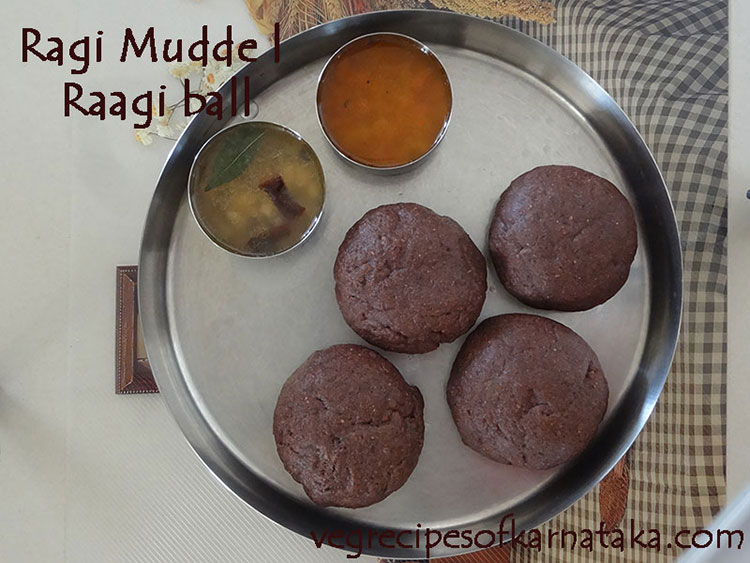 Ragi mudde recipe explained with step by step pictures and a quick video. Ragi or raagi mudde is a very popular food in some part of Karnataka. Ragi mudde or raagi ball is a soft ball prepared using finger millet flour and water. I learnt this ragi mudde recipe from my dear friend Sushma, who is from Mysore, Karnataka.
And coming to the name "Ragi mudde", "Ragi" is finger millet and "mudde" refers to soft balls or lumps prepared using finger millet flour. Some people will add little cooked rice or cream of rice to make the ragi mudde making process hassle free. But in Karnataka style authentic recipe ragi flour (finger millet flour) and water are the only two ingredients in ragi mudde. Optionally you can add little salt. These ragi mudde is also called by name "ragi sangati" and "ragi kali" in neighbouring states.
Ragi mudde recipe is easy, but you will have to put a lot of strength to prepare them. The stirring stage (mixing the flour with water) may become little difficult for the beginners. But do not worry, you will get back more energy after eating the ragi mudde.
Ragi has numerous health benefits. To read more about Ragi or finger millet, please go thorugh ragi rotti and ragi dose recipes.
Ragi mudde or ragi balls are traditionally eaten with saaru (gravy). Ragi mudde, by itself does not have a strong taste. So it is broken into small chunks using fingers and swallowed by dipping them in gravies or curries. There are some popular gravies served along with this ragi mudde like massoppu, bassaru and upsaaru. All are grean leaves and lentils based gravies. Or it goes well with some curries like Doddapatre-onion curry. So do read, try and enjoy this healthy wholesome food. I have prepared a quick video on this, which is given below. Please have a look.
Ragi mudde recipe
Preparation time: 2 min
Cooking time: 15 min
Serves: 4

Ingredients for Ragi mudde: (measuring cup used = 240ml)
2 + 1/4 cup water (1/4 cup used at the end)
1 cup ragi flour / finger millet flour
Salt as per your taste (optional)
Instructions for making Ragi mudde (ragi balls):
Take 2 and 1/4 cups of water in a thick bottomed large vessel. Add in 1 tbsp of ragi flour, mix well and keep it for boiling. Add in little salt if you wish to add.
When it starts boiling, take out 1/2 cup of boiling water and keep it aside. We will be using this at the end.
Add in 2 cups of ragi (finger millet) flour.
Just press the ragi flour gently using the wooden spatula. Do not mix.
Allow it to boil for 6 - 7 minutes under medium flame. The time might vary depending on the quantity and the flame.
After about 6 - 7 minutes, reduce the flame, take a wooden stick (mudde kolu) or wooden spatula and mix vigorously.Have a look at the wooden stick or mudde kolu, which is used to prepare ragi mudde.
Mix really well. Make sure there are no lumps. This step generally takes 1 - 2 minutes.
Now add in 1/4 to 1/2 cup of preserved boiling water depending on the softness you need. Mix it well again for a minute and switch off the stove. This step makes the ragi mudde soft but it is optional. Close the lid wait for few seconds.
Immediately transfer it on to a plate or a wooden board. Wet you fingers and make tennis ball sized ragi mudde or balls. Ragi mudde should not stick to your wet fingers. If it is cooked properly it will not stick. Now serve it hot with massoppu saaru or upsaaru or any other sambar or curd. Enjoy healthy and drool worthy meal!!
Dear reader, We have a Kannada version of this recipe. Click here to read this recipe in Kannada.
Thanks for the likes, shares and comments. Its so encouraging and it means a lot to us!!
You might like this: