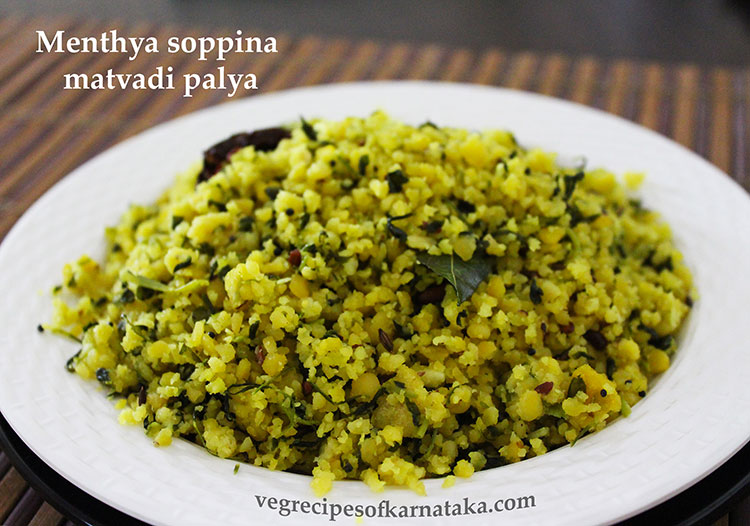 Matvadi palya or matawadi palya is a very healthy and very popular stir fry recipe from Karnataka. Menthya soppina matvadi or matodi palya recipe explained with step by step pictures. Matvadi palya is prepared using toor dal, fenugreek leaves, green chili, coconut, ginger and few other spices.
This is a menthya soppu or menthe soppu matvadi palya. You can replace menthya soppu or fenugreek leaves with cluster beans or french beans. This is a very tasty stir fry recipe and is my Son's favorite. Matvadi or matawadi or matodi palya can be prepared using either toor dal or chana dal (bengal gram dal). I like it with toor dal and I always prepare it with toor dal. So it's up to your taste.
If you are loooking for more fenugreek leaves recipes then do check my menthe soppu dose, menthe palle (methi dal), menthe soppina rice bath and menthe soppina parota (methi paratha) recipes.
Traditionally Matvadi palya is prepared using a lot of oil. The dal and methi leaves mixture is sauteed in oil for long time. It tastes good but requires a lot of oil and is time consuming as well. So here I have steam cooked the dal and leaves mixture and then tempered it. So this is a healthy stir fry recipe. You can also serve it like evening snacks or usli.
You can find many healthy snacks recipes on this website like nuchinunde, congress kadlekai, hurigalu, churumuri and mandakki recipes.
You can also find many palya or stir fry recipes on this website like gorikai or cluster beans palya, bendekayi or ladies finger palya, bittergourd sweet curry, thondekai palya, Mixed vegetable palya, beans palya, badanekayi palya, Hagalakayi palya, Boodu kumbalakai or ash gourd palya and north karnataka special zunka vadi recipes.
Or if you are looking for more Karnataka style curry recipes then do visit our curries section.
Matvadi palya recipe
Preparation time: 2 hours
Cooking time: 30 min
Serves: 4

Ingredients: (measuring cup used = 240ml)
1 cup toor dal
3 - 4 cups chopped fenugreek leaves
2 - 4 green chili
1 " length ginger
1/2 cup grated coconut
Ingredients for tempering:
4 tbsp oil
1 tsp mustard seeds
1 tsp cumin seeds
1 red chili broken
1 tsp urad dal
1 tsp gram dal
5 - 6 curry leaves
A generous pinch of turmeric powder
A generous pinch of asafoetida
Salt as per your taste
2 tsp lemon juice (optional)
Instructions for making matvadi palya:
Rinse and soak toor dal for 2 hours.
After soaking drain the water. Coarse grind the dal along with green chili and ginger without adding any water.
Transfer it to a wide bowl.
Pick and clean the fenugreek leaves. Rinse and finely chop it.
Now add in finely chopped fenugreek leaves and grated coconut into the bowl, which has ground dal.
Give a quick mix.
Next steam it for 15 minutes.
Once steamed, crumble it using a flat spatula.

Prepare tempering using oil, mustard seeds, urad dal, gram dal, broken red chili and curry leaves.
Add in asafoetida and turmeric powder.
Next add in steamed and crumbled toor dal and fenugreek leaves mixture. Also add in salt as per your taste.
Give a quick mix and cook under low flame for 10 minutes. If you feel the palya is very dry..sprinkle little water and cook for some more time. At the end add in lemon juice. Serve it with rice or chapathi.
Dear reader, We have a Kannada version of this recipe. Click here to read this recipe in Kannada.

You might like this: