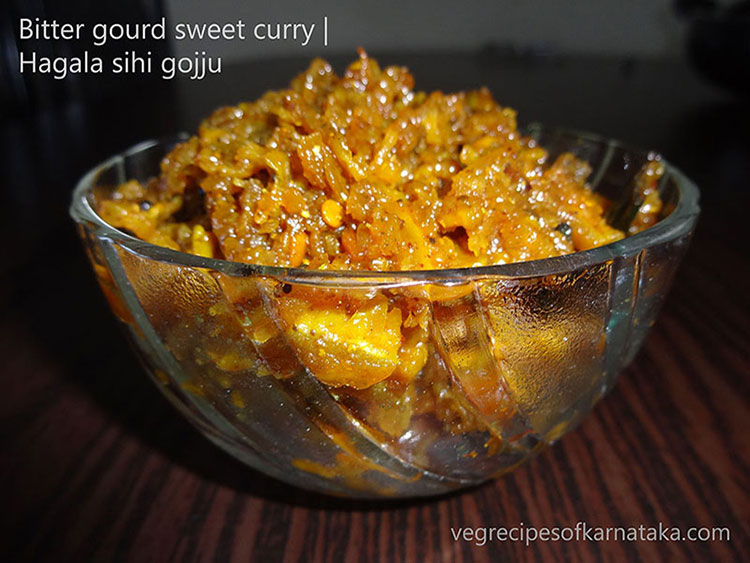 Bitter gourd sweet curry translates to "hagalakayi sihi gojju" in kannada language. This type of hagalakayi gojju is one of the simplest curry prepared using bittergourd and it is very tasty. Hagalakayi gojju is prepared using bitter gourd, jaggery, coconut and rasam powder. If you do not have rasam powder, then replace it by (1/2 tasp red chili+1/2 tsp coriander+1/4 tsp cumin).
Bitter Gourd is very good for health. Bitter gourds are highly beneficial in treating blood disorders, Cholera, Diabetes mellitus, Eye problems, Gout, Psoriasis, Respiratory disorders and Piles. Regular consumption of bitter gourd improves energy and stamina level, cleanses and repairs liver problems due to alcohol consumption, builds immune system and cleanses the blood from toxins. You can find bitter gourd palya and bitter gourd chutney recipes on this website.
Hagalakayi gojju is a perfect recipe for the people who hate bitter gourd. Because the salt, sour, sweet and bitter combination of this curry tastes so good that you will just fall in love with this bitter gourd sweet curry or hagalakayi sihi gojju. So please do try once!!
If you are looking for more curry recipes then check our aloo-gobi, ennegayi palya, green gram curry, mixed vegetable curry, methi dal, potato sagu, alasande kalu gojju and aloo bhaji recipes.
Bittergourd sweet curry or Hagalakayi gojju recipe
Preparation time: 20 min
Cooking time: 30 min
Serves: 4

Ingredients: (measuring cup used = 240ml)
1 medium sized bitter gourd
2 big lemon sized jaggery
1 lemon sized tamarind
4 tsp cooking oil
1/2 tsp mustard seeds
1 tsp urad dal
1 tsp channa dal/ bengal gram dal
1/4 tsp turmeric powder
4-5 curry leaves
1-2 green chilly
1 tsp rasam powder (refer above description)
1/4 cup grated coconut
Salt as per your taste
Instructions for making Bittergourd sweet curry or Hagalakayi gojju
Wash and cut the bitter gourd lengthwise. Scoop out all the seeds and chop the bitter gourd into small or thin pieces. Soak it in the salt water (1/2 tsp salt and water) for 10 minutes.
Heat the frying pan, add oil, 1/2 tsp mustard seeds, urad dal and channa dal. When the urad dal turns brown, add slit green chilly and curry leaves.
Add the chopped bitter gourd by squeezing out the water. Fry for 2 minutes. Add turmeric powder and fry for few more minutes. Then add salt, jaggery, tamarind juice and water. When it starts boiling reduce the flame. Dont close the lid and keep stirring occasionally. This step takes approximately 20 minutes.
When the water level reduces or when it reaches thick gravy consistency add grated coconut and rasam powder. Mix well and switch off the stove. Serve it with hot rice or chapathi.
Dear reader, We have a Kannada version of this recipe. Click here to read this recipe in Kannada.
You might like this: