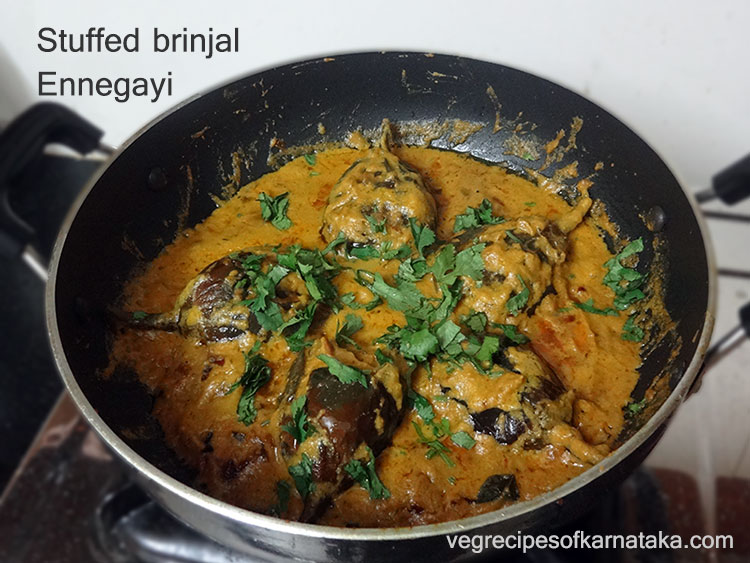 Ennegayi or stuffed brinjal recipe explained with step by step pictures. Badanekayi ennegayi or thumbida badanekayi is a very tasty and extremely popular curry recipe from North Karnataka. Ennegayi is mainly served with jowar roti (jolada rotti) or chapathi. Tasty ennegayi or stuffed brinjal is prepared using small purpole brinjals, onion, coconut, peanut, sesame seeds and many other spices.
In Kannada this curry is familiar by name ennegayi or thumbida badanekayi. "Enne" translates to oil in Kannada language. Since brinjal or badanekayi is cooked under low flame in oil, it is called by name ennegayi. Also "thumbida" translates to stuffed in Kannada language. And so comes the name thumbida badanekayi or stuffed brinjal.
I tasted this yummy ennegayi or stuffed brinjal curry in many places like in my friend sushma's house who lives in Mysore, in my friend Veena's house who is from Belgaum and in Kamath chain of hotels, Bangalore. I learnt this recipe from my friends. They say the recipe varies from region to region. Variations like one uses more coconut, the other recipe uses more peanuts, in one more recipe there is no fried gram, the other recipe makes use of cinnamon and cloves etc.,. So I collected recipe from many people and after few trials I felt this is the perfect tasty recipe. Now I prepare this frequently at home enjoy with either jolada rotti (jowar bhakri), Akki rotti (rice flour roti) or chapathi.
If you are looking for more north Karnataka recipes then do check my Zunka vadi, putani undi, mirchi bajji, menthe palle, benne dosa and girmit recipes.
Ennegayi palya recipe
Preparation time: 15 min
Cooking time: 30 min
Serves: 3

Ingredients: (measuring cup used = 240ml)
5 - 6 small tender purple brinjals
1 big onion
1 gooseberry sized tamarind
2 tsp jaggery
1/4 tsp turmeric powder
4 - 5 curry leaves
1 tbsp finely chopped coriander leaves
1/4 tsp mustard seeds
4 tbsp cooking oil (6 tbsp if not using nonstick pan)
Salt as per your taste
Ingredients for grinding: (measuring cup used = 240ml)
2 tsp sesame seeds
2 tbsp ground nuts or peanuts
3 - 6 red chilies
2 tsp coriander seeds
1 tsp cumin seeds
2 tsp gram dal or chana dal
1 tsp urad dal
1/4 tsp fenugreek seeds
2 tsp roasted gram or fried gram
1/2 cup grated coconut
Instructions for making badanekayi ennegayi:
Wash and slit the brinjals in '+' sign retaining the stalk portion. Please refer the image. Also check for worms or any spoiled part.
Now immersse the slit brinjals in water for 10 minutes.
Meantime let us start roasting the ingredients for grinding. Take a frying pan and dry roast sesame seeds until they start spluttering. Once it is done take it out and keep it aside.
Next in the same pan dry roast ground nuts or peanuts until slightly brown. Once it is done take them out and keep it aside.
Next in the same pan add in a tsp of oil, 3 red chilies, 2 tsp gram dal, 1 tsp urad dal, 2 tsp coriander seeds, 1 tsp cumin seeds and 1/4 fenugreek seeds. Fry them under medium flame until dals are brown. Take care not to burn anything.
Once done take them out and keep it aside. Now have a look at all the ingredients roasted. Add in fried gram and grated coconut.
Transfer all the roasted ingredients, fried gram and coconut into a mixie jar and grind it into a thick paste by adding required water. Keep it aside.
Now take 4 tbsp of oil in the same pan and heat it. Add in mustard seeds. When the mustard seeds splutters add in curry leaves and chopped onions.
Fry the onions until soft. Then add in turmeric powder. Give a quick stir and reduce the flame.
Now take out the brinjals from the water. Remove the excess water. And then stuff the ground masala inside the slit brinjals.
Place the stuffed brinjals in the frying pan which has onion tempering.
After few minutes turn the brinjals and cook the remaining sides under low flame.
Add in tamarind juice extracted from a gooseberry sized tamarind, jaggery and salt.
Continue cooking the brinjals for few more minutes. Keep turning the brinjals and cook on all sides under low flame.
Once the brinjals are soft add in remaining masala and 1 cup of water. Cover and cook the brinjals for few more minutes.
After around 5 minutes or when the masala starts leaving the oil it is done. Sprinkle the chopped coriander leaves. Serve it with hot rice flour roti or jowar roti or chapathi.
Dear reader, We have a Kannada version of this recipe. Click here to read this recipe in Kannada.

Thanks for the likes, shares and comments. It is so encouraging and it means a lot to us!!
You might like this: