Preparation time: 10 min
Cooking time: 5 min
Serves: 10 no

Ingredients: (measuring cup used = 120ml)
1 cup Roasted gram or Fried gram or hurigadale or putani or kadle pappu
3/4 cup sugar
1/4 cup ghee (I used less than 1/4 cup)
A pinch of cardamom powder
2 tbsp broken cashews
Instructions for making Fried gram or Roasted gram laddu:
Take a mixie jar and grind the sugar and cardamom. Transfer it to a bowl.
Next grind the fried gram and add it to the same bowl, which has powdered sugar. Give a quick mix.
Take ghee in a small pan and roast cashews.
Now pour this hot ghee along with the cashews over the powdered sugar and fried gram.

Take a spoon and mix well.
Now make balls or laddus using your hands. You will have to put good pressure using your fist to make laddus. If you find it difficult, add little more ghee and then try. The fried gram or roasted gram laddus can stay for 10 days if you store it in an airtight container.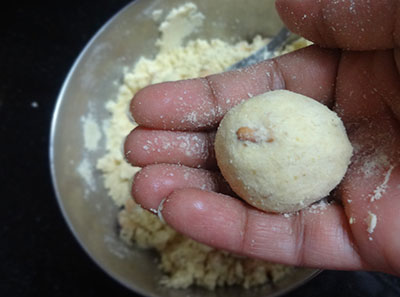 Dear reader, We have a Kannada version of this recipe. Click here to read this recipe in Kannada.