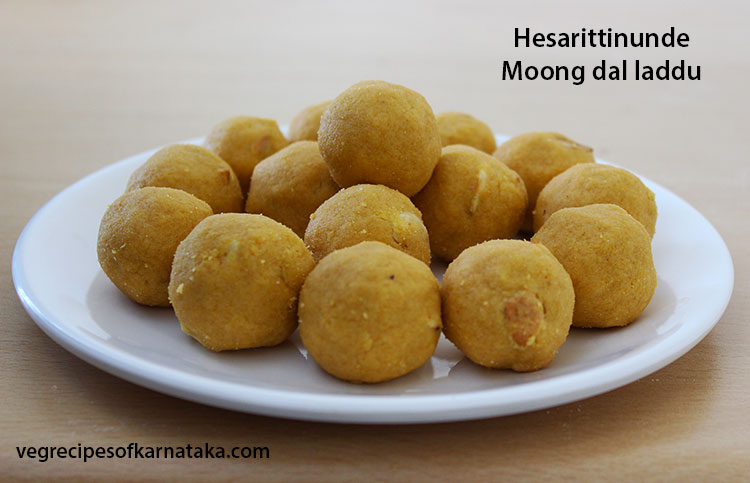 Hesarittina unde or mung dal ladoo recipe explained with step by step pictures and a quick video. Hesarittina unde or mung dal ladoo is prepared using split green gram, sugar and ghee. Hesarittina unde or mung dal ladoo recipe is a very easy ladoo or laddu or unde recipe. This is a kids friendly recipe and it is also prepared for festivals and on special occasions.
You can find many unde or ladoo or laddu recipes on this website like rave unde or rava laddu, shenga unde or peanut laddu, dry fruits laddu, besan ladoo or laddu, ragi laddu and fried gram laddu or hurigadale unde. In this hesarittinunde or moong dal laddu no sugar or jaggery syrup is involved. So even a beginner can do these laddus. You can never go wrong in this recipe.
I am very very happy to post this ladoo or unde recipe for 2 reasons. The first reason is these are my favourites and my Son also loves these laddus so much. The second reason is I am completing 300 recipes with this very tasty and healthy recipe. I am very happy with my journey with you all. Also I have made a quick video on this recipe, which I have embedded it below. Please do have a look.
I have posted many sweets recipes on this website and out of which carrot halwa, rava laddu or rave unde, badam burfi and athrasa or kajjaya are my favorites.
I have also posted many Karnataka style sweet recipes like halu bai, thambittu, kumbalakayi halwa or kashi halwa, rava kesari bath, banana halwa, coconut burfi and badam puri recipes. Also I have posted one easy and quick peda recipe for kids. Do read, try and enjoy!!
Hesarittina unde or mung dal ladoo recipe
Preparation time: 15 min
Cooking time: 15 min
Serves: 15 no

Ingredients: (measuring cup used = 240ml)
1 cup hesaru bele or moong dal or split green gram
1/2 cup sugar
1/4 cup ghee
4 tbsp broken cashews
Instructions for making hesarittina unde or mung dal ladoo recipe:
Break the cashews into 4 pieces, roast and keep it aside.
In a thick bottomed pan start roasting the dal under low medium flame.
Roast until heasru bele or moong dal turns light brown. Please note dal should be roasted under low medium flame.
Wait until cool and grind it into a fine powder.
Transfer it into a fine mesh sieve.
Also grind sugar into a fine powder and transfer it to the sieve.

Start sifting the flour and sugar powder. Grind the remaining particles and sieve it again.
Next add in roasted cashews. Also add in melted ghee little by little and begin mixing the flour.
Add in required ghee and mix the flour. You should be able to make a ball by putting little pressure.
Take a small portion of mixed flour in the hand and make the ladoo. Like this finish making all the ladoos.
Dear reader, We have a Kannada version of this recipe. Click here to read this recipe in Kannada.

You might like this: