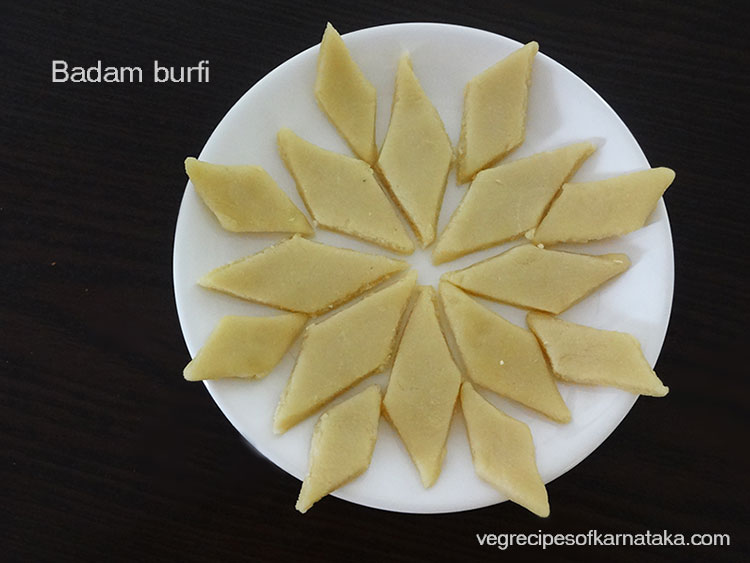 Badam burfi or badam katli recipe explained with step by step pictures and a video. Badam burfi or barfi is very easy to prepare. Badam burfi or badam katli is prepared using almond, little cashew, milk, sugar and little ghee.
I was not knowing preparing badam burfi is this easy. It all happened when I saw one badam burfi recipe post in our facebook group. Since my son loves badam burfi, I tried at home. For my surprise it turned out so well. Just like the ones, which we get in popular sweet shops. My son loved it so much and I recieved many many thanks from him.
In this recipe I have used nonstick kadai or pan. If you do not have a nonstick utensil, then you may have to increase the amount of ghee to avoid sticking. And as you increase the ghee, you may have to increase the sugar amount also slightly. I have embedded a quick video below. Please make use of it.
So I am posting this recipe now as the Diwali festival is ahead. So try this tasty badam burfi or badam katli recipe for this Diwali. I am sure you all will love it. I have 2 more badam or almond recipes on this website, they are carrot badam payasa and badam halwa recipes. Do not forget to try them as they are very tasty.
If you are looking for more sweet recipes then do check our saat or badusha, kayi holige, rave unde or rava laddu, badam puri recipe, halu bai, pineapple payasa, mungdal payasa, Shavige payasa, hurigadale unde or fried gram laddu, kesari bath, easy carrot halwa, easy milk peda and coconut burfi recipes.
I have made a video on this recipe with Kannada narration, which I have embedded it below. Kindly have a look.
Badam burfi recipe
Preparation time: 1 hour
Cooking time: 30 min
Serves: 20 no

Ingredients: (measuring cup used = 120ml)
1 cup badam or almond
1/4 cup cashews
3/4 cup milk (for grinding)
1 cup sugar
2 tbsp ghee
A pinch of cardamom powder
A nonstick kadai or pan
Instructions for making badam burfi or badam katli:
To begin with boil 2 cups of water in a container. Add in 1 cup of almonds or badam, boil for 2 minutes and switch off the stove.
When the heat reduces, peel the badams and soak them in the water for one hour.
Also soak the 1/4 cup of cashews for 1 hour.
After soaking drain the water. Transfer soaked almonds and cashews into a mixie jar. Add in 3/4 cup of milk
Grind it into a fine paste.
Now take ghee, ground paste and 1 cup of sugar in a non-stick kadai or deep frying pan. If you do not have a nonstick utensil, then you may have to increase the amount of ghee to avoid sticking.
Switch on the stove and start stirring under medium flame.
After sometime you will start seeing the mixture starts leaving the pan. It is not yet done. Continue sirring under medium flame.

At one point after around ten minutes you will start feeling very difficult to stir. Means the mixture or burfi dough will become a stiff lump. You can even observe the color, which turns whitish. At that time it is done. Switch off the stove.
Wait until it is warm and transfer it on to a butter paper or greased thick plastic sheet.
Knead it a bit and roll it into a thick sheet using a greased rolling pin. Please note, it will stick too much if it is under cooked. In that case cook for some more time.
Set it aside for 2 hours and then cut them into pieces using a knife of pizza cutter. I was in hurry so made pieces a bit early.
Dear reader, We have a brief Kannada description of this recipe. Click here to read this recipe in Kannada.
You might like this: