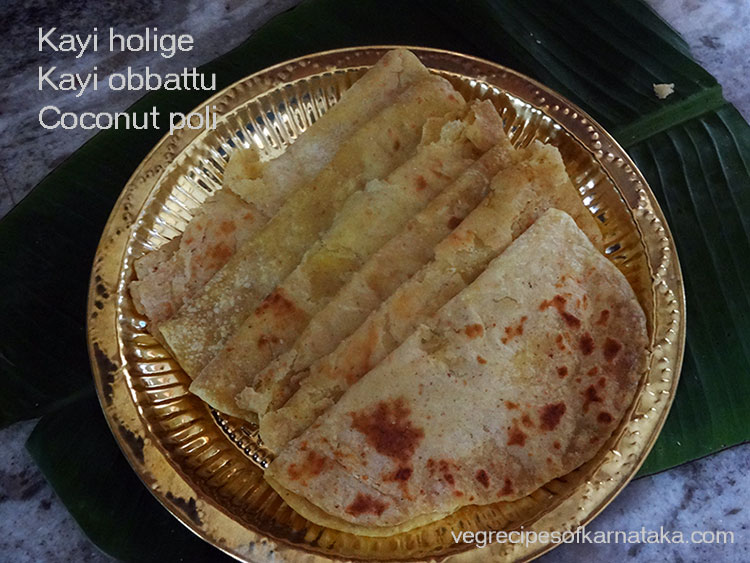 Kayi holige or kayi obbattu or coconut poli recipe explained with step by step pictures. This is a Mangalore style kayi holige or kayi obbattu and is very very popular in Managlore-Udupi region of Karnataka. This tasty kayi holige or kayi obbattu is very easy to prepare if the proper recipe is followed.
I have posted another tasty holige or obbattu recipe prepared using chana dal, which is popular by name kadlebele holige or bele obbattu or puran poli.
Mangalore style kayi holige or kayi obbattu or coconut poli is prepared using maida flour. Kayi holige (that is how it is called in Karavali and Malnad region) is thin, stiff yet very soft in texture. Flour is dusted and the holige or obbattu is rolled using a rolling pin. So this kayi holige looks very dry but it just melts in your mouth. I have tasted holige or obbattu from various parts of Karnataka. And I would say this Mangalore version is ultimate in taste. Maida flour is used in the recipe, which you can replace with wheat flour. You can refer this holige or obbattu recipe using wheat flour recipe for the same. But to get the authentic taste I would suggest using maida or all purpose flour.
In Managlore-Udupi region of Karanataka, kayi holige or bele holige is prepared on all special occasions. I learnt this recipe from my Father-in-law (He is a great cook though cooking is not his profession). Infact I prepared this under his guidence last time when I visited my hometown. I am posting this recipe now as the Diwali festival is ahead. So try this tasty holige for this Diwali.
If you are looking for more sweet recipes then do check our rave unde or rava laddu, badam puri recipe, halu bai, Carrot badam payasa, pineapple payasa, mungdal payasa, Shavige payasa, hurigadale unde or fried gram laddu, kesari bath, easy carrot halwa, easy milk peda and coconut burfi recipes.
Kayi holige recipe
Preparation time: 30 min
Cooking time: 30 min
Serves: 25 no

Ingredients for kanaka (outer cover): (measuring cup used = 240ml)
2 cup maida or all purpose flour
3/4 cup water
6 tbsp coconut oil or cooking oil
A pinch of food colour or turmeric powder
Salt as per your taste
Ingredients for hoorana (stuffing): (measuring cup used = 240ml)
4 cup grated coconut
2 cup powdered jaggery
2 cardamom
Instructions for making kayi holige or kayi obbattu recipe:
To begin with let us prepare kanaka (dough for the outer cover). Sieve and take 2 cups of maida flour in a wide bowl. Add in salt and food colour (you can replace it with turmeric powder).
Now add in water little by little and prepare a soft dough (much softer than chapathi dough). I have used 3/4 th cup of water.
Now pour in coconut oil or any other cooking oil. Spread the oil all over the dough and rest it for 30 minutes.
Meantime let us prepare hoorana or stuffing. Grind 4 cups grated coconut, 2 cups jaggery and cardamom until smooth without adding any water. First you can dry grind the coconut and then grind it along with the jaggery and cardamom. Transfer it to a kadai or big frying pan.
Then switch on the stove and start stirring the hoorana or stuffing (coconut and jaggery mixture) under medium flame.
Continue stirring until the excess water content is dried. You can also hear a hissing noise while stirring due to the water content. When the hissing noise reduces it is done. Switch off the stove.
Wait until stuffing is warm. And make small lemon sized balls. The stuffing balls should be soft but stiff.
Finish making all the balls and set it aside.
Now make small lemon sized balls from the kanaka or dough for the outer cover. You can not really make the balls. You need to pinch and take a small portion and drop it on a plastic sheet or banana leaf.

Next dust your fingers take a kanaka (dough for the outer cover) and place a hoorana (stuffing ball) over it.
Slowly push the hoorana or stuffing inside and cover it evenly with the dough.
Apply the flour generously and roll it into a very thin holige or obbattu.
Heat a Iron pan or tava and transfer the rolled holige or obbattu on to the tava carefully.
Wait until you see bubbles here and there.
And then flip it and cook on the other side as well. When you see slightly brown patches here and there it is done. Enjoy Kayi holige or kayi obbattu or coconut pooran poli with ghee and enjoy!!
Dear reader, We have a brief Kannada description of this recipe. Click here to read this recipe in Kannada.
You might like this: