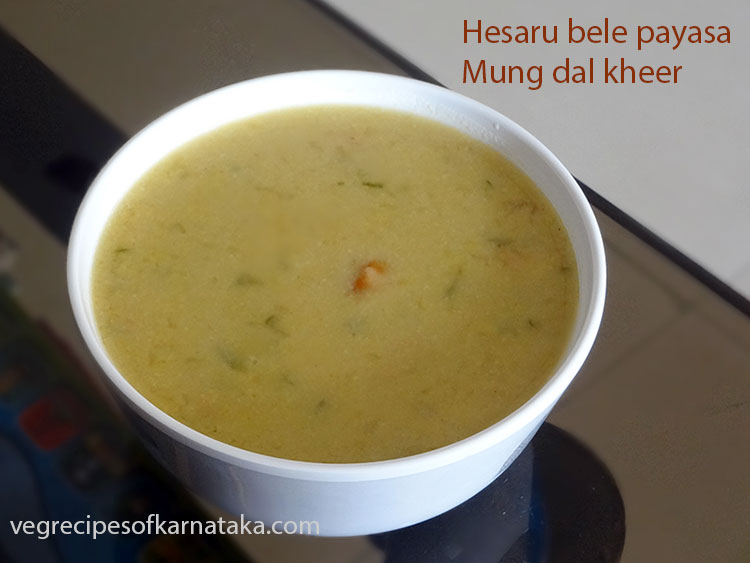 Hesaru bele payasa or mung dal kheer recipe explained with step by step pictures. Hesaru bele payasa or payasam is prepared using green gram dal, cucumber and coconut milk. Hesaru bele payasa is very popular in Mangalore region or South canara region of Karnataka. You can use store bought coocnut milk or home made coconut milk. I prefer homemade coconut milk. In Karnataka "payasam" or "kheer" is called as "payasa".
I learnt this hesaru bele payasa recipe from my mom-in-law. She just loves preparing and serving varieties of payasas. She prepares many tasty payasas like bottlegourd payasa, jackfruit payasa, carrot payasa, dates payasa, pineapple payasa, rava payasa, bengal gram dal payasa, poppy seeds payasa, sabudana payasa, sweet potato payasa, vermicelli payasa, rice kheer or haalu payasa, cucumber payasa and many more. The payasa list goes on.
I have few more recipes using green gram like green gram salad (hesaru bele kosambari), green gram dal rasam (hesaru bele saaru), green gram curry and green gram sprouts salad.
My mother also prepares this payasa or kheer but she will add ground coconut instead of coconut milk. This hesaru bele payasa is very easy, healthy and tasty. If you are looking for more sweet recipes then do check carrot halwa, roasted gram laddu, Kesari bath , banana halwa, rave ladoo, coconut burfi, badam puri and saat recipes.
Hesaru bele payasa recipe
Preparation time: 10 min
Cooking time: 30 min
Serves: 4

Ingredients: (measuring cup used = 240ml)
1/2 cup hesaru bele or Mung dal or green gram dal
1 small sized cucumber or 1/2 medium sized cucumber (optional; but I recommend)
1/2 cup jaggery (or as per your taste)
2 cups coconut milk.
2 tsp ghee
5-6 cashews
8-10 raisins
2 cup water
A big pinch of cardamom powder
A pinch of salt
Instructions for making hesaru bele payasa or mungdal kheer:
Take a mung dal in a cooker and rinse well. Add in 1.5 cup of water and cook the dal by making 2 whistles.
Parallely wash and chop the cucumber into small pieces.
Once the dal is cooked, add in chopped cucumber. Add in 0.5 cup of water and cook the cucumber and dal under medium flame for about 7 - 8 minutes until cucumber pieces are soft by stirring occasionally.
Next add in 1/2 cup of powdered jaggery and a pinch of salt. If you feel jaggery is not clean then make jaggery syrup, strain it and then add.
Once the jaggery is dissolved, add in coconut milk (unsweetened). You can use either store bought coconut milk or home made coconut milk. Add in 2 cups of coconut milk (Prepared using 2 cups grated coconut and 2 cups water). Also add in cardamom powder.

When it just starts boiling switch off the stove. You can also adjust the sweetness and the consistency at this stage. But do not boil the payasa too much after adding coconut milk. Switch off the stove.
Fry cashews and raisins using 2 tsp of ghee. Add in fried cashews and raisins along with the ghee. Serve tasty hesaru bele payasa or mung dal kheer either hot or cold.
Dear reader, We have a brief Kannada description of this recipe. Click here to read this recipe in Kannada.
You might like this: