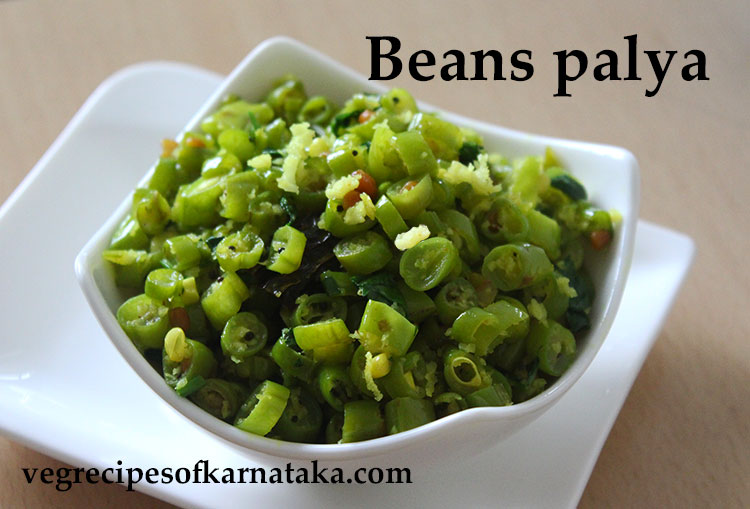 Beans Palya or Beans poriyal or Beans stir fry recipe expalined with step by step pictures. Beans Palya or stir fry is prepared using chopped beans, grated coconut and few other ingredients. This can be used as an accompaniment with rice or chapathi.
There are so many varieties of beans palya or beans stir fry recipes in Karnataka. And this is the simplest one and like it this way. No grinding and no onion in this palya recipe yet it tastes good. I would say this is a perfect bachelor recipe. You can also prepare this beans palya with onion and with ground coconut. I will share those recipes also soon. Beans is a versatile vegetable you can prepare any type of sambar using this vegetable.
Fiber content is very high in green bens. Beans are good source of vitamins like A, C, K, B6, and folic acid. Also beans are good source of minerals like calcium, silicon, iron, manganese, potassium, and copper. So do not forget to include beans in your daily diet.
If you are looking for more palya or stir-fry recipes then do check our Ladies finger palya, Ivy gourd stir fry, Mixed veg palya, beetroot palya and north karnataka special zunka vadi recipes. Or if you are looking for more Karnataka style curry recipes then do visit our curries section.
Beans palya recipe
Preparation time: 10 min
Cooking time: 15 min
Serves: 2

Ingredients: (measuring cup used = 240ml)
250gm beans or huruli kayi
1/2 tsp urad dal
1/2 tsp channa dal
4 tsp cooking oil
1/2 tsp mustard seeds
A big pinch turmeric powder
A big pinch asafoetida
3-4 curry leaves
1-2 green chilies
1/4 cup grated coconut
1 tbsp chopped coriander leaves (optional)
Salt as per your taste
1/4 cup water
Instructions for making Beans palya or beans stir fry:
Try to buy tender green beans. Take out the ends and strings (tough fibres) of the beans. Wash and chop them into 1cm length pieces.
Take oil in a frying pan and heat it. Add in mustard seeds, urad dal and channa dal. When mustard seed splutters, add in slit green chilis, turmeric powder, asafoetida and curry leaves. I missed the picture at this stage. Will update it soon.
Add in chopped beans and mix well for a minute under medium flame.
Add in salt and 1/4 cup of water. You can also add little jaggery if you want. Close the lid and cook under low flame.
Wait until beans are cooked. If required add more water and cook until beans are soft yet crunchy. Now add in grated coconut and mix well. Switch off the stove and serve it with hot rice or chapathi.
Dear reader, We have a brief Kannada description of this recipe. Click here to read this recipe in Kannada.
Thanks for the likes, shares and comments. It is so encouraging and it means a lot to us!!
You might like this: