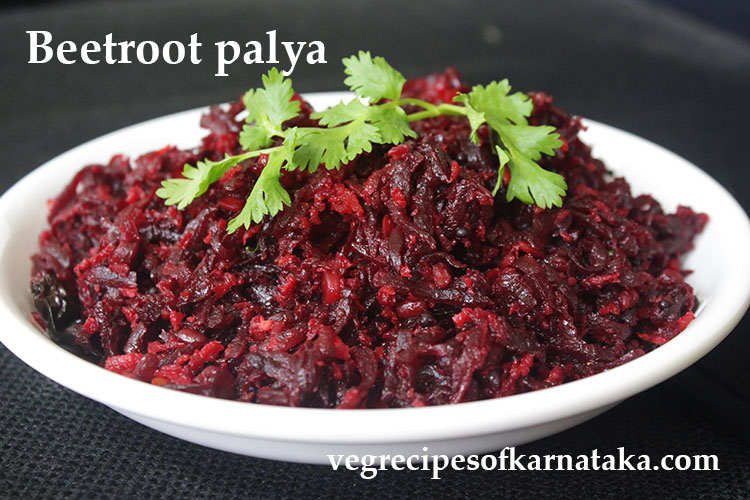 Beetroot Palya or Beetroot poriyal or Beetroot stir fry recipe expalined with step by step pictures. Beetroot Palya or poriyal is prepared using grated beetroot, grated coconut and very minimum spices. This can be used as an accompaniment with rice or chapathi.
Some vegetables are naturally tasty and we need not add many ingredients or spices while preparing a dish out of it. Or I would rather say if we add too many spices then we will end up loosing the natural flavor and taste of that particular vegetable. This Beetroot Palya or stir fry is a classic example for this. You need not add much ingredients, it is so simple yet very tasty and healthy.
Beetroot is a vegetable with full of nutrients and many medicinal values. Beetroot is a super food and it contains potassium, magnesium, iron, vitamins A, B6 and C, folic acid, carbohydrates, protein, antioxidants and soluble fibre. Many studies have suggested that increasing consumption of beetroot like vegetables decreases the risk of obesity, diabetes and heart disease. It helps in weight loss, promotes a healthy complexion and hair and increases energy level etc.
So dont forget to try this beetroot palya recipe, its very easy and tasty. Also dont forget to include beetroot in your weekly diet. Do check our other palya or curry recipes like bendekai palya, bittergourd sweet curry, thondekai palya, Mixed veg palya, beans palya and north karnataka special zunka vadi recipes.
Beetroot palya recipe
Preparation time: 10 min
Cooking time: 15 min
Serves: 2

Ingredients: (measuring cup used = 120ml)
2 medium sized beetroot
1 tsp urad dal
1 tsp channa dal
4 tsp cooking oil
1/2 tsp mustard seeds
A big pinch turmeric powder
4-5 curry leaves
1-2 green chilis
1/2 cup grated coconut
Salt as per your taste
1/4 cup water
Instructions for making Beetroot palya or beetroot stir fry:
Peel, wash and grate the beetroots.
Take a frying pan, add oil, mustard seeds, urad dal and channa dal. When mustard seed splutters, add slit green chilis, turmeric powder and curry leaves.
Add grated beetroot, salt, 1/4 cup water and mix well. Close the lid and allow it to cook under low flame by stirring occasionally.
Wait till the beetroot is cooked or soft, which takes around 10 minutes. Now add grated coconut and mix well. Switch off the stove and serve it with hot rice or chapathi.
Dear reader, We have a Kannada version of this recipe. Click here to read this recipe in Kannada.
You might like this: