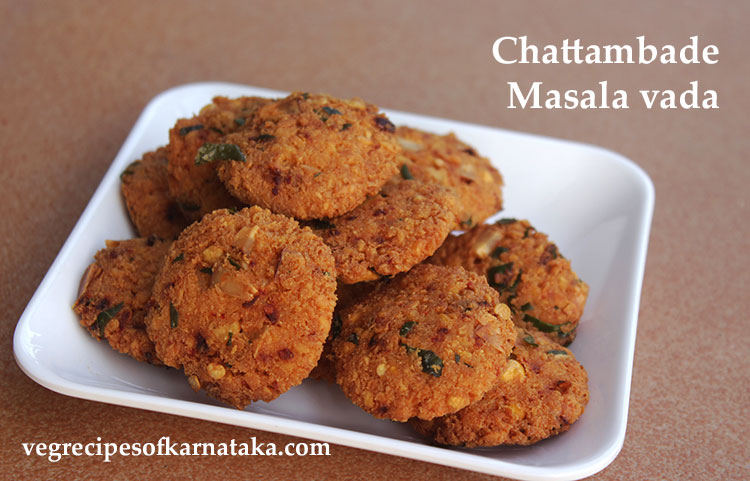 Masala vada or masale vade recipe explained with step by step pictures. Masala vada is a very popular and tasty snacks or fritters recipe in Indian state of Karnataka. In Karnataka masala vada is familiar by names masale vade, masala vade, chattambade and ambode. Masala vada or masale vade is prepared using split gram dal or chana dal (kadle bele) and few other spices.
Along with gram dal or chana dal, I have used green chili, curry leaves, coriander leaves, asafoetida and dill leaves to prepare these masala vada or masale vade. Green chili can be replaced with red chili and using dill leaves is optional. Some people will also add crushed cumin seeds.
We all know masala translates to spice and that's why the name masala vade. Coming to the name "chattambade", chatte means flat and ambode is a common word. Since we are using palms and making flat vadas, it is called by name chattambade.
If you want soft masala vada or masale vade, then you can add finely chopped onion or cabbage pieces. If you are a health freak and would like to avoid deep fried snacks then you must check my healthy nuchinunde or steamed spicy dal dumplings and kadle usli recipes. They are very healthy and tastes great.
If you are looking for more snacks recipes then do check our snacks section. Also I feel you should definitely look in to some of the tasty snacks recipe like congress kadlekai or spicy peanuts, maddur vada, nippattu, crispy chili bajji, mangalore bajji, stuffed mirchi bajji, aloo bonda, avarekalu mixture, baby corn golden fry and onion pakoda.
Masala vade recipe
Preparation time: 4 hours
Cooking time: 30 min
Serves: 12

Ingredients: (measuring cup used = 240ml)
1/2 cup split gram dal or chana dal or kadle bele
1 - 2 green chili or red chili
5 - 6 curry leaves finely chopped
1 tbsp finely chopped coriander leaves or crushed coriander seeds
A generous pinch of asafoetida
2 tbsp finely chopped dill leaves or sabsige soppu (optional)
Salt as per your taste
1/2 finely chopped onion or little cabbage (optional)
Instructions for making masala vada or masala vade:
Rinse and soak split gram dal (chana dal) for 4 hours.
After soaking drain the water and coarse grind the dal without adding any water. Please note if you are using red chili, then you must add it while grinding. You can also add green chili while grinding. I just finely chop them and add.
Transfer it to a wide bowl. Add in all other ingredients like chopped green chili, curry leaves, coriander leaves, dill leaves (sabsige soppu), asafoetida and salt.
Give a quick mix. Do not add any water. Now if you want soft vadas then you can add finely chopped onion or cabbage. I will add it to a small portion as my son likes soft vadas.

Next take a lemon sized "dal and spice mixture" and prepare flat vadas using your palms. Press gently between the palms to get the flat shape. Actually it should be little thick in the middle and thin towards the border. It happens naturally when you press between the palms.
Heat oil in a deep frying pan and deep fry the vadas under medium flame. Now if you over fry the vadas, then they will turn crispy. Ff you fry them for less time, they will be soft and less shelf life. I make it little crispy, so I fry them until slightly brown. Finish frying them all and enjoy with a cup of coffee or tea.
Dear reader, We have a Kannada version of this recipe. Click here to read this recipe in Kannada.

You might like this: