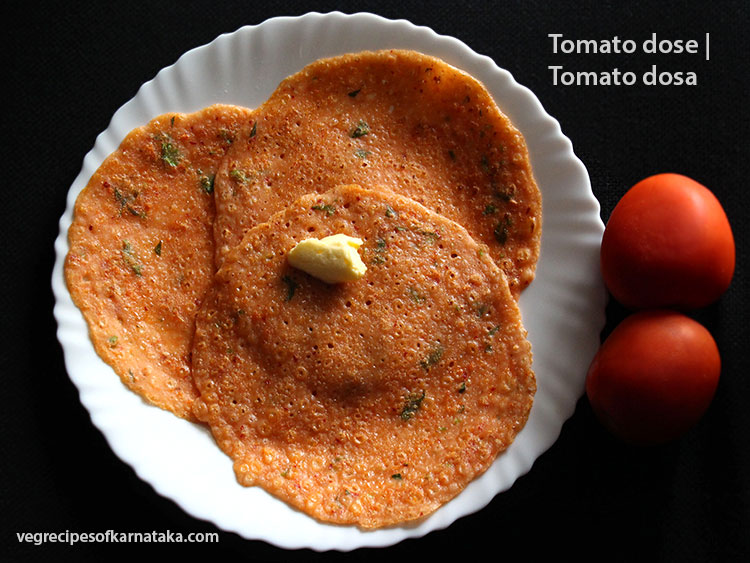 Tomato dosa or tomato dose recipe explained with step by step pictures. Tomato dosa is prepared using rice, tomato, toor dal, red chili, ginger, coriander seeds, cumin seeds, curry leaves and coriander leaves. This tomato dose is a very easy and quick dosa recipe but tastes too good.
I used to prepare tomato dosa few years back, which I had learnt using a cookery book. Eventually I forgot that recipe and I missed that book as well. I wanted to post one tomato dosa recipe here. So I tried hard to recollect that recipe and after few trials finally came out with this tomato dosa recipe. This recipe tastes really good and you must try this once.
If you are looking for more recipes using tomato then check my tomato bath, tomato salad, tomato pickle, tomato soup and tomato rasam recipes.
Or if you are looking for more dosa recipes then do check our set dosa, curd dosa, masala dosa, davangere benne dosa, ridgegourd dosa, mixed dal dosa, curd dosa, onion dosa, whole wheat dosa, rava dosa, spicy neer dosa and ragi dosa recipes.
Tomto dosa recipe
Preparation time: 5 hrs
Cooking time: 30 min
Serves: 3

Ingredients: (measuring cup used = 240ml)
1 cup raw rice (dosa rice or sona masuri)
2 big tomatoes
2 tbsp toor dal
1 tsp coriander seeds
1/2 tsp cumin seeds
1 - 2 red chilies
1cm length ginger
7 - 8 curry leaves finely chopped
1 tbsp finely chopped coriander leaves
Salt as per your taste
4 tsp refined oil or ghee.
Instructions for making tomato Dosa:
To make tomato dosa first wash and soak rice and toor dal in water for at least 3-4 hours. I usually soak it overnight.
Drain the water and grind it using a mixer grinder until smooth. Pour it into a container.
Next chop the tomato. Take red chili, coriander seeds, cumin seeds and ginger as per the measurement.
Transfer everything into a mixer grinder and grind until smooth. please note, it should neither be very smooth nor very coarse. Pour it into same container, which has rice batter.
Add in salt, finely chopped curry leaves and coriander leaves. Mix well. The batter consistency should be much thinner than urad dal dosa batter. If you have time rest the batter for 30 minutes.

Now take the cast iron pan (well seasoned) or non-stick pan and heat it. Smear oil if it is an iron pan. Pour a laddle ful of batter and spread it a bit. Close the lid.
After few seconds open the lid, drizzle some oil, flip the dosa and cook on the other side. Enjoy yummy tomato dosa with plain coconut chutney or butter.
Dear reader, We have a Kannada version of this recipe. Click here to read this recipe in Kannada.

You might like this: