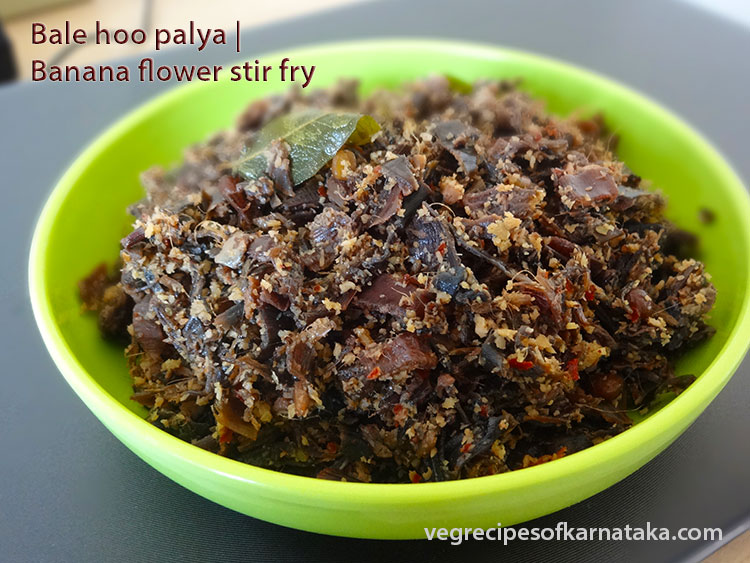 Baale hoo palya or banana flower stir fry recipe explained with step by step pictures. Baale hoo (bale moothi) palya or stir fry is prepared using banana flower, coconut, red chili, jaggery, tamarind, salt, mustard, coriander seeds and cumin seeds. Banana flower palya or poriyal goes very well with rice. This is a very tasty and healthy recipe. In Karnataka Banana flower is familiar by different names like baale hoo, baale moothi and poombe.
Banana flowers are having numerous health benefits. They serve as anti-depressants and helps in increasing the level of haemoglobin in the blood and there by cures Anaemia. Banana flowers contain tannins, acids, flavonoids and other antioxidants which helps to counteract free radicals and eliminates the oxidative damage which leads to cancer and heart disease. Banana flowers are very good for diabetics, eating banana flowers helps in reducing the blood sugar levels.
I have made a video on "how to chop banana flower", which I have embedded below. Please have a look into it.
Banana flowers are good for lactating mothers as it increases the breast milk supply. Banana flowers are high in antioxidants content that fight free radicals and prevent them from damaging the body cells. The ethanol in banana flowers inhibit the growth of pathogenic bacteria and helps to heal the wound naturally. Eating banana flowers daily can also help in preventing neural disorders such as Alzheimer's and Parkinson's disease. Banana flowers helps in weight loss and reduces menstrual bleeding.
You can find many palya or stir fry recipes on this website like hagalakayi or bitter gourd palya, easy badanekayi palya or brinjal stir fry, bendekayi or ladies finger palya, kosu or cabbage palya, thondekai palya, Mixed vegetable palya, beetroot palya, beans palya and north karnataka special zunka vadi recipes.
If you are looking for more Karnataka style curry recipes then do visit our curries section. We have a collection of curries and dry-veggies, which goes well with either rice or chapathi.
Baale hoo or banana flower palya recipe
Preparation time: 10 min
Cooking time: 15 min
Serves: 4

Ingredients: (measuring cup used = 240ml)
1 baale hoo or banana flower
1 tsp urad dal
1 tsp gram dal or chana dal
4 tsp cooking oil
1/2 tsp mustard seeds
A big pinch turmeric powder
A big pinch of asafoetida
4-5 curry leaves
1 lemon sized jaggery
1 small lemon sized tamarind
Salt as per your taste
1 cup water
Ingredients for grinding:
1/4 tsp mustard seeds
1/4 tsp cumin seeds
1/2 tsp coriander seeds
2 - 4 red chili
1/2 cup grated coconut
Instructions for making baale hoo palya or banana flower stir fry:
Take fresh banana flower. Some banana flowers will be slightly bitter so discard 2 - 3 outer covers. The banana flowers from "nendra baale" or "elakki baale" are less bitter and tastes good.
Next finely chop the banana flower.
Next take oil in a frying pan and heat it. Add in 1/2 tsp mustard seeds, 1 tsp urad dal and 1 tsp gram dal.
When the mustard seed splutters, add in turmeric powder, asafoetida and curry leaves.
Add in chopped banana flower. Fry for a minute under medium flame.
Add in a 1/2 cup of water. Also add in tamarind extract, jaggery and salt. Give a quick mix. Close the lid and cook under low flame.
Meantime dry grind the grated coconut, red chilies, mustard seeds, coriander seeds and cumin seeds using a small mixie jar.
Wait until chopped banana flower is cooked or until the water is dried. Add in ground coconut and red chili mixture.
Mix well for a minute. Switch off the stove and serve it with hot steaming rice or chapathi.
Dear reader, We have a brief Kannada description of this recipe. Click here to read this recipe in Kannada.
You might like this: