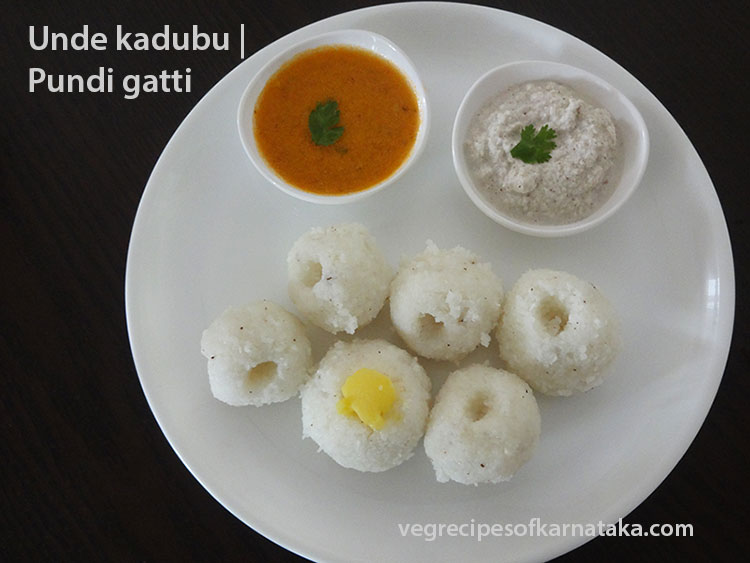 Unde kadubu or pundi gatti recipe explained with step by step pictures and a video. This is a typical Malnad style breakfast recipe and popular by name unde or unde kadubu or undlige. This is a plain version of unde kadubu prepared using rice and coconut. Sweet and spicy version of this unde kadubu is also in practice, which I will post in coming days. Unde kadubu or undlige is an easy, healthy and tasty breakfast recipe. You can serve it with either chutney or sambar or rasam.
Actually I should have posted this brekfast recipe much earlier. Because this is very common in our family and I keep preparing this often. Unde kadubu is also known as pundi gatti (tulu language) in Mangalore-Udupi region of Karnataka. But the recipe varies slightly. The recipe, which I have explained here is an authentic age-old malnad style unde kadubu. Whereas traditional pundi gatti is prepared by soaking and grinding boiled rice.
I remember my grandmother preparing unde kadubu using home made rice rava. She used to prepare rice rava at home using grinding stone (beeso kallu). Then later my mother was also using the grinding stone. As the years passed she started using a small hand held machine (a manual machine used to make coffee powder). We were very young then. Then the mixer grinder came into picture. And this is how we prepare the rice rava now.
I have many steamed recipes on this website like kayi kadubu, kara kadubu, eeradye, pathrode, nuchinunde, idli, cucumber idli and pumpkin sweet idli recipes. Steamed recipes are very healthy.
Apart from these you can find many sweet recipes, snacks recipes, breakfast recipes, Malnad recieps and Udupi-Mangalore recieps on this website. Do Read, Try and Enjoy!!
I have made a quick video on this avalakki payasa recipe with Kannada narration, which I have embedded it below. Kindly have a look.
Unde kadubu or pundi gatti recipe
Preparation time: 8 hours + 10 min
Cooking time: 30 min
Serves: 3

Ingredients: (measuring cup used = 240ml)
1 cup good quality dosa rice or sona masuri rice
2 cup water
1/2 cup grated coconut (optional)
Salt as per your taste
Instructions for making unde kadubu or pundi gatti:
Rinse the rice, drain the water and spread it on a cloth or plate. Wait until completely dry. I leave it overnight.
Once it is dry, coarse grind it along with grated coconut using a mixer grinder. Just run the mixie for few seconds. The consistency should be like rice rava or idli rava. Keep it aside.
Next boil the water in a wide pan along with salt.
When it starts boiling add in rice rava gradually by stirring continuously using a flat spatula. Stirring continuously is very important to avoid lumps.
Keep stirring continuously for few minutes under medium flame.

In no time it will become thick. If the spatula can stand straight (without falling) in the dough, it is done. Switch off the stove. The dough will be very soft at this stage.
Wait until excess heat is reduced. Wet your fingers with water, take a small portion of dough and make small orange sized ball. Then make a dent using your thumb. Place them in a steamer.
Steam cook it for 15 - 20 minutes under medium flame. The time may vary depending on the quantity. Also you can make it in any shape like flat, oval or round. Serve it with coconut chutney or sambar.
Dear reader, We have a Kannada version of this recipe. Click here to read this recipe in Kannada.

You might like this: