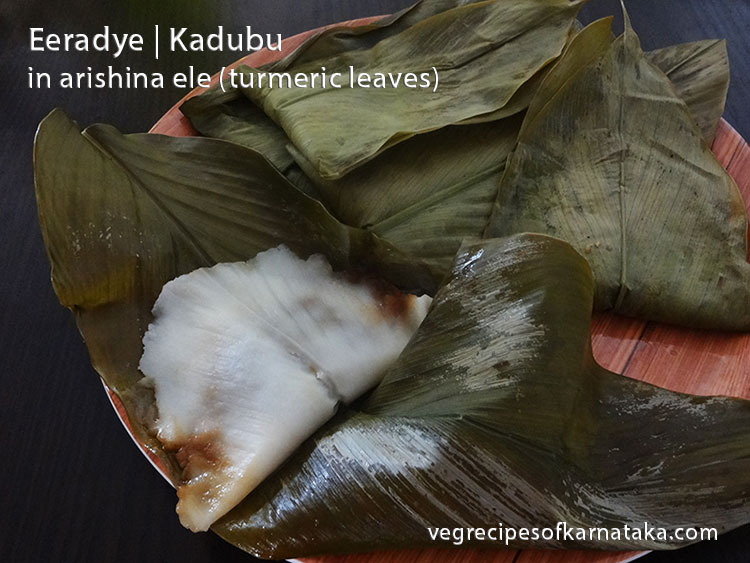 Eeradye or arishina ele kadubu recipe explained with step by step pictures. Arishina ele kadubu is prepared using rice, jaggery, coconut and turmeric leaves. Eeradye or arishina ele kadubu is a very easy and tasty steamed sweet dumplings or kadubu recipe. This is very popular in Mangalore region of Karnataka. It tastes so good with home made ghee.
This kadubu or dumplings can also be prepared using banana leaves. But using turmeric leaves enhances the taste and flavor of kadubu. You can even try kayi kadubu and kara kadubu recipes if you do not have these leaves.
Eeradye is a tulu name, where "tulu" is a local language spoken in Mangalore region of Karnataka. In Kannada these are called by name arishina ele kadubu or arishina ele gatti. The authentic recipe is prepared by soaking and grinding the rice. A thin batter is prepared and then it is cooked to get soft dough. I prepare it like this...using rice flour, an easy method.
I have posted many Karnataka style age-old sweet recipes like halu bai, thambittu, roasted gram laddu, pancha kajjaya, rava kesari bath, banana halwa, coconut burfi and badam puri recipes.
Apart from these you can find many sweet recipes, snacks recipes, breakfast recipes and Udupi-Mangalore recieps on this website. Do Read, Try and Enjoy!!
Eeradye or arishina ele kadubu recipe
Preparation time: 20 min
Cooking time: 20 min
Serves: 12 no

Ingredients: (measuring cup used = 240ml)
1 cup rice flour
1.5 - 2 cup water (depends on rice flour quality)
1 cup grated coconut
1/2 cup powdered jaggery
2 tsp ghee
A big pinch of cardamom
1 tsp salt (or as per your taste)
12 Turmeric leaves
Instructions for making eeradye or arishina ele kadubu:
Boil the water in a wide pan along with 1/2 tsp ghee and salt.
When it starts boiling add in rice flour all at once.
Mix well for a minute and switch off the stove. Cover and set it aside.
Parallely let us prepare the stuffing. Take grated coconut, cardamom powder and jaggery in a frying pan. And heat it.
Stir well for few minutes under medium flame. When it becomes a soft lump or when the excess water is dried Switch off the stove. Do not make it too dry because after cooling it will become hard. Hoorana or stuffing is ready. Keep it aside.
By now the rice flour dough would be warm. Grease your fingers with ghee and knead it well. The dough should be soft but stiff.
Now place a lemon sized ball on a cleaned turmeric leaf. Grease your fingers and pat it. You can also use banana leaves.

Place 1 tbsp of hoorana or stuffing in the middle.
Fold it and seal the edges. Like this finish making all the arishina ele kadubu or eeradye.
Steam cook it for 10 - 12 minutes. The cooking time may vary depending on the numbers or quantity.
Dear reader, We have a Kannada version of this recipe. Click here to read this recipe in Kannada.

You might like this: