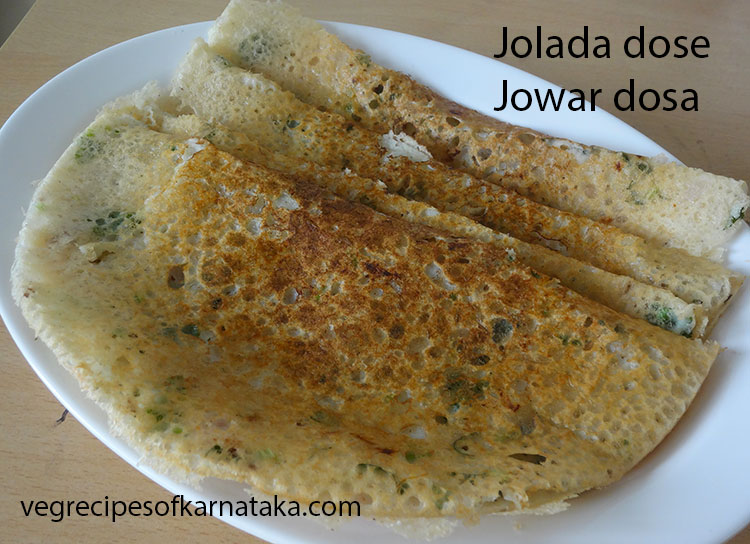 Jolada dose or jowar dosa recipe explained with step by step pictures and a quick video. Jolada dosa or dose is a very easy and tasty breakfast recipe in Karnataka. Jolada dose or jowar dosa is prepared using jowar flour, rice flour, rava, onion, curry leaves, coriander leaves, cumin seeds, green chili and salt.
Jolada hittina dose or jowar dosa is an instant dosa recipe.. You can find many more instant dose recipes on this website like rave dose, rave onion dose, heasru bele dose, ragi dose and instant neer dose recipes.
I have used well-seasoned cast Iron pan in this recipe. However if you don't have cast iron pan, go ahead with non-stick pan. Dose comes out equally good.
Jola or jowar is familiar by different names like Sorghum, Great millet, bili jola, jonna, cholam, jolam etc., Jowar is a neutral millet and is very popular in north Karnataka. Jola or jowar is used extensively in the form of jolada rotti or jowar bhakri through out north Karnataka. Jolada mudde, jolada chakli, Jolada vade etc., are the other popular recipes. You can find many more north Karnataka recipes here.
Jolada dose or jowar dosa can be served along with coconut chutney, sambar or veg sagu.
You can find many breakfast recipes on our website. And if you are looking for more dosa recipes then do check our neer dose, masala dose, heerekai dose or ridgegourd dosa, ragi dose, curd dosa, rava rotti or dose, benne dose, bele dose or dal dosa, set dose, plain dose, masale neer dose, millet dose and whole wheat dosa or godhi doserecipes.
I have prepared a quick video on this, which I have embedded it below. Please have a look.
Jolada dose or jowar dosa recipe
Preparation time: 20 min
Cooking time: 10 min
Serves: 3

Ingredients: (measuring cup used = 240ml)
1 cup jowar flour
1/2 cup rice flour
2 tbsp rava or semolina (optional)
1 onion finely chopped
1/2 tsp cumin seeds
1 tbsp finely chopped curry leaves
1 tbsp finely chopped coriander leaves
1 green chili finely chopped
Oil for making dose
Salt to taste
Instructions for making jolada dose or jowar dosa:
Take jowar flour (jolada hittu) and rice flour in a container.
Add in finely chopped onion.
Add in finely chopped curry leaves and coriander leaves.
Add in finely chopped green chili and cumin seeds.
Add in salt.
Add in water little by little and prepare thin batter, which is little thicker than neer dosa or rava dosa batter.
Now add in 2 tbsp of rava or semolina. Please note, this is an optional ingredient. Adding rava makes dose crispy.
Now take the cast iron pan (well seasoned) or non-stick pan. Keep the stove at high flame and wait until the pan becomes sizzling hot. To check whether it has reached the proper heat, sprinkle little water on the pan and the water shall sizzle and evaporate. Smear oil if it is an iron pan.
Before making each dose, stir the batter very well with the ladle. To make jowar dosa you have to pour the dosa batter on the hot pan and it will spread on its own like how we prepare neer dosa or rava dosa.

Close the lid and allow it to cook for few seconds.
After few seconds, open the lid and drizzle 1tsp of oil or ghee. Reduce the flame and allow it to cook on low flame for few seconds.
Fold the dosa on the pan itself. Take it out and serve it with coconut chutney or sambar.
Dear reader, We have a Kannada version of this recipe. Click here to read this recipe in Kannada.
You might like this: