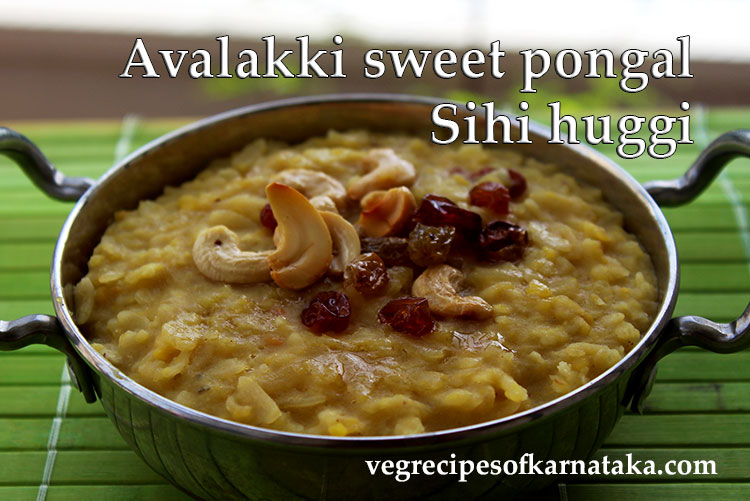 Avalakki sweet pongal or sihi huggi recipe explained with step by step pictures and a video. Avalakki sweet pongal is very easy to prepare and is very tasty. Avalakki sweet pongal or sihi pongal is prepared using beaten rice (medium thick), green gram dal, jaggery, coconut, milk, ghee, cashew and raisins.
Dasara and navarathri festival is going on. If you are still looking for one simple recipe, which is loved by Goddess Durga, then this recipe is for you. I have posted many simple prasada recipes and listed under "Navaratri recipes". Kindly have a look.
Sweet pongal recipe is almost similar to the regular sweet pongal recipe. Sweet pongal is familiar by name "huggi" or "sihi huggi" in Karnataka. Here I have explained a tasty and simple way to prepare avalakki sweet pongal. If you are looking for more pongal or huggi anna recipes then do check my Karnataka style khara and sweet pongal and navane (siridhanya) pongal recipes.
I have posted many recipes using avalakki or beaten rice on this website. So if you are looking for more avalakki recipes then kindly go through them.
If you are looking for more sweet recipes then do check our rave unde or rava laddu, badam puri recipe, halu bai, Carrot badam payasa, pineapple payasa, mungdal payasa, Shavige payasa, hurigadale unde or fried gram laddu, kesari bath, easy carrot halwa, easy milk peda and coconut burfi recipes.
I have made a video on this with Kannada narration, which I have embedded it below. Please have a look.
Avalakki sihi pongal recipe
Preparation time: 10 min
Cooking time: 20 min
Serves: 4

Ingredients: (measuring cup used = 240ml)
1/2 cup green gram dal or hesarubele
1 cup beaten rice or avalakki (medium thick)
2 tbsp ghee
3/4 cup jaggery (adjust as per your taste)
1/4 cup grated coconut
1/2 cup milk
1 tbsp cashews
1 tbsp raisins
A pinch of salt (optional)
A pinch of cardamom powder
A pinch of dry ginger powder
Instructions for making avalakki sweet pongal:
Slightly roast the moong dal or green gram dal until you get a nice aroma. Do not over roast it, roast only for few minutes.
In a pressure cooker take the roasted dal. Rinse it well.
Add in a cup of water and cook by making 2 whistles.
Meanwhile take jaggery in a bowl, add in 1/2 cup of hot water and keep it aside. Jaggery will get dissolved and we will be using this jaggery water later.
Take beaten rice in another bowl, rinse it well and keep it aside. No need to soak since we have used medium thick beaten rice. If you are using thick beaten rice then soak it for 5 minutes and then rinse it.
When the pressure subsides, open the lid and make sure that the dal is cooked well.
Add in rinsed beaten rice cooked daal and rice mixture. Add in jaggery syrup by filtering it using a strainer.
Add in jaggery water. Filter it using a strainer to remove the impurities.

Also add in 1/4 cup of grated coconut. Mix well and keep it for boiling. Optionally you can add a pinch of salt.
Add in 1/2 cup of milk and give a quick mix.
When it starts boiling add in cardamom powder and dry ginger powder. Also add in required water and adjust the consistency. Please note avalakki pongal will become thick once it is cool. So keep this in mind and adjust the consisency accordingly.
Parallely heat ghee in a small frying pan. Fry cashews and raisins. Pour this to the boiling sweet pongal, give a quick mix and switch off the stove.
Dear reader, We have a brief Kannada description of this recipe. Click here to read this recipe in Kannada.
You might like this: