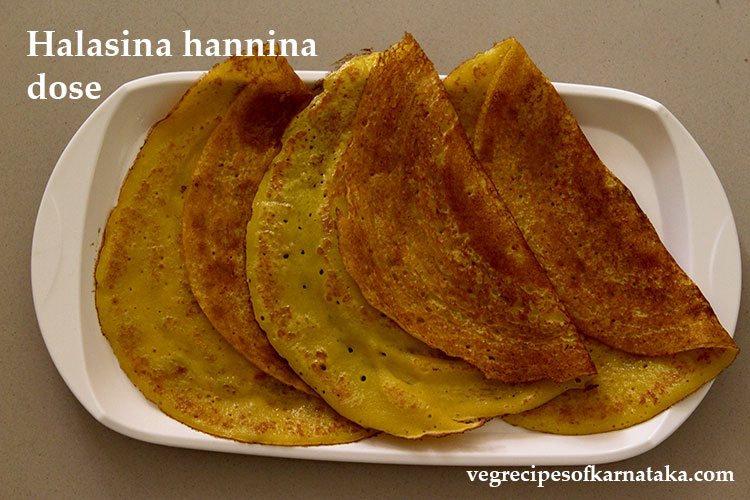 Halasina hannina dose recipe explained with step by step pictures. Halasina hannina dose is prepared using rice, coconut and jackfruit. Halasina hannina dose or Jackfruit dosa is a very easy and tasty dosa recipe. This is an instant and tasty breakfast item.
You can find many dosa recipes on our website like neer dose, masala dose, heerekai dose or ridgegourd dosa, ragi dose, curd dosa, rava rotti or dose, benne dose, bele dose or dal dosa, set dose, plain dose, masale neer dose, millet dose and whole wheat dosa or godhi doserecipes. Visit our breakfast recipes section to read more breakfast recipes.
Jackfruit is a very tasty fruit. Now the Jackfruit season is going on. I believe that eating seasonal fruits is good for our health. So eat a lot of jackfruit, prepare all types of dishes using raw tender jackfruit, raw jackfruit, jackfruit and jackfruit seeds.
This is my third post using jackfruit. You can find halasina hannina mulka or appa recipe and halasina hannina gatti or kadubu recipes on this website. You can find 2 raw jackfruit recipes on this website like Halasinakai happala or raw jackfruit papad recipe and halasinakai or jackfruit chips recipe.
You can find many sweet recipes, snacks recipes, breakfast recipes, Malnad recieps and Udupi-Mangalore recieps on this website. Do Read, Try and Enjoy!!
Halasina hannina dose recipe
Preparation time: 2 hour
Cooking time: 30 min
Serves: 2

Ingredients: (measuring cup used = 240ml)
2 cups jackfruit or halasina hannu
1/2 cup rice
1/4 cup fresh grated coconut
little jaggery (optional; I didn't use)
Salt as per your taste
Oil for making dose
Instructions for making halasina hannina dose:
Rinse and soak the rice for a minimum duration of 2 - 3 hours.
Cut and separate the edible part of the jackfruit. Optionally you can chop them for easy grinding. I didn't chop it here.
Take soaked rice, jackfruit and coconut in a mixie jar. Optionally you can add jaggery, if you like it to be more sweet. I didn't add jaggery.
Grind it into a fine batter by adding required water.
Transfer it into the container. The batter shall have thick dosa batter consistency.
Add in salt and give a quick mix.

Next heat the pan or tava. Pour a laddle full of batter and make dose by spreading it in a circular way.
Close the lid and allow it to cook. Once done, open the lid and drizzle some oil.
Flip the dose and cook on the other side as well. Please note, flipping and cooking is optional. Serve it with coriander chutney and enjoy. Coriander chutney is prepared by grinding coconut, red chili and coriander seeds.
Dear reader, We have a Kannada version of this recipe. Click here to read this recipe in Kannada.

You might like this: