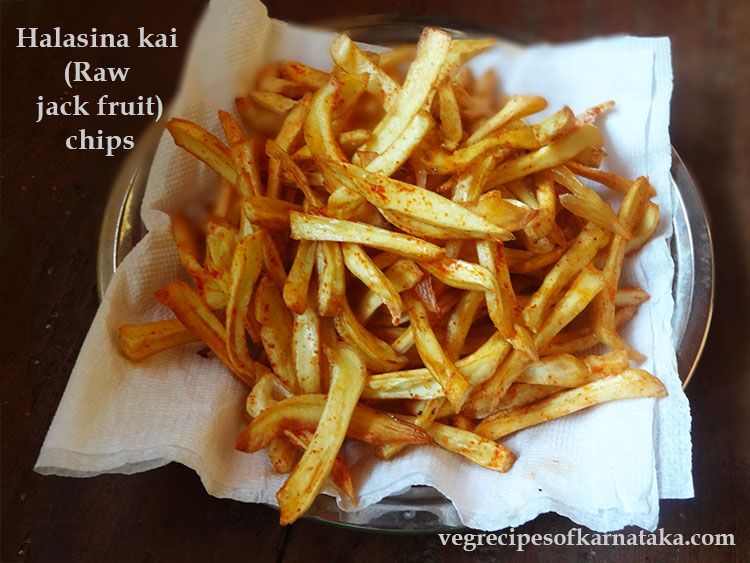 Halasinakai chips or raw jackfruit chips recipe explained with step by step pictures. This is a red masala chips prepared using raw jack fruit, red chili powder, salt and asafoetida. Halasina kayi chips or raw jackfruit chips is very easy to prepare and is very tasty if you have fresh raw jackfruit.
My son loves chips. And I keep preparing different types of chips at home in small batches. Last time I prepared potato and banana chips for him. And this time since jackfruit season is going on, I prepared halasinakayi or raw jack fruit chips. He just loved it.
I have posted one more raw jackfruit recipe on this website. That is Halasinakai happala or raw jackfruit papad recipe, which is my all time favorite. Apart from this you can prepare dosa, sambar, snacks and stir fry using raw jack fruit, which I will try to post in coming days.
This halasinakai chips or raw jackfruit chips is prepared using spicy red masala. If you want plain salted chips then either simply sprinkle the salt or follow raw banana chips recipe.
If you are looking for more Karnataka style snacks recipes then do check our snacks section. Or if you are looking for more snacks recipes then do check our snacks section. Also I feel you should definitely look in to some of the tasty snacks recipe like congress kadlekai or spicy peanuts, maddur vada, nippattu, crispy chili bajji, mangalore bajji, stuffed mirchi bajji, aloo bonda, avarekalu mixture, baby corn golden fry, mosaru kodubale and onion pakoda.
Halasinakai or raw jackfruit chips recipe
Preparation time: 15 min
Cooking time: 10 min
Serves: 2

Ingredients: (measuring cup used = 240ml)
2 handfull raw jackfruit
2 tsp red chili powder (adjust as per your spice level)
2 tsp salt (or as per your taste)
1/2 tsp black salt (optional)
1/4 tsp asafoetida
Oil to deep fry
Instructions for making halasinakai or raw jackfruit chips:
Take fresh raw jackfruit or halasinakayi. Please note jackfruit should be raw and fresh to get tasty and crispy chips. Cut the raw jackfruit, discard unwanted portions and remove seeds.
Now make thin slices or sticks using picked raw jackfruit.
Next in a bowl take all powders like red chili, salt, black salt (optional) and asafoetida. Mix well and keep it ready.
Heat oil in a deep frying pan and deep fry the slices or sticks under medium flame. Please note oil should be hot before you start deeep frying.

When the sound and bubbles subsides, reduce the flame and continue frying for some more time. Flip the chips using spatula and fry until chips are super crispy.
Once done take them out and immediately sprinkle the spice powder. The excess oil will be absorbed once they are cool.
When they are cool store them in an airtight container. Enjoy crispy, homemade, tasty chips with a cup of tea.
Dear reader, We have a Kannada version of this recipe. Click here to read this recipe in Kannada.

You might like this: