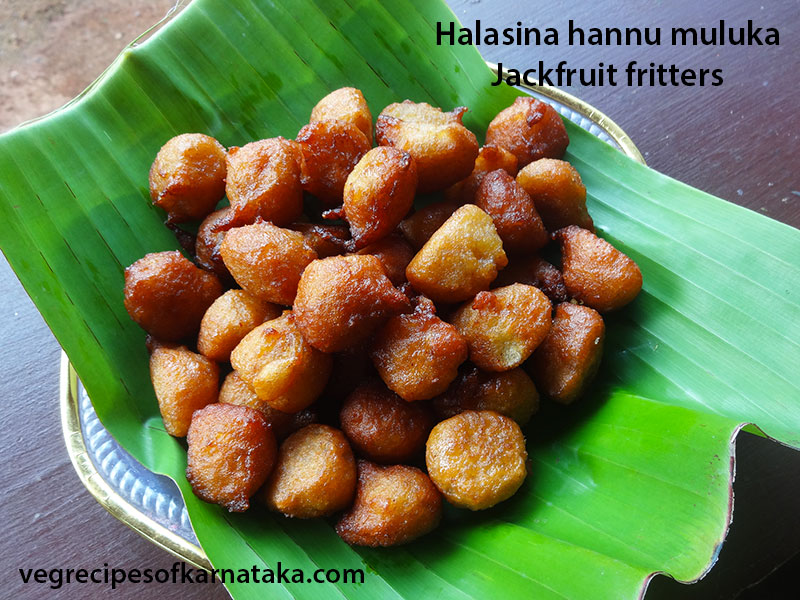 Halasina hannina mulka or appa recipe explained with step by step pictures. Halasina hannu mulka is a sweet fritter prepared using jack fruit, rice, coconut, salt and jaggery. These jackfruit fritters are familiar by name mulka or appa. Halasina hannina mulka or jackfruit fritters are very easy to prepare and are very tasty.
I have posted a sihi appa recipe using banana few days back, which is very similar to this recipe but that is prepared using Appe or Paddu pan. This mulka recipe is the deep fried version of the same.
Unlike other fritters, these jackfruit fritters are sweet in taste...but believe me they taste too good. You must taste this atleast once in a life time. Halasina hannu mulka (appa) is my favorite. My Mother prepared this during my last visit to native. And I clicked these pictures there in her kitchen.
This is my first post using jackfruit. However you can find 2 raw jackfruit recipes on this website like Halasinakai happala or raw jackfruit papad recipe and halasinakai or jackfruit chips recipe.
If you are looking for more sweet recipes then do check our rave unde or rava laddu, badam puri recipe, halu bai, Carrot badam payasa, pineapple payasa, mungdal payasa, Shavige payasa, hurigadale unde or fried gram laddu, kesari bath, easy carrot halwa, bele holige or obbattu and coconut burfi recipes..
Halasina hannu mulka or jackfruit fritters
Preparation time: 2 hours
Cooking time: 15 min
Serves: 4

Ingredients: (measuring cup used = 240ml)
1 cup rice or rice flour
2 cup chopped jackfruit
1/2 cup jaggery (adjust as per your taste)
1/2 cup grated coconut
Oil for deep frying
A big pinch of salt (or as per your taste)
Instructions for making halasina hannu mulka or jackfruit fritters:
Rinse and soak the rice for 2 hours. You can use rice flour instead of rice and add it directly. But I prefer soaked rice as it gives good texture and taste.
Cut the jackfruit, deseed and discard the unwanted portions.
After soaking the rice drain the water completely. Then take soaked rice, jackfruit, grated coconut and jaggery as per measurement.
Chop the jackfruit into pieces. Please note this step is optional but chopping jackfruit helps in grinding process.
Now grind everything together until smooth. Use grinding stone or mixer grinder and grind without adding any water. If you find it very hard to grind, then add 1 or 2 table spoons of water. Make sure that the batter is having thick dropping consisteny to avoid sucking more oil while deep frying. If you feel the batter is very thin, then add in few table spoons of rice flour to adjust the consistency.
Or if you want to use rice flour instead of soaked rice, then grind jackfruit, grated coconut and jaggery until smooth. After grinding add in required rice flour and mix well such that there are no lumps. If any lumps left out mulka or appa might burst in the hot oil.
Next heat oil in a deep frying pan. When the oil is hot scoop out the batter and drop in the hot oil.

Flip and fry under medium flame.
Fry until golden brown or until the bubbles are stopped. Take them out. Enjoy either hot or cold. Tastes too good.
Dear reader, We have a Kannada version of this recipe. Click here to read this recipe in Kannada.

You might like this: