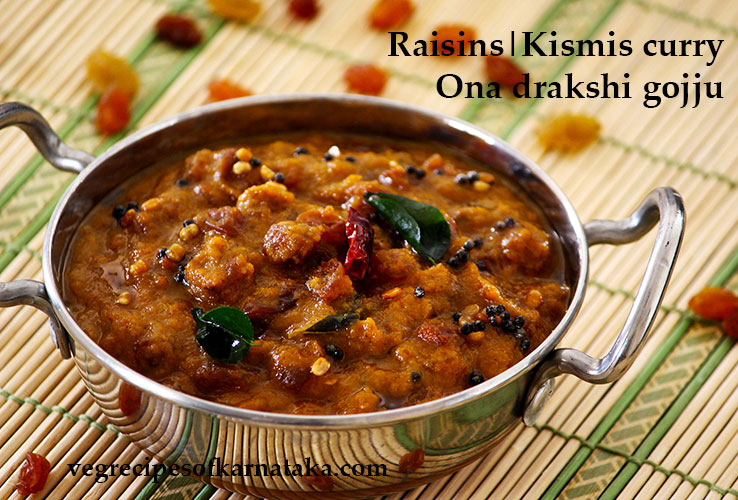 Ona drakshi gojju or raisins curry recipe explained with step by step pictures. This drakshi gojju is prepared using raisins, red chili, chana dal, urad dal, sesame seeds, coconut, coriander seeds, jaggery, tamarind and salt. Drakshi gojju or dried grapes curry is very tasty and tastes good with rice or chapathi.
I had a pack full of raisins or dried grapes. No one was ready to eat that as it was not so soft and tasty. So I wanted to prepare some curry or gravy using that. When I searched on the internet I didn't find any interesting recipe. Then finally I adopted the menaskai recipe with some modifications. The gravy or curry turned out so tasty. So I am sharing the drakshi gojju or raisins curry recipe with you all.
Raisins are familiar by name "ona drakshi" in Kannada. Ona translates to dry and drakshi translates to grapes in Kannada language. I tasted this curry with both rice and chapathi. It tastes too good. So don't miss trying this recipe. Do try once. I am sure, you will love it.
You can find many curry or gojju recipeson this website like avarekalu sagu, chana masala, aloo sagu, palak palle, alasande kalu gojju, veg kurma, aloo gobi, hesaru kalu gojju, bittergourd sweet curry and ennegayi recipes.
Or if you are looking for more gravy recipes then do check my Harive soppu huli or dantina soppu saaru, Beetroot onion sambar recipe, upsaaru, dill leaves rasam, massoppu, yellow cucumber sambar, menaskai, Snakegourd kootu and okra sambar recipes.
Drakshi gojju or raisins curry recipe
Preparation time: 10 min
Cooking time: 20 min
Serves: 4

Ingredients: (measuring cup used = 240ml)
1/2 cup raisins or kismis or ona drakshi
One gooseberry sized tamarind
1 lemon sized jaggery
2 tbsp of cooking oil
Salt as per your taste
Ingredients for grinding:
3 - 6 red chilies
1 tsp urad dal
1 tsp gram dal or chana dal
1 tsp coriander seeds
1/4 tsp fenugreek or methi seeds
2 tsp sesame seeds
4-5 curry leaves
1/2 cup grated coconut
1 tsp cooking oil
Ingredients required for tempering:
1 red chili
1/2 tsp mustard seeds
1/2 tsp urad dal
5 - 6 curry leaves
A pinch of turmeric powder
A pinch of asafoetida
2 tbsp cooking oil
Instructions for making drakshi gojju or raisins curry:
To prepare drakshi gojju, to begin with gather all the masala ingredients (listed under for grinding) as per measurement. In the image you can have a look on the ingredients to be roasted.
Heat a tsp of oil in a frying pan and start roasting coriander seeds, urad dal, chana dal, red chili and methi seeds. Roast under medium flame.
When the dal turns brown, add in ellu or sesame seeds. Roast it for few minutes.
Finally add in curry leaves and roast them until crisp.
Transfer the roasted ingredients into a mixie jar along with grated coconut.
Use required water and grind until smooth. Keep this masala aside.
Next heat the frying pan again and add in 2 tbsp of oil. Prepare tempering using red chili, mustard seeds and urad dal.
When the mustard seed splutters, add in asafoetida, turmeric powder and curry leaves.
Immediately add in 1/2 cup of raisins or dried grapes.
Roast them for few minutes until they are puffed up.

Next add in tamarind juice, jaggery and salt.
Also add in 1/2 cup of water and boil itfor few minutes or until jaggery is dissolved.
Next add in the ground masala.
Adjust the consistency by adding required water. Adjust salt, sweet and sour level.
Bring it to boil and switch off the stove. Serve it with either rice or chapathi.
Dear reader, We have a Kannada version of this recipe. Click here to read this recipe in Kannada.

You might like this: