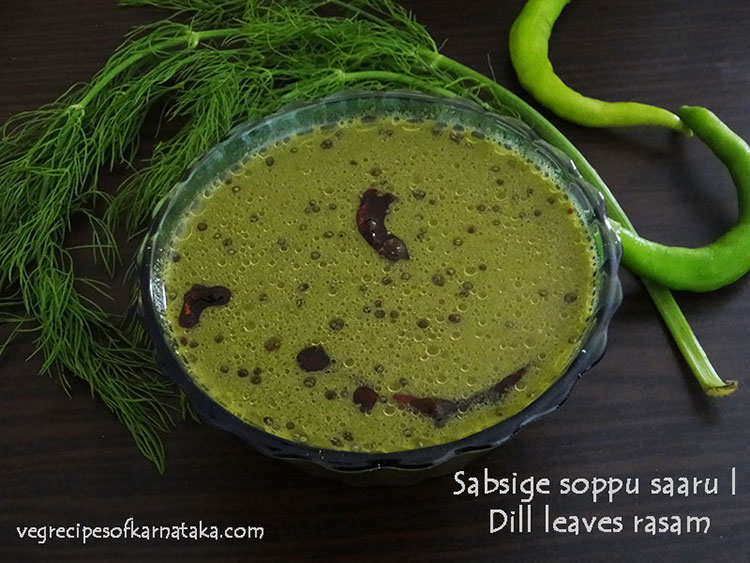 Sabsige or sabbasige soppu saaru or rasam recipe explained with step by step pictures and a quick video. Sabbasige soppu rasam prepared using dill leaves, coconut, coriander seeds, cumin seeds, green chili and black pepper. This sabbasige soppu saaru or rasam is a very tasty and spicy gravy recipe goes very well with rice.
Sabsige soppu or sabbasige soppu is a name in Kannada language for dill leaves. Dill leaves has different names like Sathakuppi, Sathakuppa, Sowa, Chatakuppa, sabasiege in various Indian languages. We can use this sabsige soppu or dill leaves in akki rotti (rice flour roti), sabsige soppu paddu, nuchinunde, upsaaru and massoppu recipes.
The use of sabsige soppu or dill leaves enhances the taste and flavor of this rasam. This is a bit spicy and tasty rasam, perfect for those lazy days or whenever you are suffering from common cold. This recipe is from my mother-in-law and she learnt it from one of the old Kannada magazine. This is a very simple rasam recipe...so do not miss it. Do try and enjoy!!
If you are looking for more rasam recipes then do check Doddapathre rasam, bili saaru, halasina beejada saaru, Udupi rasam, Cowpea rasam, raw mango rasam and fenugreek seed rasam recipes. Or if you are looking for more Karnataka style gravy recipes then do check our gravies section. I have made a quick video on this recipe, which I have embedded it below. Kindly have a look.
Sabsige soppu saaru recipe
Preparation time: 5 min
Cooking time: 15 min
Serves: 1 litre

Ingredients: (measuring cup used = 240ml)
1/2 cup finely chopped dill leaves or sabbasige soppu
1 - 2 green chilli (vary as per your spice level)
1 tsp coriander seeds
1/4 tsp cumin seeds or jeera
1/4 - 1/2 tsp black pepper
1/4 cup grated coconut
Small gooseberry sized tamarind (adjust as per your taste)
Small gooseberry sized jaggery (optional - adjust as per your taste)
Salt as per your taste
Ingredients for tempering:
1/4 tsp mustard seeds
1 red chili
1 tsp cooking oil
Instructions for making sabbasige soppu saaru:
Heat 1/2 tsp oil in a frying pan. Add in coriander seeds, cumin seeds and black pepper. Fry until you get nice aroma.
Add in chopped sabbasige soppu (dill leaves) and green chilis. Fry until leaves are soft.
Add in grated coconut, mix well and switch off the stove.
Wait until fried ingredients are cool and transfer it to a blender or mixie jar.
Add in required water and grind until fine paste.

Transfer it to a container. Add in one litre of water, tamarind extract, salt and jaggery (optional).
Bring it to boil.
Temper it with oil, red chili and mustard seeds. Serve it with hot steaming rice or serve it like soup.
Dear reader, We have a Kannada version of this recipe. Click here to read this recipe in Kannada.
You might like this: