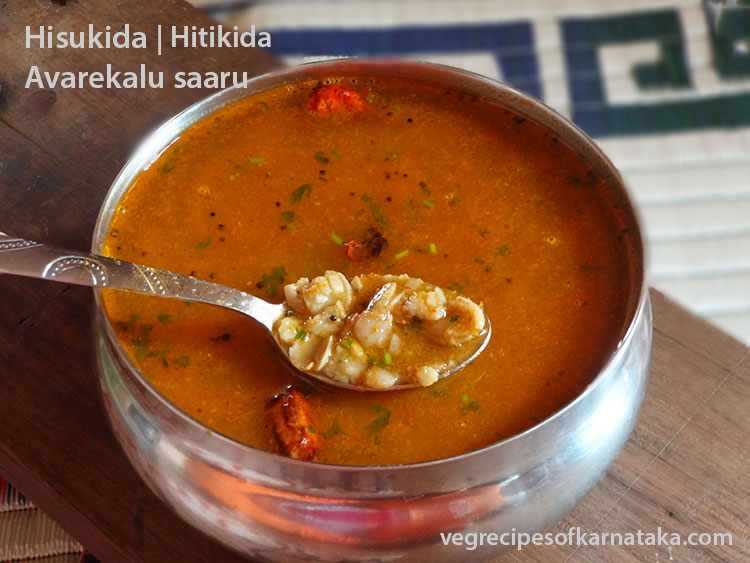 Hitikida avarekalu saaru or hisukida avarekai saru recipe explained with step by step pictures. This is a very easy and tasty sambar or gravy recipe prepared using avarekalu or hyacinth beans. Hitikida avarekalu saru or hithakavare kalu saaru is served as an accompaniment with ragi mudde or rice. This tasty gravy recipe is very popular in Bangalore, Mysore, Mandya, Hassan, Tumkur and Kolar region of Karnataka. I have used rasam powder in this recipe. Which you can replace by sambar powder or (red chili powder + Dhaniya powder).
Coming to the name "hitikida or hisukida or siluksida" means pinched and mashed. The beans are pinched and mashed between the thumb and forefinger to remove the outer cover. I love this avarekai or hyacinth beans and I was waiting for the avarekai season. Avarekai or avarekalu is used in curries, rottis, upmas, stir fry, sweets and savory preparations.
You need to remove the outer cover of the beans to prepare this saaru or gravy, which is a time consuming work. But it is worth doing it. I have a lot to write about this avarekai or avarekalu. I will write it in the next post. Coming to the recipe, this recipe is shared by my dear friend Sushma, who lives in Mysore.
Generally Karanataka means people will think of Udupi sambar, Udupi rasam or Udupi cuisine. But I feel these recipes are equally tasty and more healthy as compared to udupi cuisine. Even though basically we follow udupi cuisine in my family or in our community. Any way do give a try and let me have your feedbacks.
If you are looking for more gravy recipes then do check my ragi mudde, Majjige huli, yellow cucumber sambar, tomato rasam, shunti thambuli, menthe huli, upsaaru and bendekai sambar recipes.
Hitikida avarekalu saaru recipe
Preparation time: 5 hours
Cooking time: 30 min
Serves: 4

Main Ingredients: (measuring cup used = 240ml)
2 cups avarekalu or hyacinth beans
2 tsp cooking oil
1 tbsp finely chopped coriander leaves
1 tsp heaped rasam powder or sambar powder or (1/2 red chili powder + 1/2 dhaniya powder)
A small marble sized tamarind (optional; I didn't use)
Salt as per your taste
Ingredients for grinding: (measuring cup used = 240ml)
1 onion chopped
1 big tomato chopped
4 - 5 cloves of garlic
1cm length ginger
1/4 cup grated coconut
1/4 finger length cinnamon
4 - 5 cloves
little coriander leaves
Ingredients for tempering the gravy or rasam:
1 red chilli
5 - 6 curry leaves
1/2 tsp mustard seeds
2 tsp cooking oil
Instructions for making hitikida avarekalu saaru:
I have used this type of beans, which is popular by name avarekai in Kannada language. Only the inside beans are used in the cooking.
Peal the avarekai or hyacinth beans and collect 2 cups of beans. Soak them in the water for 4 - 5 hours or overnight.
After soaking remove the outer skin of the beans or avarekalu to get "hitikida or hisukida" avarekalu.
Now take all the ingredients listed under "for grinding" (onion, tomato, ginger, garlic, cinnamon, cloves, coriander leaves and coconut) and grind it into a smooth paste using mixer grinder.
Now in a pressure cooker heat 4 tsp of oil and fry the peeled avarekalu or hyacinth beans for 2 minutes.
Next add in ground paste from previous step and fry for 2 minutes or until raw smell is gone.
Add in rasam powder or sambar powder and fry for few seconds. If you do not have rasam or sambar powder then replace it with 1/2 tsp heaped red chili powder and 1/2 tsp heaped coriander powder.

Add in salt.
Add in 3 cups of water or as per your desired consistency. Close the lid and pressure cook it by making 2 whistles.
Once the pressure subsidies, open the lid and add in chopped coriander leaves.
Temeper it with oil, mustard seeds, curry leaves and red chili. Serve hot with ragi mudde or rice.
Dear reader, We have a Kannada version of this recipe. Click here to read this recipe in Kannada.

You might like this: