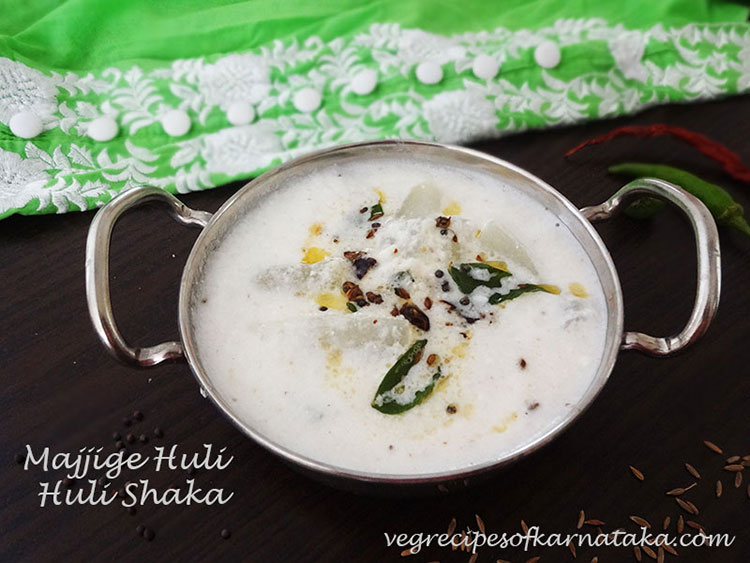 Malenadu brahmins style majjige huli recipe explained with step by step pictures and a video. This type of Majjige huli is a popular gravy in Malenadu region of Karnataka. In that region Majjige huli or hulishaka is prepared regularly and is very common on all special occasions. This is a mild tasting gravy prepared using ash gourd, coconut, curd and some minimum spices. This type of majjige huli is known as paladya in kundapura region.
Majjige huli is a less spicy gravy recipe, goes very well with rice. My grandfather used to love this. Not only my grandfather, we all love this so much and we end up finishing our lunch with this alone. Not only tasty it is a very simple recipe because you need not roast the spices and this is prepared with very minimum number spices.
Majjige translates to "buttermilk" and Huli is a generic name used for gravy recipes in Kannada language. So is the name "majjige huli" aka "hulishaka". You can also replace ash gourd with yellow-cucumber, tindora, beans etc.,
A slighty different version of Majjige huli is also in practice, in which rice is not used instead bengal gram dal or chana dal is used. Soon I will post that recipe. Again in Mangalore region of Karnataka, another similar kind of gravy recipe is in practice and is called as "kayi huli" or "huli-melra", which I have already posted. But this majjige huli tastes great and please do try once.
If you are looking for more gravy recipes then do check my yellow cucumber sambar, tomato rasam, shunti thambuli, menthe huli, upsaaru, dill leaves rasam, massoppu and okra sambar recipes.
I have made a video on this recipe with Kannada narration, which I have embedded it below. Kindly have a look.
Majjige huli or paladya recipe
Preparation time: 10 min
Cooking time: 30 min
Serves: 4

Ingredients: (measuring cup used = 240ml)
1/2 kg ash gourd / boodu kumbala kayi
3/4 cup grated coconut
1 - 2 green chili
1/4 tsp cumin seeds
1/4 tsp mustard seeds
1 tsp rice
1/2 cup buttermilk or 1/4 cup sour buttermilk (can replace with whisked curd)
Salt as per your taste
Ingredients for tempering:
1 red chilli
5 - 6 curry leaves
1/2 tsp mustard seeds
1/2 tsp cumin seeds
2 tsp cooking oil
Instructions for making Majjige huli or paladya recipe:
Wash and cut the ashgourd into big vertical pieces. Take out the inner part, peel and cut into 2cm pieces. Now transfer the cut ashgourd pieces, slit green chilis into a pressure cooker and cook it by adding little salt and a cup of water.
Take grated coconut, 1/4 tsp mustard seeds, 1/4 tsp cumin seeds and 1 tsp rinsed rice.
Grind it into a some what coarse paste.
Now add this ground paste into the cooked ashgourd.
Add in salt as per your taste.
Mix well and bring it to boil. When it just starts boiling switch off the stove.

After switching off the stove, add in curd or buttermilk and mix.
Temper it with oil, mustard seeds, cumin seeds, red chilli and curry leaves. Serve it with hot rice and enjoy!!
Dear reader, We have a Kannada version of this recipe. Click here to read this recipe in Kannada.

You might like this: