Preparation time: 10 min
Cooking time: 20 min
Serves: 3

Ingredients: (measuring cup used = 240ml)
250 gms Ladies finger
4 tsp urad dal
2 green chillies
1/2 cup grated coconut
A pinch of turmeric powder
1 gooseberry sized tamarind
1/4 tsp cooking oil
Salt as per your taste
1.5 cups water
Ingredients required for tempering:
1/4 tsp mustard seeds
4-5 curry leaves
1 tsp cooking oil
Instructions for making Bendekayi kayirasa:
Wash and chop the ladies fingers into 2cm length pieces by discarding the ends.
Soak tamarind in 1 cup of hot water. Transfer the cut ladies fingers into a pressure cooker. Add in little salt, turmeric powder and tamarind juice. Cook the ladies fingers by making just 1 whistle.
Take chilies, urad dal and 1/4 tsp oil in a frying pan. Fry them under low flame till the urad dal turns golden brown.
Add in grated coconut and fried urad dal into mixie jar and grind it into a smooth paste using half cup of water. At the end add in fried green chilies and grind it again for about 5 seconds.
Wait until the cooked ladies fingers are warm and then add the ground masala. Add in salt and mix well. Remember in this recipe no boiling also dont mix the ground masala when the vegetables are hot.
After mixing temper it with oil, mustard seeds and curry leaves. Serve it with rice or chapathi. This gravy has very less shelf life. So use it before 2-3 hours or keep it in the fridge and make it warm before use.
Here is the image of kayirasa using red chilies. All procedures remain same.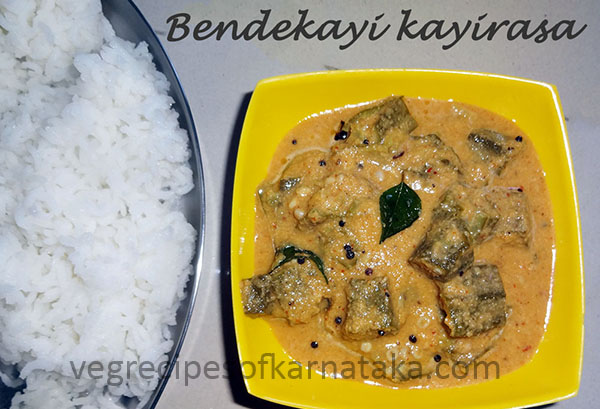 Dear reader, We have a Kannada version of this recipe. Click here to read this recipe in Kannada.