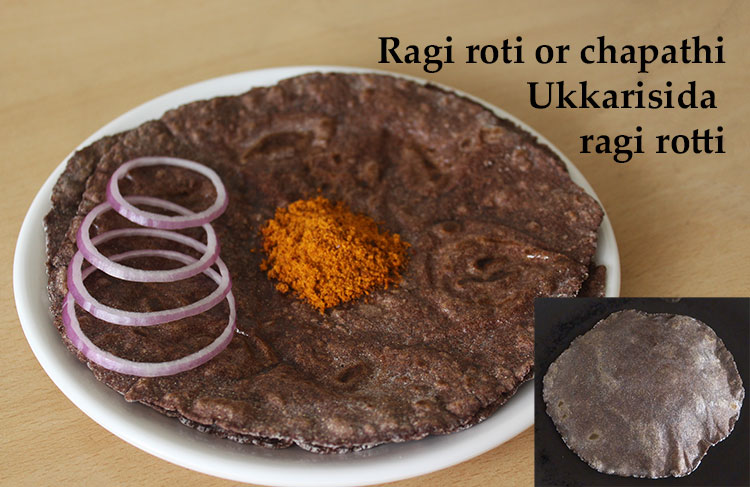 Ragi chapathi or plain ragi roti recipe explained with step by step pictures and a video. This ragi rotti is also familiar by different names like ukkarisida ragi rotti, ragi bhakri, plain ragi rotti, ragi chapathi, nachni roti etc., Ragi chapathi or ragi rotti is prepared using water, salt and finger millet flour.
You need to be little expert to make these rotis perfect, just like jolada rotti or jowar roti and akki rotti or rice flour roti. The important thing in this recipe is dough consistency and kneading. Better you need, easy to make the rotis. You can serve these rotis with any spicy curries like badanekayi ennegayi (stuffed brinjal), zunka (gram flour curry), Hesaru kalu gojju, Veg kurma, Aloo gobi and menthe palle (methi dal).
Ragi has numerous health benefits. You can find many ragi recipes on this website. If you are looking for more tasty and healthy ragi recipes then do check our ragi rotti, ragi mudde or ragi ball, ragi ambli, ragi manni or baby food, ragi halbai or halwa, ragi malt or health drink and ragi dose recipes.
You can find different varietis of Karnataka style rotti recipes on my website like akki rotti (rice flour roti), jolada rotti (jowar roti), ragi rotti (finger millet roti), sajjige rotti (rava roti) and sabsige soppu rotti (dill leaves roti). If you are looking for more breakfast recipes from then do check our break fast recipes section. Let us get on to the recipe.
Ragi chapathi or ragi rotti recipe
Preparation time: 10 min
Cooking time: 15 min
Serves: 8 no

Ingredients: (measuring cup used = 240ml)
1/2 cup ragi flour
1/2 cup water
Salt as per your taste
1 tsp cooking oil
Instructions for making ragi rotti or ragi chapathi:
To prepare ukkarisida ragi rotti or ragi chapathi, first take water, salt and oil in a pan and keep it for boiling.
Next when the water starts boiling add in ragi flour (or finger millet flour) and switch off the stove.
After switching off the stove, mix it well using a flat spatula and keep it aside.
Once the dough is warm, knead it very well. Squeeze, punch, fold and knead it for five minutes. Better you knead, easy to make rotis.
Once you are done with the kneading, dust your fingers, pinch and take big lemon sized dough. Make a soft flat ball.
Dust the flour and roll the flat balls into thin chapathi. Please note you have to be gentle while making this roti or chapathi.

Heat the tava or pan and transfer the rolled rotti or chapathi over the hot pan.
Apply water on the roti using a clean and wet cloth. Please note, you need to be gentle and quick. Also this step is optional.
Once you start seeing the small bubbles, flip the roti and cook on the other side. Serve it with any curry of your choice.
Dear reader, We have a brief Kannada description of this recipe. Click here to read this recipe in Kannada.
You might like this: