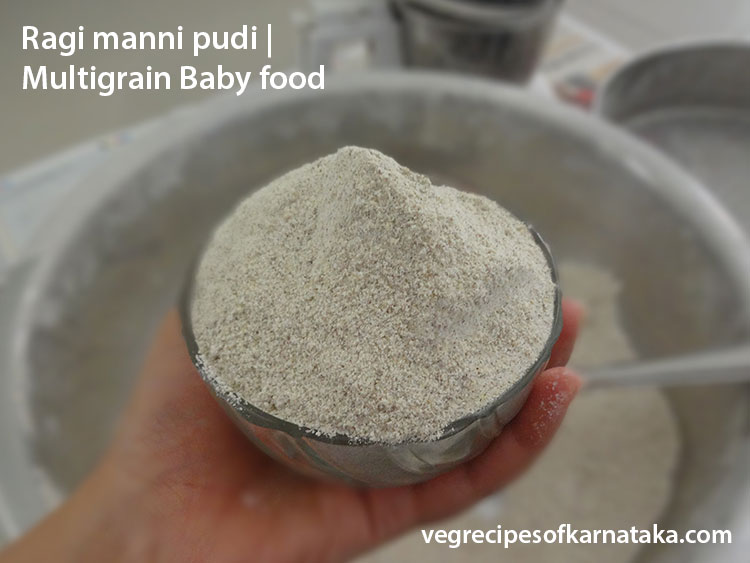 Ragi manni pudi or ragi sari recipe explained with step by step pictures. This ragi manni pudi is a multigrain powder prepared using ragi, rice, wheat, barli and green gram. This ragi manni or ragi sari powder is a Karnataka style baby food. This can be given to a 4 month old baby.
There are several types of baby food recipes and the recipe changes from family to family. I learnt this recipe from my Mother. I have given this multigrain powder to my son, starting from 5 months and upto 3 years. My Mother-in-law prepares it using soak-grind-strain-dry method, which I will share it soon.
Ragi has numerous health benefits. You can find many ragi recipes on this website. Ragi has high amount of dietary fiber and it helps in weight loss. To read more about ragi or finger millet, please go through ragi rotti, ragi mudde or ragi ball, ragi ambli and ragi dose recipes.
Preparing ragi manni or sari or porridge using this powder is very easy. Just take a tsp of powder and jaggery, mix it with milk and boil it by stirring continuousy. You can refer my "ragi malt" post as the procedure remains same.
I have filed this recipe under kids friendly recipes section. Where you can find curd sandwich, steamed cake, baby corn manchurian, white sauce pasta, fried rice, baby corn golden fry, popsicles, butter cookies and many more recipes..
Ragi manni or multigrain baby food recipe
Preparation time: 1 hour
Cooking time: 30 min
Serves: 2.5 cup

Ingredients: (measuring cup used = 240ml)
1/2 cup rice
1/2 cup wheat
1/2 cup ragi
1/2 cup barli
1/2 cup green gram
Instructions for making ragi manni or multigrain baby food:
Take all the ingredients as per the measurement. Pick them and check for any stones or dirt.
Rinse them well using good water and drain the water completely. Next spread them separately on a clean cloth or on a wide plate.
When they are dry, dry roast them one by one under medium flame. Do not over roast them. Roast them until you find a slight color change and is completely dry. Rice and barli will turn whitish.
Wait until cool. Then transfer a portion of roasted grains into a mixer grinder and dry grind it. Please note, it is very important to use clean and dry utensils.
Sieve it using a fine mesh siever. Dry grind the remaining grains in batches.
Repeat this few times until all grains are powdered. Please note..it is very important to use clean and dry utensils. Also a clean and dry place.

Repeat the process until all grains are powdered. The sieved powder should be a fine powder. Now to make ragi porridge, take 1 tsp powder and 1 tsp powdered jaggery in a small container. Add in milk and bring it to boil by stirring continuously. Feed the baby when the porridge is warm.
Dear reader, We have a Kannada version of this recipe. Click here to read this recipe in Kannada.

You might like this: