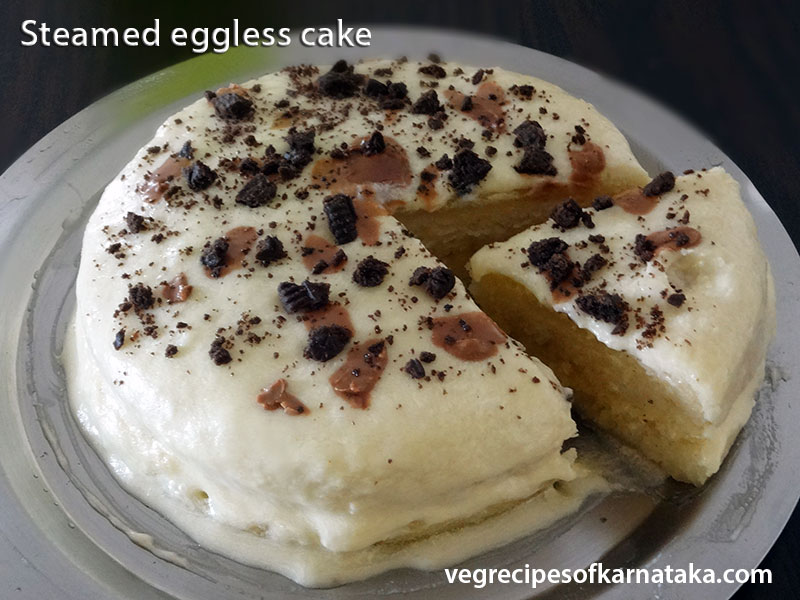 Steamed eggless cake recipe explained with step by step pictures. Steamed eggless cake is very easy to prepare. Soft and fluffy steamed eggless cake is prepared without oven and without spoiling the pressure cooker. Steamed eggless vanilla cake is prepared using maida, baking powder, curd, milk, oil, sugar, baking soda and vanilla essence. For the cream I have used readymade icing sugar packet, which you can prepare at home by mixing sugar powder and cornflour. You can also use whipped cream. And we do not eat egg, so I am posting eggless cake recipe. If you can eat egg, then replace the curd with 1 egg.
You can prepare this cake either in oven or in pressure cooker using sand or salt baking method. Actually I was not planning to post any cake recipe at this point of time. But I got many requests from our valuable readers...so I thought I should post one easy cake recipe, which everyone can try. Because not everyone has oven. And baking cake using "salt baking method" has it's own disadvantage as it will stain the cooker. So people will hesitate to try. So when I was searching for a steamed eggless cake recipe, I got it from this blog and cream recipe from icing sugar packet. I got this steamed-eggless idea from "pillsbury ready cake mix"
Now you must be very curious to know how actually the cake turned out. Believe me it turned out great...fluffy, soft and very nice cake. But compared to oven baked cakes, these cakes were little heavy or dense....taste wise it is just perfect. My son loved it a lot. I prepared it on his birthday along with jamoon. Both my friends and his friends tasted the cake and the feedback was good. So happily sharing this recipe with you all.
I am filing this recipe under kids friendly recipes, where you can find baby corn manchurian, white sauce pasta, fried rice, baby corn golden fry, popsicles, butter cookies and many more recipes.
Steamed eggless cake recipe
Preparation time: 15 min
Cooking time: 25min
Serves: 1

Ingredients: (measuring cup used = 240ml)
1/2 cup maida or all purpose flour
3/4 tsp baking powder
A big pinch of baking soda
6 - 7 tbsp curd or yoghurt (can be replaced with 1 egg)
2 tbsp milk
3 tbsp sugar
1 tbsp oil
1 tsp vanilla extract (can be replaced with any extract or essence)
Ingredients for cream: (measuring cup used = 240ml)
50gm unsalted butter
100gm icing sugar (powdered sugar + 1/2 tsp cornflour)
2 tsp milk
A pinch of salt
1/2 tsp vanilla extract (can be replaced with any extract or essence)
Instructions for making steamed eggless cake recipe :
Take 1/2 cup maida, 3/4 tsp baking powder and a pinch of baking soda in a bowl, mix well, sieve it and keep it ready.
In another bowl take 4 tbsp curd, 2 tbsp milk, 1 tbsp oil, 1 tsp vanilla extract, 3 tbsp sugar and mix well.
Now add the sieved flour little by little and prepare a lump free cake batter. Add in remaining curd and prepare cake batter having dosa batter consistency.
Grease a medium sized container with oil or butter and pour the cake batter into it. You can also pour it in an oven safe container and bake the cake in oven.
Steam cook it for 20 minutes using a steamer under medium flame. It is just like how you steam idli or dokla. Insert a tooth pick or fork and check whether cake is cooked fully before switching off the stove. The tooth pick or fork should come out clean.
Wait until the cake is warm and carefully transfer it on to a plate. You can have it as it is once it is cool or top it with the cream.
Now to prepare cream for cake, take butter in a bowl, rinse it and make it soft.
Add in vanilla extract and a pinch of salt. Add in icing sugar little by little and beat it.

Beat it using a whisk or beater. If you don't have it, then beat it well using a spoon.
Now cut the cake horizontally (optional). Spread a layer of cream on the first piece.
Place another piece and again spread the cream all over the cake.
Decorate the cake with choco flakes or sprinkles. I used chocolate scrapings and crushed orio biscuit. Keep it in the fridge for 10 - 15 minutes. Cut the cake, eat and enjoy.
Dear reader, We have a Kannada version of this recipe. Click here to read this recipe in Kannada.

You might like this: