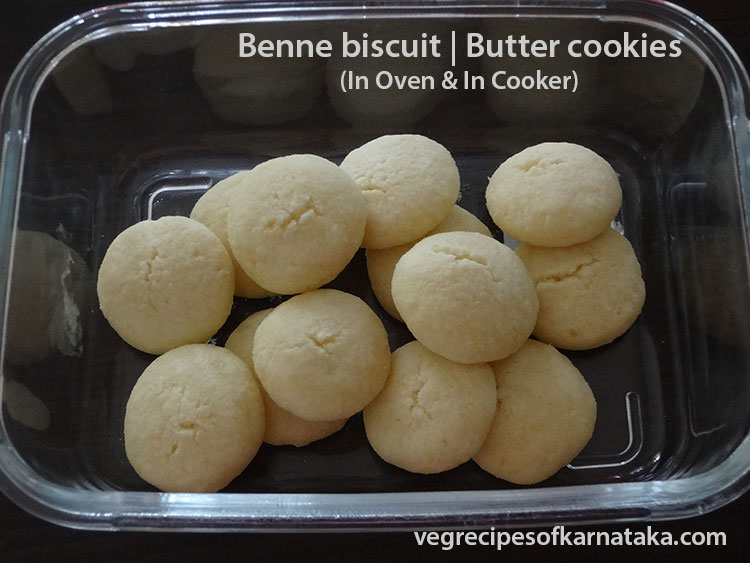 Benne biscuit or butter cookies recipe explained with step by step pictures. Benne biscuit or butter cookies is prepared using maida, sugar and ghee. This benne biscuit can also be prepared using wheat flour. Preparing benne biscuit or butter cookies at home is very easy. Here I have explained both oven and pressure cooker method.
I have posted many easy sweet recipes on this website like carrot halwa, rava laddu or rave unde, fried gram laddu or putani unde, badam burfi recipes.
Benne biscuits are very popular in Karnataka. We used to enjoy these biscuits from Iyengar bakery during our school days. "Benne" translates to butter in Kannada language. But these biscuits (or cookies) are generally prepared using ghee or oil. Benne biscuit is an old recipe in our family. My aunt introduced it in our family when I was very young. My aunt and my mom used to bake these cookies using "sand baking method". They used to heat a big sand filled frying pan, place a plate above and bake the biscuits by closing the lid. It is quite safe and those biscuits were so yummy.
I keep preparing and experimenting different types of biscuits in microwave oven. I wanted to post "sand baking method" but ended up in posting this "cooker-salt baking method" as it is very dificult to arrange sand here.
I have also posted many Karnataka style sweet recipes like halu bai, thambittu, kumbalakayi halwa or kashi halwa, rava kesari bath, banana halwa, athrasa or kajjaya, coconut burfi and badam puri recipes. Also I have posted one easy and quick peda recipe for kids. Do read, try and enjoy!! I have made a quick video on this recipe, which I have embedded below. Please have a look.
Benne biscuit recipe
Preparation time: 10 min
Cooking time: 15 min
Serves: 25 no

Ingredients: (measuring cup used = 240ml)
1 cup maida or wheat flour (I used maida)
3/4 cup sugar
1/4 cup dessiated coconut powder (optional)
Ghee or oil (as required to make the dough)
1 cardamom (optional)
A small pinch of baking powder (optional)
Instructions for making benne biscuit:
Take sugar in a mixie jar. Grind it into a fine powder and keep it aside. Optionally you can add one cardamom while grinding the sugar.
Take maida (or wheat flour), powdered sugar, dessicated coconut (optional) and 4 tbsp of ghee (or oil) in a wide bowl.
Rub and mix well. Add in required ghee or oil and prepare a soft dough. You can also add a pinch of baking powder if you have it. I didn't add.
Prepare small gooseberry sized ball, press it and make it little flat. Keep the balls in the oven and bake it for 7 - 8 minutes at 180W (low temperature).
The time may vary from oven to oven. So keep an eye, check in between and decide the time when you prepare for the first time. When bottom is slightly brown, size has increased and little hard from the top when you touch them...it is done. Please take care while handling as it will be hot.
Or if you do not have oven then go ahead with cooker baking method. Take an old cooker if you are planning to use salt. Spread half cup of salt or sand in the bottom and keep a cooker plate or an old stove plate. Switch on the stove. Keep it at low flame.
Once the cooker is hot, carefully keep another old plate with biscuit dough balls.

Remove the gasket and weight from the cooker. Close the lid and wait for 10 - 12 minutes under low flame.
You can check in between. Once done take out the plate carefully and remove the biscuits using a spoon. Continue with the second batch.
I prepared only one batch of biscuits in the cooker and you can see the colour of cooker and salt. Using salt will stain your cooker and plates. So if possible use sand, which will not make your cooker and plates dirty. Or use an old cooker.
Dear reader, We have a Kannada version of this recipe. Click here to read this recipe in Kannada.

You might like this: