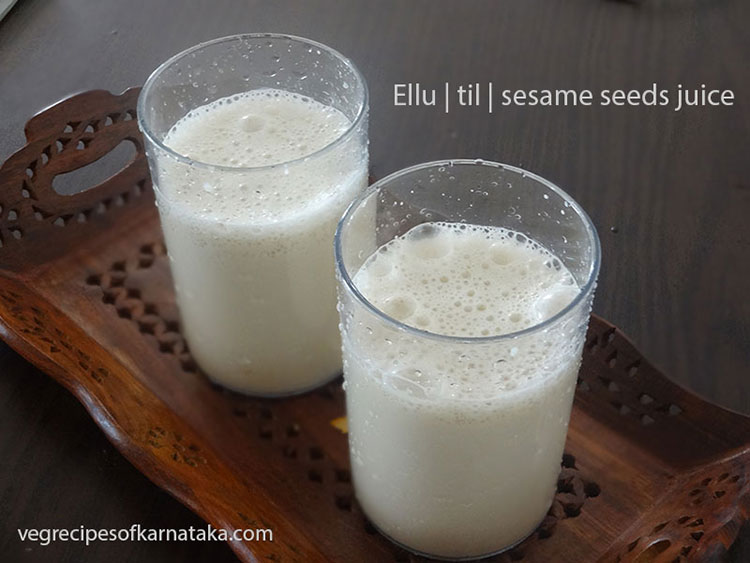 Ellu juice or sesame seeds milkshake recipe explained with step by step pictures. Ellu juice is prepared using sesame seeds, jaggery and milk. This is a very easy and tasty juice. Even though its a milkshake it is popular by name juice. Chilled ellu juice or sesame seeds milkshake is prepared and sold in many shops in Karavali region of Karnataka. Especially during hot summer days you can find or get to drink this tasty and creamy juice.
Ellu or sesame seeds are known for hotness. But sesame seeds oil and this juice are known as coolants. So its a big question for me. If any one has the clarification please let me know.
Sesame seeds have numerous health benefits. They are said to be rich in calcium, copper, manganese, phosphorus, magnesium, iron, zinc, molybdenum, vitamin B1 and selenium. They are also a good source of dietary fiber. They are said to be very beneficial in preventing or treating asthma, blood pressure, heart attack, stroke, colon cancer, osteoporosis, Migraine and diabetic heart disease. These seeds help women who are experiencing unpleasant symptoms associated with menopause. Now let us get on to the ellu juice recipe.
Also do not forget to check my other juice recipes like carrot milkshake, jaggery juice and Water melon juice.
Ellu juice or sesame seeds milkshake
Preparation time: 10 min
Cooking time: 5 min
Serves: 2

Ingredients: (measuring cup used = 120ml)
1/2 cup ellu / til / sesame seeds
1/2 cup powdered jaggery
2 cups water (including water used for grinding)
2 cups milk
1 cardamom
Instructions for ellu juice or sesame seeds milkshake:
Take a frying pan and dry roast the sesame seeds. Slightly roast it until they are swollen. And wait until they are cool.
Grind the roasted sesame seeds, powdered jaggery and cardamom by adding required water.
Grind it into a smooth paste.
Now add water and milk. Serve it chilled. Chilled ellu juice or sesame seeds milk shake tastes better.
Dear reader, We have a Kannada version of this recipe. Click here to read this recipe in Kannada.

Thanks for the likes, shares and comments. Its so encouraging and it means a lot to us!!
You might like this: